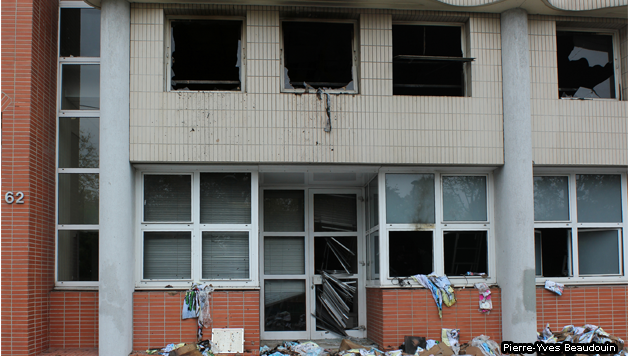 The shocking, cold blooded slaughter at Charlie Hebdo, and more killings in subsequent days, has been met with mass outrage
Socialist Party (CWI in England & Wales) website editorial
The shocking, cold blooded slaughter of journalists and others in the Paris office of satirical journal Charlie Hebdo, and more killings in subsequent days, has been met with mass outrage. Early condemnation was voiced on the day of the massacre in a leaflet produced by the French section of the CWI, Gauche Revolutionnaire, which called it "a cowardly and barbaric" attack. TheSocialist Party in England and Wales adds its condemnation, as we did when previous terrorist attacks have occurred, including the US 9/11 and London 7/7 attacks.
As 9/11, 7/7 and the massacre at Charlie Hebdo have shown, al Qaida directed or inspired attacks in the west have been directed at ordinary working people.
People across France reacted to what has been the worst terror attack in their country for over half a century by turning out on the streets in over 30 cities; and globally there have been many solidarity rallies. A large demonstration will also be taking place in Paris on Sunday 11 January.
Mass demonstrations of opposition are crucial, as terror attacks like this one can serve to ratchet up division and polarisation and play into the hands of those who attack the interests of working class people. But quickly, government ministers in France – whose policies in power have laid the basis for terrorist atrocities to occur – have moved to head the demonstrations, with president Francois Hollande even inviting David Cameron to attend Sunday's event.
The far-right Front National will try to make gains out of the situation – by further whipping up anti-immigrant, racist sentiment.
Others across Europe will also try to jump on the bandwagon, for example right-wing populist Nigel Farage in Britain, said following the massacre: "We in Britain, and I've seen some evidence of this in other countries too, have a really rather gross policy of multiculturalism … we do have a fifth column within our countries".
Blind alley of terrorism
While the terrorists struck a terrible, tragic blow against the staff of Charlie Hebdo, their desire to silence it has failed. Its cartoons, previously seen by tens of thousands of people are now being seen by millions because of the attack, and the journal has declared it will carry on.
Moreover, far from aiding the situation for Muslims in France, the terrorists have worsened it, as state repression in their communities will be stepped up and physical attacks by far-right groups and individuals are likely to increase – as is already being seen. However, it should be added that organisations like al Qaida and Isis that are encouraging terror attacks in the west are certainly not intending to build a struggle against oppression. They are highly authoritarian and reactionary, seeking to build regimes based on capitalist and feudal exploitation, censorship and bans.
Now it is urgent in France, as the moving displays of shock and horror subside, to develop the building of workers' unity – across all religions and none – to quickly organise against any attacks on democratic rights in the name of fighting terror, and against scapegoating of minorities. In Britain, the head of MI5 has already used the Paris killings to call for new powers for the security services, with chancellor George Osborne responding that they will be given 'all the resources they need'.
Rising threat
Head of UK counter-terrorism policing Mark Rowley, said: "At this stage, there is no UK connection" but ominously added "the threat levels remain unchanged, at severe for the UK". MI5 director-general Andrew Parker assesses that around 600 people have gone from Britain to Syria to fight with Isis or the al-Qaida linked Nusra Front. Around half of them have returned, many disillusioned with Jihad, but not all. However, past attacks like 7/7 in 2005 and Woolwich in 2013 (both in London), and now the Charlie Hebdo attack in Paris, show that the danger of terrorist acts exists in any case from alienated individuals who have never fought abroad.
The media makes much of the fact that the massacre in Paris was not committed by disorganised 'loners' but the attackers appeared to be well-trained in using guns and had planned the atrocity. They appear to have had the backing of al Qaida, as they shouted out allegiance to it during the attack. But they are said to be two young French men of North African descent, brought up and educated in France who have not fought abroad.
Imperialist interventions
After the start of the US-led wars on Afghanistan and Iraq, socialists were among those who warned that the threat of terrorist attacks in the west would become higher. Outrage swept the globe – not least in Muslim communities – at those imperialist interventions and the death and destruction they caused.
There has also been outrage at the Israeli regime's onslaughts on Gaza and the refusal of the US government to condemn them. The terrorist threat is being worsened further now by US-led air attacks on Isis in Iraq and Syria – including by French imperialism – which are in some ways boosting the strength of Isis as well as increasing the overall death toll of people on the ground.
In France there is also the legacy of interventions in North Africa, including the Algeria Independence War which ended in 1962, in which hundreds of thousands died. In October 1961 up to 250 Algerians peacefully protesting in the centre of Paris were massacred by the French police.
Adding to the anger at the foreign policy of western capitalist governments is the austerity they are imposing at home, which is escalating inequality. The rich are becoming ever more wealthy while the overwhelming majority suffer cuts in living standards, with a layer becoming more and more 'excluded' from access to decent jobs and pay.
This is no less true in both France and Britain with different manifestations of it; in France poverty-stricken immigrant populations are particularly concentrated in sprawling high-unemployment suburbs of the cities, and face vicious discrimination. France has the largest Muslim population in Europe, estimated at 9% of the population, which includes around 4 million immigrants and their descendants from the Maghreb.
The riots that broke out across France in 2005 indicated the level of frustration and anger against poverty, police harassment and racism felt in the suburbs, conditions that remain today. In addition, many Muslim youth across Europe feel the effects of stigmatisation of Muslims and anti-immigrant rhetoric and policy by right-wing and far-right media and politicians, in different forms and degrees.
Freedom of expression
Charlie Hebdo, regarded as a left-leaning journal, has based itself on ferocious irreverence to religious leaders, prominent politicians and authority in general. It desires to shock and outrage with its blunt satire – targeting anyone and everyone, and has been deliberately provocative, including by publishing cartoons of Mohammed.
Socialists support the right of individuals to be part of any religion of their choosing, or none, free from discrimination and oppression. At the same time we strongly defend freedom of speech and publication, including the right to criticise and use satire and humour. This isn't just for cultural reasons but also because infringements on what can be said and published can and will be used against trade union activists and socialists by state institutions, hampering our ability to expose class exploitation and interests.
But this doesn't mean we advocate there being no boundaries at all. Few people would support turning a blind eye to material that deliberately and consciously promotes rabid racism or sexism, for example.
However, who decides what is acceptable and what is not? We can't trust 'censorship' bodies appointed by government institutions and politicians when those governments are at present almost entirely composed of pro-capitalist, pro-austerity politicians. The boundaries of what is acceptable should be democratically decided, which in a socialist society would be by regularly elected representatives of ordinary people, subject to recall at any time.
Working class led response essential
Countering terrorism by the followers of Isis or al Qaida is not largely the task of 'moderate' Muslims as some right wing commentators have argued. The very small minority in society who consider turning to terror acts can come from any religious background or none, as attacks by the far fight, for instance, bear witness – Norway in 2011 saw far-right terrorist Anders Breivik kill 77 people in a shooting spree.
Nor is the way forward the 'unity' against terror led by the likes of Francois Hollande, Nicolas Sarkozy and David Cameron. As Gauche Revolutionnaire put it in their leaflet: "This attack will serve the ruling classes and the capitalists. Hollande, Sarkozy or Le Pen can try to claim that they are the defenders of our freedom, when they are the ones who suppress struggles, stigmatise migrants, and attack our rights".
Instead, essential is a unity led from below, by working class people. Mass movements of the working class, acting together in an organised way for improvements in living standards, and challenging capitalist governments with the strength of unity, can and will turn the tide against the growing threat of terrorism.
Gauche Revolutionnaire stated at the end of their leaflet:
"Trade unions, and other labour movement organisations and associations should put out a call to rally and pay tribute to the victims of Charlie Hebdo on their own platform: for the unity of workers, youth and the great majority of the population regardless of their origin or beliefs, for freedom of expression, against all reactionary and fundamentalist terrorists, against the racist and imperialist policies of French governments that increase sectarian divisions, intolerance and obscurantism.
"A mass, unified, movement against racism, and against the policies that force millions into insecurity, must be built. It is on that basis that we must show support for the journalists and employees of Charlie Hebdo".
Terrorism is not a danger that will be eliminated by the capitalist ruling classes and governments; they have created the conditions for terrorism in the first place and are now incapable of removing them. No amount of increased state repression will end the threat.
The ongoing crisis of the world economy leads governments to be even more hell-bent on launching attacks on the majority, and is serving to increase imperialist division and armed conflict. In France, Britain and across the globe, new mass workers' parties need to be built, putting forward socialist ideas that can show the only way out of this nightmare scenario.
Public ownership of the key industries, socialist economic planning and democratic decision making at all levels of society would lay the basis for ending war, oppression, exploitation and poverty on a permanent basis; and terrorism.
More material by Gauche Revolutionnaire (CWI in France) to follow shortly
Image by Pierre-Yves Beaudouin, resized to fit website.