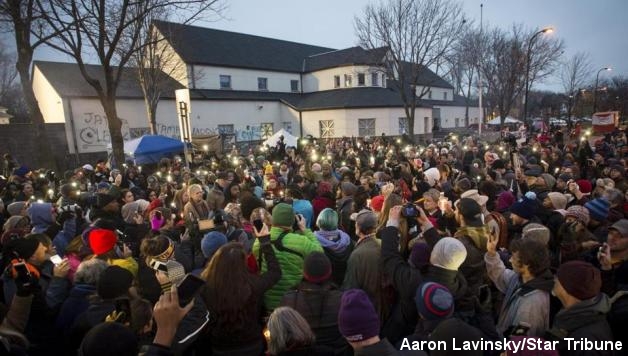 "Everybody that stood with Mayor Hodges is not part of the solution, they're part of the problem." – NAACP President, Nekima Levy-Pounds
Solidarity statement from Socialist Alternative Minnesota
UPDATE, 12/3/15: Around 4:00 AM this morning, police forcibly evicted the protest encampment around the 4th Precinct, tearing apart what had become a symbolic center of community and resistance for the previous 18 days since Jamar Clark was killed on November 15th. The eviction comes three days after the Mayor's press conference designed to provide political cover for police repression. The movement for #Justice4Jamar will undoubtedly continue.
Providing political cover for police repression, Mayor Betsy Hodges held a major press conference Monday, demanding protesters end their occupation of the Police Department's 4th Precinct. Flanked by an array of establishment leaders, including Rep. Keith Ellison and City Council President Barb Johnson, Mayor Hodges blamed the peaceful protest for threatening public safety.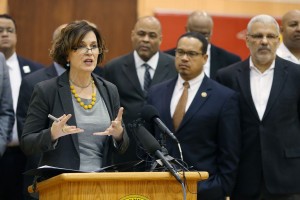 Echoing the right-wing media and racist Police Federation President Bob Kroll, Hodges cynically blamed the occupation for "near-daily threats to burn the precinct, kill our officers…" The Mayor's incendiary statements are designed to justify police repression, and are especially irresponsible coming just one week after the racist terror attack on protesters.
In reality, the only real violence over the previous two weeks came from the Mayor's racist police who killed Jamar Clark and violently attacked peaceful demonstrators, and the racist vigilantes who shot five protesters.
Labor/Community Mass Action Needed
If we allow threats of racist terror and police repression to push back the protests demanding #Justice4Jamar, it will only encourage more repression and racist attacks, and set back the struggle for racial equity. We cannot allow the Mayor and political establishment to isolate the courageous young people leading the #4thPrecinctShutDown.
We are urging all progressive forces, all labor leaders, all who want #Justice4Jamar, to publicly call on the Mayor and police to stand down.
The big labor and community organizations backing the ongoing campaigns for racial equity and workers' rights in Minneapolis – a struggle the Mayor also recently betrayed – should urgently pull together a broad labor/community defense coalition to physically defend and support ongoing protests including the 4th Precinct occupation.
As a first step, calling a mass unity march on City Hall could draw ten thousand or more if the big labor and community organizations spent just one week throwing their full weight into the mobilization. Such a mass demonstration organized by a broad coalition would be a powerful response to the Mayor's call to demobilize, showing the widespread support for police accountability. We could facilitate the active participation of thousands more in the struggle to defend free speech and demand racial equity.
No Grand Jury – Prosecute the Police!
Less than 2% of grand jury trials of police killings result in criminal charges. The system is so obviously corrupted that California recently banned their use in cases of police killings. We join the call of Miski Noor, a spokesperson for Black Lives Matter Minneapolis:
"If Mayor Hodges is so concerned about safety, she should join us and call for the appointment of special prosecutor to investigate Jamar Clark's murder to avoid using a broken grand jury system. Instead, she's using her political capital to attack peaceful protesters braving white supremacist attacks and freezing temperatures to demand justice for Jamar Clark."
Community Control of Police
The attempted cover-up of the police murder of LaQuan McDonald in Chicago, almost certainly orchestrated by Mayor Rahm Emanuel, is a powerful warning that we can place no trust in the political establishment to root out racist police, much less address the deep structural racism of the criminal justice system.
Minneapolis City Hall's continued failure to root out racist police and end the entrenched racial bias in law enforcement shows the urgent need for a fully independent, elected community control board with full powers over the Minneapolis Police Department, including hiring, firing, and budget priorities.
Build a Political Alternative
The #Justice4Jamar movement is again exposing the corporate character of the entire Minneapolis political establishment. Mayor Hodges was elected pledging to prioritize racial equity, but in two years she failed to fight for any substantial reforms. Alongside Barb Johnson's majority on City Council, Mayor Hodges has opposed calls for a $15/hour minimum wage, backed away from support for fair scheduling, and offered no leadership for paid sick days or preventing wage theft.
As long as power in our city remains in the hands of business-backed politicians, of the business-backed Democratic Party establishment, there will be no meaningful change. There will be more racist police harassment, brutality, and killings. There will be more lives destroyed by mass incarceration, more poverty, unemployment, housing insecurity, cuts to education and social services, all impacting communities of color hardest.
But we can built a political alternative. Socialist Alternative has twice elected Kshama Sawant to City Council in Seattle, despite the all-out efforts by big business to defeat us. Kshama Sawant and SA built an energized mass base of support by taking an uncompromising approach to workers' rights and racial equity. We led the fight to win a $15/hour minimum wage among other demands, and with only one working class fighter in office we have built struggles to completely transform Seattle city politics.
Our movement can achieve this in Minneapolis too, and Socialist Alternative is excited to participate in the ongoing discussions about how to take the struggle for racial and economic justice forward.
Let's make this powerful movement against police racism a line in the sand in Minneapolis. Let's use this moment to begin forging the grassroots coalitions needed to build a new, fully independent political force in this city to remove the corporate-backed Democratic Party establishment from power.
"They don't care what happens to the poor and vulnerable… they have blood on their hands."
– Nekima Levy-Pounds, Minneapolis NAACP President, speaking in a personal capacity to demonstrators outside the 4th Precinct Monday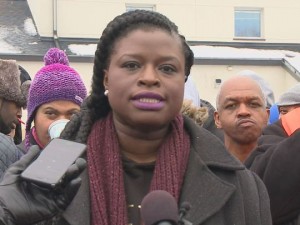 "Now I heard about that press conference Mayor Hodges did earlier with the old-guard leadership. Everybody that stood with Mayor Hodges is not part of the solution, they're part of the problem…
We will not continue to tolerate old-guard Black leadership, sitting at these tables, looking for power, looking for grant money, selling out our community… And I'm tired of these politicians, knocking on our door, asking for our vote, and then they get in office and don't do diddly with the political power that they have. We asked them to change the laws and the policies that are oppressing people, and they'd rather focus on storing political capital than doing the right thing on behalf of the people.
They don't care what happens to the poor and vulnerable, because if they did they would have held the 4th Precinct and the Minneapolis Police Department accountable a long time ago. But instead what did they do? Continue to rubber stamp the system, continue to pay out millions and millions in excessive force complaints, to settle those lawsuits. As far as I'm concerned, every member of government who played a role in that has blood on their hands because if they held the police accountable a long time ago, Jamar Clark might still be alive."