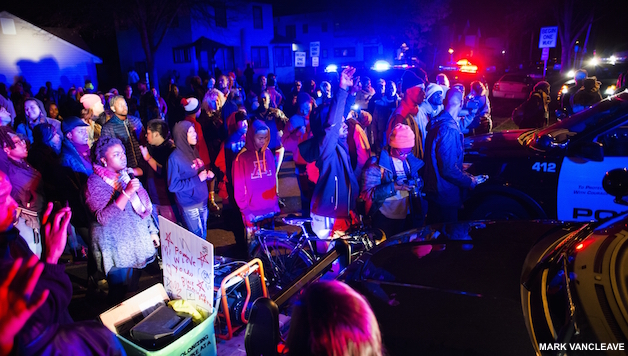 Shock, outrage, and a mass outpouring of solidarity. That is how Minneapolis responded after white supremacists opened fire on Black Lives Matter protesters Monday night, injuring five. Social media immediately exploded with outrage and solidarity. A solidarity march Tuesday afternoon swelled to over over 2,000 as it wound through downtown Minneapolis to City Hall, which was put in lockdown as the march arrived. Hundreds of high school and middle school students walked out, shutting down intersections and protesting outside police stations across the city.
The racist attack occurred near the Black Lives Matter encampment outside the Minneapolis 4th Precinct police station, then in its eighth night following the police murder of Jamar Clark on November 15th. A black man, Jamar Clark was unarmed and in handcuffs when police shot him in the head, according to multiple witnesses. As organizers attempted to escort three masked men away after they refused to identify themselves, the men opened fire on the organizers.
"What happened last night was a planned hate crime and an act of terrorism against activists who have been occupying the Fourth Precinct," said Miski Noor, spokesperson for Black Lives Matter Minneapolis. Police responding to the incident maced protesters on the scene before attending to the wounded. Several witnesses heard police telling them "this is what you wanted," despite repeated public warnings by activists that white supremacists were threatening them and infiltrating protests to act as provocateurs. "We reiterate that we have zero faith in the police department's desire to keep our community safe," Noor said.
Police arrested three of the suspected gunmen on Tuesday. However, early Wednesday morning an unidentified gunman fired several more shots near the 4th Precinct occupation. While thankfully no one was injured this time, we cannot allow our sisters and brothers in Black Lives Matter to continue being terrorized on a daily basis! If police and white supremacist groups are able to use violence and fear to force a premature end to the #4thPrecinctShutDown, it will only encourage similar attacks on protesters across the country.
The labor movement and the big community organizations need to use their resources to help organize a broad, community-led coalition to defend the 4th Precinct encampment and future protests. Several unions have taken a step in the right direction by organizing a solidarity demonstration last Saturday, and solidarity statements have been issued by both the SEIU State Council and Take Action Minnesota (a large, politically connected non-profit). But as the threats escalate, dramatically stepped up mobilization is required to draw a line in the sand against terror tactics used by racist and bigoted groups.
Solidarity demonstrations with Minneapolis are being organized across the country. Protests also erupted in Chicago on Tuesday, after city officials released a gruesome, long-concealed video of a police officer shooting 17 year old Laquan McDonald as he walked away from police, riddling his body with 16 bullets. The Chicago incident only reinforced calls to #ReleaseTheTapes of police shooting Jamar Clark in Minneapolis.
No Tolerance for Racist Police!
This terrorist attack was the culmination of a week-long campaign of racist intimidation and provocations against peaceful protesters by both police and white supremacist groupings. Racists had already posted videos of themselves visiting the 4th Precinct shut down, filming organizers, and making violent threats against protesters.
The vocal head of the Minneapolis police union, Bob Kroll, has a long-documented history of racist comments and complaints of racist violence. A photo of Kroll wearing a "white power" emblem is widely circulated. The mainstream weekly, City Pages, reported Kroll's association with "City Heat," an off-duty law-enforcement motorcycle club whose members are known to proudly display racist symbols, including KKK symbols, alongside their badges. Kroll has been repeatedly accused of violent, racist attacks while on duty. Among other racist comments, Kroll refused to apologize after calling Congressman Keith Ellison a terrorist (Ellison is black and the first Muslim elected to Congress).
Kroll has been outspoken in attacking Black Lives Matter protesters, characterizing them as violent. He has repeatedly criticised Minneapolis police chief Harteau for failing to disperse protesters at the #4thPrecinctShutDown, despite a pending federal investigation into the MPD's use of excessive force in their attempted crackdowns at the 4th Precinct last week. Kroll's unapologetic racism and verbal attacks on protesters undoubtedly helped whip up the racist online frenzy against Black Lives Matter this past week.
Violent racist attacks like the shooting Monday night are inevitable in this context. They can only be understood as part of the long legacy of police and vigilante terror against black people standing up for their rights, from KKK lynchings to programs like COINTELPRO and state-sponsored assassinations to repress the Civil Rights movement. It is unacceptable that the City of Minneapolis tolerates such open displays of racism among its officers, especially given the well-documented statistics of racial bias in arrests, incarceration, and violence against communities of color.
Our movement needs to demand the termination of Bob Kroll and any other officers associated with hate groups. City Hall's failure to root out racist police and end the entrenched racial bias in law enforcement practices shows the urgent need for a fully independent, elected community control board with full powers over the Minneapolis Police Department. Movement leaders continue to demand police release the video of Jamar Clark's murder and prosecute the officers involved.
Racist Backlash
The Black Lives Matter movement has transformed the national debate on police racism, mass incarceration, and widening racial inequalities in wealth, education, health, housing, and almost every other measure. The movement has raised consciousness among millions and forced a major debate in the U.S. political establishment.
At the same time, a right-wing backlash is gaining steam. The backlash is fueled by prominent Republican politicians like Donald Trump who in just the last week openly celebrated the beating of a Black Lives Matter protester by some of his supporters. Trump and others have also been pushing virulently racist ideas against Latino immigrants, including a policy of mass deportations. Most recently, in the wake of the Paris terrorist attack, Trump has echoed a majority of Republican Governors advocating a moratorium on Syrian refugees, and even going so far as to demand Muslims wear special IDs, similar to Nazi Germany's policy of forcing Jews to display the Star of David!
Despite polls showing a majority of American workers moving leftward in their attitudes on race, gender, and other social issues, at the same time there is a fast-growing space on the far-right of American politics for increasingly fierce and violent hate speech. Politicians are providing political cover for the growth in racist mass shootings, attacks on black churches and mosques, assaults on immigrants, sexual minorities, Planned Parenthood facilities, and more. Corporate-funded Republican politicians have stoked up this bigotry to justify passing voter suppression laws, to terrorize low-wage immigrant workers standing up for their rights, to de-fund of Planned Parenthood and further curtail access to abortion among other things.
The racist attack on Black Lives Matter Minneapolis must be a wake up call. Unless the wider labor and progressive movements are able to build a more generalized fight-back, the right-wing backlash will continue to grow. This situation also underlines the urgency of  building a new political force for the 99% independent of both corporate parties whose representatives refuse corporate donations and who stand unambiguously on the side of working people, people of color, immigrants, women, sexual minorities, and all those targeted by big business and right-wing bigots.
The mass outpouring of solidarity across the country with Minneapolis and Black Lives Matter on Tuesday shows the potential. We are the vast majority. Now let's turn that majority into a powerful, transformative movement that wipes away the legacy of racism, bigotry, and inequality, and rebuilds our country in the interests of working people.