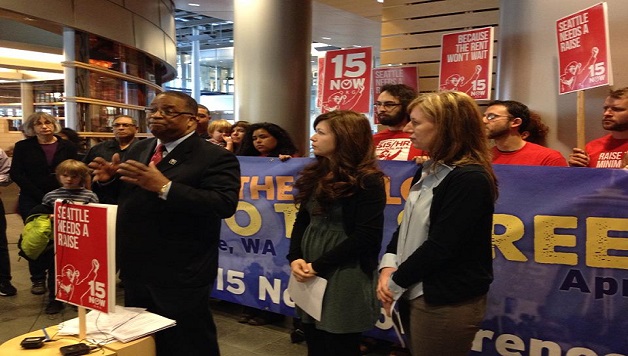 15 Now Supporters Submit Charter Amendment in Seattle
"We have a safety net in case politicians fail to deliver a strong $15," says Jess Spear for
15 Now.
The
15 Now
grassroots campaign will decide at its national April 26th conference whether to start collecting signatures from tens of thousands in Seattle to place an initiative on the November ballot.
If 15 Now
 chooses to go ahead with collecting signatures, activists intend to use the signature collection campaign as a massive community organizing and educational opportunity.
Corporations and their lobbyists such as Sustainable Wages are pushing back by demanding that any $15/hour minimum wage include "total compensation," "tip credits" and a gradual phase-in, not only for small businesses but also huge corporations such as McDonald's, Burger King, and Safeway.  The ballot initiative gives Seattle voters the option of deciding for themselves in November 2014 whether they want a strong $15/hour minimum wage. 
We re-print the 15 Now Press Release here:
15 Now Supporters Form Vote 15 Campaign Committee
Submit Charter Amendment for $15 Minimum Wage
FOR IMMEDIATE RELEASE:

4/14/2014  9:30:00 AM

FOR MORE INFORMATION CONTACT:

Jess Spear, Vote 15 Campaign Manager
(703) 244-6069
SEATTLE – Sarah White, a nurse practitioner and 15 Now activist filed language for a charter amendment with the City Clerk this morning. "Poverty pay is a public health issue and this amendment addresses that squarely. As a nurse, addressing income inequality by increasing the minimum wage is a no brainer for improving the health of our city," said White.
Jess Spear, Vote 15 campaign manager said, "Over 100,000 workers in Seattle – one quarter of the workers in this city – stand to be lifted out of poverty by the passage of a $15 an hour minimum wage."
Spear continued, "The Washington Restaurant Association, Starbucks, McDonalds, Safeway, Hotels and others are getting ready to pour in millions of dollars to undermine a $15 minimum wage. Seattle's working people need to defend against this invasion of corporate cash. By filing this charter amendment, we have a safety net in case politicians fail to deliver a strong $15 ordinance – we are reserving the right to have the people of Seattle make the decision democratically about what the minimum wage should be."
King County Councilmember Larry Gossett also spoke at the press conference in support of the charter amendment, citing the $15 minimum wage as a civil rights issue.
Also appearing at the press conference were Hilary Stern from Casa Latina, Juan Bocanegra from El Comité, Nicole Grant (Vice President of Washington State Labor Council*), Ian Gordon (Secretary-Treasurer of Laborers 1239*), fast food activist Carlos Hernandez, Katie Wilson from the Transit Riders Union, Cleveland Stockmeyer (civil rights attorney/co-author of charter amendment 19), Brad Delaney of MoveOn.org*, former School Board member Sally Soriano, and other supporters.
Other organizations and individuals who have already endorsed the charter amendment include:
Restaurant Opportunities Center United (ROC)
Saru Jayaraman (ROC-United Co-Director and Co-Founder)
Paula Lukaszek (President of WFSE 1488*)
Angela Marshall (IBEW Local 46 Press Secretary*)
Burien City Councilmember Lauren Berkowitz
Jeanne Legault (Political Vice Chair of 37th District Democrats, Former Vice Chair of King County Democrats*)
Rich Lang (Pastor at University Temple United Methodist Church & Real Change Columnist*)
Geov Parrish (Journalist & Community Activist, Former Columnist for The Stranger* & Seattle Weekly*)
Neil Fox (National Lawyers Guild Seattle Chapter President*)
* In personal capacity
Summary of Charter Amendment
A charter amendment requires approximately 30,000 signatures to be put on the ballot and would become part of the charter of the City of Seattle. The City Charter can only be amended by a popular vote.
The proposed Charter Amendment submitted by Sarah White includes:
On Jan 1, 2015, the minimum wage for workers at big businesses will be raised to $15/hour and raised each year to adjust for inflation.
For small and medium sized businesses and non-profit organizations, the minimum wage will be phased in over three years starting with $11/hour on Jan 1, 2015.
Small and medium sized businesses are defined as having fewer than 250 Full Time Equivalents, the standard set by Seattle's Paid Sick Leave Ordinance.
No training wages, no lower wages for tipped workers, and no "total compensation."
Increased worker protections against wage and tip theft.