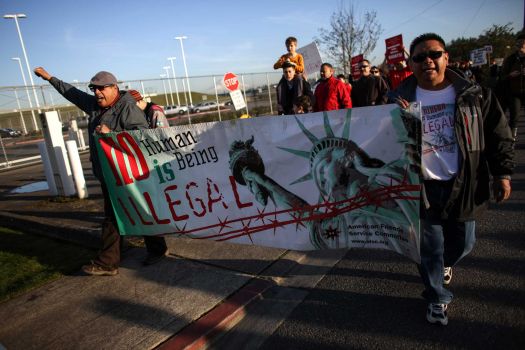 Re-posted from www.Sawant.Seattle.gov (originally posted March 11, 2014)
The following letter was sent from the office of Seattle City Council Member Kshama Sawant on Tuesday, March 11, 2014.
Dr. George C. Zoley, CEO of GEO Group Inc.
One Park Place, Suite 700
621 Northwest 53rd Street
Boca Raton, FL 33487
President Barack Obama
The White House
1600 Pennsylvania Avenue NW
Washington, DC 20500
Nathalie R. Asher, Field Office Director, Enforcement and Removal Operations
U.S. Immigration and Customs Enforcement
12500 Tukwila International Boulevard
4th Floor
Seattle, WA 98168
Dear Dr. Zoley and Mr. President,
It has come to my attention that an estimated 750 immigrant detainees at the Northwest Detention Center began a hunger strike on Friday to protest inhumane treatment and deportations. According to their lawyer, the detainees are paid only $1 for a full day's work, their food is inadequate, and the hunger strikers are being denied blankets, sheets, and even their clothes.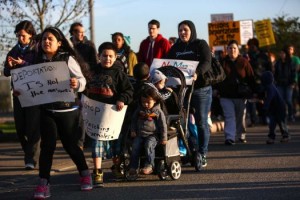 President Obama, it is well within your power to answer the strikers' pleas for justice and halt deportations while a comprehensive immigration reform is negotiated. Yet your administration continues to go in the opposite direction, deporting nearly 2 million people thus far in your presidency. That is more people than under all previous presidents combined.
It is far past time that you listened to the voices of immigrant organizations, labor unions, faith groups, and the growing number of municipal governments across the country who are demanding an end to this shameful policy that has broken up hundreds of thousands of families and forces millions of hardworking members of our communities to continue to live in the shadows. The National Council of la Raza reports 150,000 U.S.-born children have been separated from at least one parent in the last year alone. A majority of them are under the age of ten.
The GEO Group Inc., which owns the Northwest Detention Center, profits from this immigration policy and has lobbied Congress in favor of policies that would lead to increased immigrant detentions. It paid CEO George C. Zoley nearly $6 million in compensation in 2012, yet refuses to provide adequate food to the people in its detention centers. The GEO Group must immediately meet the hunger strikers' demands of improved food, improved treatment (including medical treatment), increased pay for their work in the facility, and an end to the exorbitant commissary prices.  I call on President Obama to exert all the pressure of his office to see that this happens.
I am in solidarity with the detainees at the Northwest Detention Center, and commend them for their courage and sacrifice in this struggle for justice. As a Seattle City Councilmember, I will support them in any way that I can and explore ways for the City Council to support the larger struggle to stop deportations and ensure a just immigration reform.
Sincerely,
Seattle City Councilmember Kshama Sawant