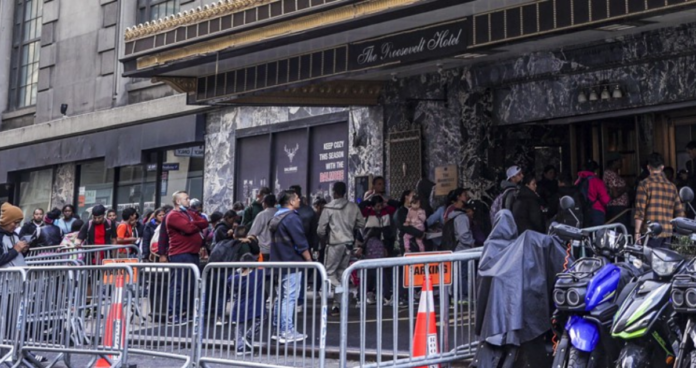 Throughout his time in office, Biden has utterly failed to deliver any meaningful departure from Trump's horrific immigration policies. But the recent news that he will use executive action to ensure speedy construction of the border wall – and that he will waive several environmental regulations to do so – is a new low.
This move will have devastating consequences for asylum seekers fleeing violence, corruption, and climate disasters – all things that are a product of US imperialism's brutal intervention into Latin America.
Furthermore, as the deepening crisis leads Democratic politicians of all stripes to take more and more reactionary measures in response, workers and young people are forced to come to the conclusion that we need a real alternative.
Even the progressives of the Democratic Party are putting up feeble resistance, if any. Alexandria Ocasio-Cortez, who originally made her debut in Congress by occupying Nancy Pelosi's office, has only released a press statement condemning the border wall – but she hasn't rescinded her endorsement of Biden for re-election.
The Democrats will never be a real challenge to the right, they will always be their enablers. We need a new party that will fight for full rights for immigrants, and build genuine unity between native-born and immigrant workers.
---
NYC Politicians Propose Cuts Instead of Solutions
By Adrienne Gomez
In the past year, over 100,000 migrants have passed through New York, fleeing the disastrous results of imperialism and climate crises throughout Latin America and the Caribbean. In New York City, there are at least 40,000 rent-stabilized apartments sitting vacant, yet New York City officials resorted to tents and airplane hangars to handle the overflow of migrants in shelters. Every day, migrant adults and their children approach commuters on the train, selling candy to scrape together a few dollars while politicians decide their fate.
As more migrants arrive, New York City Mayor Eric Adams and New York Governor Kathy Hochul – both Democrats – insist that migrants are draining valuable resources. Instead of taxing the rich to fund public services, Adams proposed that all city agencies cut their budgets by 15% to allegedly pay for the cost of the migrant crisis. Budget cuts to public services while publicly scapegoating migrants all but guarantee public ire toward the migrant community.
The Cause and Pain of the Migrant Crisis
US foreign and immigration policy are direct contributors to the migrant crisis. The US is notorious for destabilizing other nations to gain access to oil and other raw minerals, often propping up corrupt regimes to maintain the flow of profits. Those fleeing the aftermath of climate change, devastating neoliberal trade deals, and the endless War on Drugs, desperately seek refuge in the US.
In January of this year, in response to pressure over its abysmal immigration policy, the Biden administration introduced the Humanitarian Parole Program. If passed, up to 30,000 migrants would be admitted to the US each month. Those admitted would need to have financial sponsors, undergo background and security checks, and complete an online application to stay in the US for up to two years. There are almost 1.6 million people waiting for an asylum hearing in the US.
This program prioritizes migrants with the financial means and resources to apply. The previously mentioned tents and airplane hangars are unlikely to have access to WiFi for their migrant occupants. Many migrants are from the poorest regions of their home countries and lack access to financial sponsors, scholarships, or the skilled jobs US immigration policy prioritizes.
According to the mayor's office, only a fifth of the migrants in New York City have filed asylum applications, not including those being assisted by the non-profit sector. Hochul wants to authorize work permits to migrant workers at the state level, which is unprecedented. However, as this legislation is debated in Albany, migrant people's time is running out. Adams is actively trying to dismantle New York City's "right to shelter" laws. In late September, the mayor's office has ordered that any single migrant occupying a city shelter must vacate their spot after sixty days, forcing even more people out onto the street in the midst of NYC's latest housing crisis.
Republican leaders such as Governor Greg Abbott of Texas and Governor Ron DeSantis of Florida love to exploit New York's right to shelter laws. They bus hundreds of migrant people to New York City every month, intentionally overwhelming the city's shelter system.
Neither Adams, Hochul, Abbott, or any member of their parties are interested in solving the migrant crisis. Both the Democrats and Republicans have made migrants the perfect scapegoat for their ineffectiveness. Blame is laid on migrants in need when in fact both parties were slashing the budgets of public services long before the migrants arrived. To solve this crisis, both migrants and native-born New Yorkers must join forces.
Building a Mass Struggle for Migrant Rights
Corporate politicians bake xenophobia into their campaigns to gain political clout and pose themselves as the only ones who can protect American workers and American jobs. There are sections of the population already emboldened by Adams' claim that the migrant crisis will "destroy the city," leading to far-right demonstrations outside of migrant shelters in Staten Island and Brooklyn.
Misleading voters with racist rhetoric is an old tactic used to turn ordinary working people against one another. The working people of New York City must reject this dirty trick, as they have more in common with the migrant community than they do with Adams or Hochul or the big businesses actually running the city. Big developers and corporate politicians are responsible for the housing crisis and lack of social services, not migrants.
Ordinary people have done more to help the migrant crisis than any politician so far. Throughout New York City, mutual aid and immigrant rights groups have pivoted to gathering food, clothing, funds, and legal aid for the migrant community. The drive to help those in need resides within all regular, working people; it must be mobilized and channeled at a larger scale.
Organizing the broader working class in New York City is crucial in pushing back against the hostility directed at migrants from City Hall. New York City has a long history of class struggle led by both immigrant and native New Yorkers alike. The needs of migrant people are deeply tied to the needs of native New Yorkers and together, they can fight – and win – a better city for all.
---
In Chicago, Johnson Flounders But Migrants Fight Back
By Stephen Thompson
Chicago is an extremely wealthy city. If gross domestic product (GDP) for the metropolitan area were distributed equally, all residents (including children) would receive about $72,000 per year. One can imagine a future in which this spectacular wealth is used to ensure that all Chicagoans enjoy high-quality housing, health care, and mass transit, while also having plenty of free time to hang out at the city's beautiful lakefront beaches.
There is a massive gap between this possibility and the reality of Chicago today. The Democratic Party, comprised of corporate lackeys and funded by billionaires, has long dominated local politics. Chicago's wealth is used not to improve the lives of residents but instead to bludgeon them into submission while giving new advantages to the rich. The party's politicians have ramped up police spending, eliminated corporate taxes, showered developers with hundreds of millions in subsidies, and cut social services. This mix of expanded policing and low social support has created the perfect environment for hyper-exploitative corporations like Amazon, which is now the region's largest private employer.
Since 1980, as income inequality has exploded nationally, it has increased even more quickly in Chicago. Housing has become increasingly unaffordable, homelessness is rising, and food pantries are swamped with hungry, struggling people. But residents have also fought back in a variety of ways, with successes and failures that people everywhere can learn from.
Brandon Johnson Fails To Deliver
Brandon Johnson was elected Mayor of Chicago in April of 2023, vowing to raise taxes on the wealthy, and prioritize new social programs over spending on police. But Johnson's approach resembles a long line of other Democrats who have reneged on campaign pledges. In fact, only a month after taking office, Johnson broke a key promise by renewing the "shotspotter" police surveillance program.
The new mayor now faces an important test as the city prepares its next annual budget. Because the Democrats refuse to tax the rich, the city's finances are in terrible shape. Current projections show a $538 million municipal deficit in 2024, a deficit of $600 million in Chicago Public Schools in 2025, and a $700 million "fiscal cliff" in the regional public transit authority in 2026. Meanwhile, in the face of opposition from the state's billionaire "progressive" governor, Johnson has distanced himself from ambitious plans to tax the rich. Without funding, it is unlikely the budget will include many of the programs Johnson campaigned on.
Stuck At A Dead End
Johnson's uninspiring performance so far is not simply a result of his failings as an individual. It also reflects the source of his power and the institutions of which he is a part.
Almost immediately after Joe Biden announced his intention to run for re-election, Brandon Johnson endorsed him. Johnson also pledged that, while he served as mayor, "no place will better align" with Biden's economic vision than Chicago. That is bad news for the city's working people. During Biden's time in office, the real after-tax income for wealthy people has increased spectacularly, while the national poverty rate has doubled. Biden has also used his office to attack the right to strike, and barely lifted a finger as corporations engaged in a wave of illegal union busting. It is impossible to side with Joe Biden while also siding with the working class.
So why has Johnson thrown his support behind Biden? It would be hard to explain this decision as an attempt to appeal to voters, since Biden is deeply unpopular, and even most Democratic voters say they don't want him to run for reelection. Instead, Johnson's actions have to be understood as a political strategy of building support within the Democratic establishment, with the hope that this will translate into votes for progressive policies on the City Council. This strategy is a dead end.
This does not mean that nothing good can come from participation in electoral politics. In fact there is a long history of workers all over the world using elected office to spearhead successful battles against the ruling elite. But to do this, workers need a party of their own, free from corporate funding and influence, with internal democracy and leaders who are accountable to members. The Democratic Party lacks these qualities, and is accountable only to its corporate donors. Because he has made the Democratic Party the source of his power, Johnson must ultimately carry out the will of its ruling-class leadership, rather than the working and oppressed people who elected him. This is why he has failed to deliver on his promises for progressive change.
Migrants Stand Up To Johnson's Police – And Win
Recently, Chicago's mayor has floundered in the face of an escalating migrant crisis, in which asylum seekers have faced abuse from police officers. The crisis has laid bare just how little things have improved under Johnson, while also showing how people can win by fighting back.
In one incident, sixty migrants were forced to share a dirty portable toilet without toilet paper or a place for washing hands, and denied access to a nearby public bathroom in a police station. The migrants organized a disruptive protest against this horrible treatment, and one of them, Dayrelys Coy, demanded access to clean facilities to care for her young son. A scuffle with police ensued; video footage from the scene showed a crowd of Johnson's officers attacking Coy, who was charged with three felonies for "resisting arrest."
But rather than backing down, Coy took her case directly to the public, explaining the inhuman treatment to which she was subjected and the need to fight back. The city government retreated almost immediately: prosecutors dropped all charges, while police opened up the public bathrooms to migrants, provided new portable toilets, and agreed to move Coy into an apartment.
Which Way Forward?
When Brandon Johnson campaigned to become mayor of Chicago, Jacobin magazine described him as a "champion of the working class," and even suggested he might "assert public control over capital." Socialist Alternative, on the other hand, warned that Johnson would fail to deliver on his promises.
So far, our analysis has unfortunately held up very well. In Brandon Johnson's Chicago, as things currently stand, asylum seekers will spend the winter living in tents, and the number of homeless residents will remain in the tens of thousands. Right-wing ghouls will continue to pit these groups of struggling people against each other, the rich will continue to get richer, and Democrats will continue to make excuses for themselves.
But even as Brandon Johnson, with all his power, has accomplished so little, the example of Dayrelys Coy shows how seemingly powerless people can fight back and win – improving their living conditions. By having clarity about who her real enemies are, and appealing directly to the public for support, a 21-year-old woman, without even the basic legal rights of a U.S. citizen, took on a notoriously brutal police department and won. We need to expand this type of fighting approach to the masses of working Chicagoans.
WE DEMAND:
A housing first approach – all vacant properties should be used to immediately house people without homes.
Tax the rich to fund affordable, high-quality public housing. Pass the Amazon tax and a tax on financial transactions.
Put policing under the control of democratically-elected civilian review boards with the power to hire and fire, with control over budget decisions and the power to subpoena.
A union-jobs program to rapidly expand housing, green infrastructure, and public transit.
A new party for working people to unite social struggles on all fronts and organize mass action against the ruling class.
A socialist Chicago. As long as LaSalle Street calls the shots, working people will have to fight just to keep what we have now. The massive wealth of this city needs to be used for the benefit of all working Chicagoans. To do so we need to bring the top 500 companies and banks into public ownership, and a democratic socialist plan for the economy based on the interests of the overwhelming majority of people and the planet.