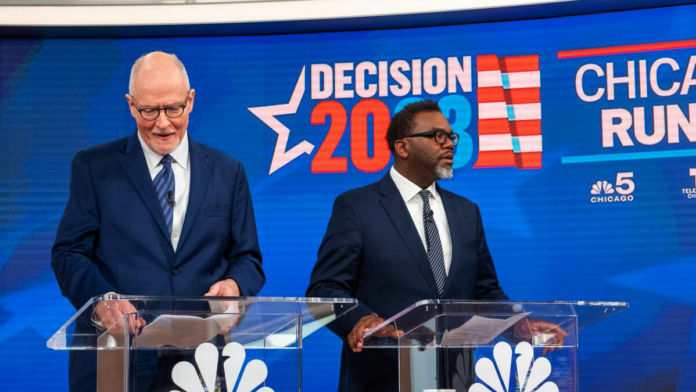 The next mayor of Chicago will be elected on April 4 to decide who will succeed Lori Lightfoot this year. Mayor Lightfoot has been a conservative figure in Chicago city politics, despite her initial progressive veneer, who sanctioned a harsh police response against Black Lives Matter protesters in 2020. While she initially campaigned on canceling a $95 billion police academy, she ultimately raised the police budget by $200 million dollars, bringing the total police budget to almost $2 billion dollars.
Chicago is one of the world's richest cities with its stock exchange handling about $1 quadrillion every year. And yet the city is massively unequal, with nearly a quarter of its residents living below the federal poverty line. This inequality is at the root of the issue of crime and public safety that has dominated Chicago's election cycle. But which mayoral candidate, if any, will do something about it?
Paul Vallas, who has made addressing crime the centerpiece of his campaign, is the "law and order" candidate that promises to make people safer by increasing police presence. Vallas has been the CEO of both the Philadelphia and Chicago public school districts, where he closed down many schools in poor Black and brown neighborhoods, and helped privatize the school system by opening up more charter schools. The city of New Orleans has no public school system anymore, only charter schools – owing in significant part to Vallas's time there.
The Chicago Fraternal Order of Police have endorsed Vallas for mayor, knowing Vallas is the best candidate to keep their budget growing and oppose attempts to win measures for police accountability. Vallas, despite being supported by a huge part of the Democratic establishment, has major ties to the Republican Party and has reportedly fundraised for anti-LGBTQ groups as recently as last year. He raised $4.5 million in campaign donations from wealthy donors, big banks, and corporations.
What about his opponent, Brandon Johnson? Johnson is styled as a "movement candidate" by many on the left, including Bernie Sanders who is visiting Chicago in the lead up to the election to host a rally in support of Johnson, but his actual politics and approach don't reflect this reputation.
Johnson has the enthusiastic endorsement of the Chicago Teachers Union (CTU) for whom he's been an organizer since 2011. Despite the CTU's impressive history as a union willing to pick a fight with mayors like Rahm Emanuel and Lori Lightfoot, their endorsement of Johnson doesn't automatically mean that he's a "fighting" candidate.
Johnson is paid $100,000 dollars per year as a CTU organizer, while most Chicago Public School teachers make significantly less. As a Cook County board commissioner, Johnson voted for an austerity budget that cut health services, despite having attended a rally to show support for healthcare workers on strike in 2019.
Strikingly, throughout interviews and debates, Brandon Johnson has not articulated clear demands or a fighting strategy for workers who live in Chicago. In a mayoral debate on March 8, Johnson was confronted about his stance on taxing the rich, his response was that it was just "one idea." Johnson's main stated goal for the city budget is to address "structural deficits" in order to raise more revenue, with hardly any language on taxing the wealthy. In practice, this will not be sufficient to change anything for working-class people in Chicago – in order to address deep economic inequality and the social ramifications of it, like crime, we need nothing less than a massive tax on the biggest corporations in Chicago to fund affordable housing, public education, and mental health services. If Johnson is serious about funding the services working people need by taxing big business he could clearly unapologetically support the Amazon Tax ordinance co-sponsored by Ald Byron Sigcho-Lopez and Ald Carlos Ramirez-Rosa. The Amazon Tax, which was introduced at January's city council meeting, would raise at least $500 million every year. Johnson should call for the ordinance to be immediately brought out of committee and passed as a part of his first council meeting were he to be elected.
Brandon Johnson, despite his labor backing and left credentials, would if elected likely follow a very similar trajectory to Lori Lightfoot. While Socialist Alternative welcomes labor unions and left coalitions running their own candidates, this needs to be done outside of the framework of the Democratic Party on the basis of a fighting working-class program, which would have to include taxing big business as a starting point.
While Paul Vallas represents a villainous right-wing agenda, what's ultimately needed to defeat Vallas, and other right-wing figures like Mayor Eric Adams in New York who have already won elections, is a genuine left-wing alternative. To defeat the far-right and corporate takeover we need a united and organized working class with its own party and fighting strategy, with a program to which elected representatives are held accountable. In addition, no candidate or politician for the working class should take more than the average worker's wage.
Unfortunately, Brandon Johnson is not providing a genuine working-class alternative to the reactionary Vallas campaign. No matter who gets elected in April, little will change in Chicago without an organized movement against the greed of this system, going beyond what either candidate in this race is willing to offer us.