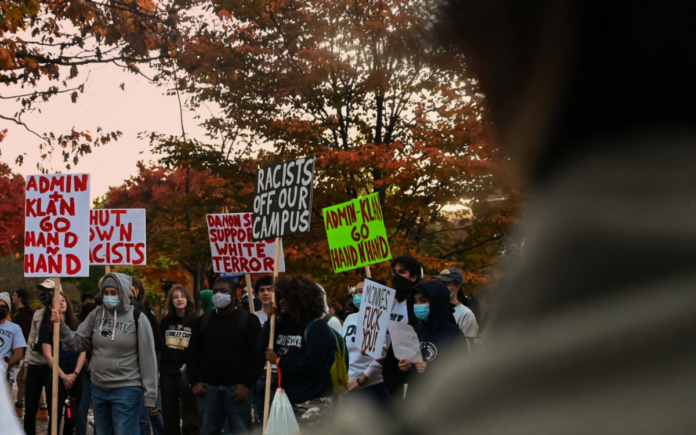 As students at Penn State University settled into their fall semester last October, Proud Boys founder and right-wing pundit Gavin McInnes was scheduled to speak at a "hate speech-as-satire comedy" event. Weeks of students calling to cancel the event went unheard right up until the evening it was scheduled, when a crowd of about 300 students gathered in protest. When they marched to the event hall, they were met by far-right extremists armed with bear mace who attacked students, journalists, and campus police. Far right troll Alex Stein walked through the crowd of students with his camera instigating confrontations with protestors, and at least one physical altercation broke out. However, demonstrators remained largely peaceful despite this verbal and physical intimidation. Forty minutes before the event was scheduled to start, the university finally canceled it.
The Right Goes to College
This is not an isolated phenomenon. College campuses have been a favorite recruiting ground for the right, as much as they are a place for many young people to learn and explore left-leaning ideas. Groups like Turning Point USA that have been known to spout dangerous right-wing propaganda are growing in membership, with TPUSA being the "dominant force in campus conservatism" today. White supremacist Nick Fuentes recently capitalized on Kanye West's anti-Semitic remarks to promote a #YeIsRight campaign on college campuses, creating "Students for Ye" network which, according to Vice News, "Fuentes and his ilk are using to lure in and radicalize young, college-aged recruits."
But wherever the right shows up to shop for an audience for their ideas, there needs to be a strong and determined mass of workers and youth who can yank the platform out from under these insidious commentators. At Penn State, it was the turnout of students with clear objection to bigoted ideas that squashed the far-right intrusion. This is the only way to beat back the far right and its rotten presence in society; by organizing in our schools, communities, and workplaces.
Students and Workers Fight Back
It is important that students, the school community, and the broader community are able to mobilize to push back against reactionary ideas and their purveyors. Last October, the University of Wisconsin Madison hosted Matt Walsh, a right-wing podcaster and columnist who recently testified in favor of a bill in Tennessee that would ban gender-affirming care for trans youth. Madison Socialist Alternative called a counter-protest that drew 250 people, humiliating Walsh and his supporters. As organizer and Socialist Alternative member Luke Eckenrod said: "A protest is a good first step to organizing people who do not support transphobia."
It is clear the far right is not afraid to exercise intimidation and violence against marginalized groups. But they are ultimately a minority who can be undercut by the strength in numbers of hundreds of ordinary people bravely confronting both the far right and anyone who stands to lend them an outlet. Directly following the Unite the Right rally in Charlottesville in 2017 and the murder of counter protestor Heather Heyer, 40,000 people marched to shut down another alt-right "free speech" rally in Boston. Democrat Marty Walsh, the current Secretary of Labor and the mayor of Boston in 2017, initially came out strongly against the white supremacists and in support of the planned counter demonstration, but he quickly backtracked and advised people to stay away from the event. Tens of thousands showed up in spite of Walsh to challenge the far right. The massive turnout caused three of the six scheduled alt-right speakers to back out, and effectively swallowed the pathetic turnout of their apologists. We cannot trust establishment politicians or the Democratic Party to pushback against the tide of the right.
Can We "Deplatform" the Far Right?
At Penn State, the administration was quick to blame students for the attacks they endured on their own campus, referring to them as "agitators." We cannot rely on our university boards, social media corporations, the Democratic Party, or any other ruling class institutions to neutralize the threat that the right poses to all those doubly oppressed by this system of capitalism. It will take a working class fightback to drive them back.
The sad truth is that the longer there remains a basis and appeal for right-wing ideas, there will always be a platform waiting for an ordained hooligan like McInnes, Fuentes, or Andrew Tate. They are able to lure in jaded young people, in part, by positioning themselves as an anti-establishment alternative. But the bigoted, "anti-woke" radicalism of these figures has absolutely nothing to offer young people in the many crises they face today. Beyond confronting these ideas wherever they show up, we also need to politically undermine the right's growth with a clear left program. Workers and young people need a new party that can appeal to those people disillusioned by betrayals from Democrats and are looking to far-right figures for answers.
We need an independent movement against racism, sexism, homophobia, and transphobia that connects to a broad working-class program that presents a real alternative to the misery and alienation of the capitalist status quo.