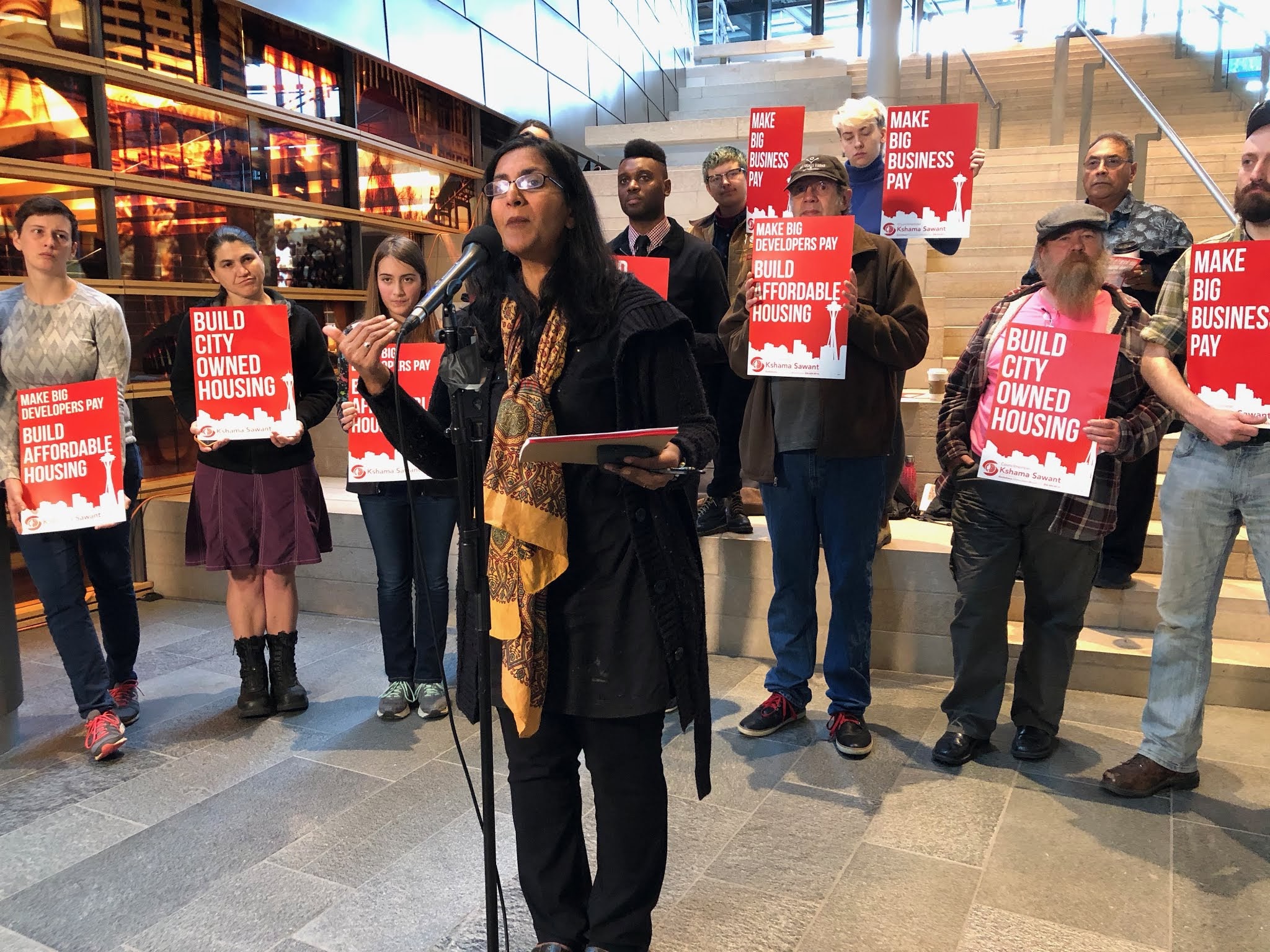 After two months of intensive fightback from working people and renters, the Seattle City Council voted 8-1 on November 19 to adopt a business-as-usual budget that completely fails to offer a solution to the affordable housing crisis that affects tens of thousands of working families. The sole vote against the budget came from Socialist Alternative City Councilmember Kshama Sawant. Despite the daily rhetoric from Democratic Councilmembers and Mayor Durkan that the city desperately needs a massive influx of affordable housing, this year's budget fails to put a single cent more toward the construction of affordable housing than was legally mandated by voters. Instead, this budget means a further deepening of austerity policies – the cutting of public services – for the working people of Seattle, while the political establishment remains paralyzed by its lack of will to pursue any avenues to tax big business and the rich.
Despite the callous approach of the city's political establishment, the People's Budget movement spearheaded by Socialist Alternative and Kshama Sawant alongside hundreds of activists, community members, and working people were able to win important gains.
When We Fight, We Can Win
A key victory of the People's Budget movement was the first eviction defense attorney in the city's history – to provide badly needed support for tenants facing evictions. Currently evictions are rampant in Seattle, with over three eviction cases being filed a day, over half of which were non-payment of one month or less in rent, and severely disproportionately affecting working-class women and people of color. Under Seattle law, even a small breech in timing of a rent payment can result in a three day eviction notice for tenants, and even if they are able to get the full sum of their rent together in that time they can still be kicked out of their housing at the landlord's whims. Establishing a legal recourse for tenants is an important precedent.
This is the second year in a row that the Mayor's budget has attempted to pull the rug out from under the feet of the City's most vulnerable by cutting critical homeless shelter services provided by SHARE/WHEEL and Nickelsville. And for the second year in a row, the People's Budget movement has rallied hundreds of homeless activists and community members to demand these cuts be reversed. Mayor Durkan's priorities could not be more clear: this past July she fought ruthlessly against any taxation on large corporations like Amazon, but repeatedly puts the interests of the working class, the oppressed, and homeless people on the chopping block without a second thought.
Our movement succeeded in winning important gains for Seattle's LGBTQ community as well. These included funding for an LGBTQ senior center in the heart of Capitol Hill, Seattle's historically LGBTQ neighborhood. A community center for people to age together in dignity has been a key demand for years from LGBTQ activists and organizers. Some of those who feel the most acute brutality of the severe housing crisis are seniors on fixed incomes and the LGBTQ community, along with working-class people of color and youth. Another huge victory was funding for an LGBTQ wellness center at NOVA High School, a school that serves primarily LGBTQ youth. In addition, LGBTQ activists were able to backfill against cuts made by Seattle Mayor Jenny Durkan to services for the trans community. Seattle's LGBTQ community, from youth to seniors, faces a terrible plague of hate crimes, discrimination, and homelessness. The victories won this year are an important first step toward securing the right to safety and dignity for a segment of our city who's urgent needs continue to be ignored by the city's political and business establishment, despite their progressive rhetoric.
On top of the victories described above, our movement was able to secure partial ongoing funding for the annual Indigenous People's Day celebration, which was itself a serious victory won by Indigenous activists and the People's Budget movement just a few years ago. Other victories include statements of legislative intent to push forward the creation of a public bank, linked to the movement's victory in divesting from Wells Fargo in 2017, and to demand the mayor choose a location for a safe consumption site in the city that has been stalled for months
The People's Budget struggle has been organized every year since Kshama Sawant was elected to the Seattle city council as an open socialist in 2013. And each year, it has managed to secure meaningful gains by building struggles of working-class and oppressed people as well as by repeatedly packing city hall with unified campaigns of groups, activists, and concerned neighbors who refuse to roll over and accept the city establishment's pro-corporate budget priorities.
Going forward into 2019, this lesson will be fundamental for people looking to change society. That in the end, it is always social movements of ordinary people, coming together in common cause that makes change. Corporate Democratic politicians looking to tinker at the fringes, afraid to rock the boat for fear of provoking the big businesses that helped elect them, cannot be relied on, even when they utilize progressive rhetoric.
The Balance of Power
Despite what working people were able to achieve through organizing this year, the reality unfortunately remains that Seattle's searing crisis of housing affordability remains overwhelmingly unaddressed. Kshama Sawant and the People's Budget movement put forward 11 separate options for funding affordable housing, including a reinstatement of the Amazon Tax that was criminally repealed earlier this year. Every single option was voted down, with no alternatives proposed in the process.
Compare this reality with this statement from Mayor Jenny Durkan earlier this year – "Our first priority, though, must be to build a more affordable Seattle.…Number one: We have to build more low-income and middle-class housing as quickly as we can."
We need to be clear, what's stopping us from tackling this crisis is not a dearth of good ideas, but a lack of political will brought on by the thousand threads tying corporate politicians to big business. All the good ideas in the world cannot move a feather without an organized movement to fight for them. The political establishment cannot be swayed by morality or ideas alone because, in the end, they represent a different class. The underlying reality is there is a constant antagonism between the interests of big business, and the working people who make the city run.
Corporations like Amazon, Vulcan, the Mariners franchise, or downtown real estate interests are able to snap their fingers and have their whims carried out, while working people are ever more squeezed between eye watering housing costs and regressive taxation that puts all the burden for the city's increasing cost of living on those with the least to spare.
While our People's Budget pushed back against the status quo and made our voices heard this year, we were not yet strong enough to fundamentally challenge this paradigm. The votes cast by councilmembers against the movement's housing proposals were not based on principles, data, or investigative evidence as they claim; they were cast because of the overwhelming balance of corporate politicians on the city council and the pressure of big business in the balance of power won out this time.
This balance can however be shifted through struggle – it is not set in stone. More far-reaching gains will require building stronger movements. Winning a genuine People's Budget will also require electing more working-class representatives like Kshama Sawant, who fight unambiguously for workers rather than basing themselves on backroom negotiations, or on what's acceptable to big business. Nationally, a new mass party of working people, independent of corporate money and both big business parties is what's needed. We have the potential to set a national example in Seattle's local elections next year, by building a progressive and socialist alliance to fight for the city we need. One that fights for bold working-class demands and makes building social movements central to its political approach.
Importantly as well, our struggles here in Seattle are not bound by the city limits. When we build fighting movements, we point the way forward for all those looking for a way to change the world. Powerful struggles by workers anywhere can inspire workers everywhere. We saw this explicitly earlier in November, when a slew of progressive taxes were passed in the California cities of Mountain View, East Palo Alto, and San Francisco inspired by the Tax Amazon struggle in Seattle.
As we fight for a socialist future, in which we as working people finally have a democratic say in our working lives, the lessons we learn and organizations we build through a movement building approach will be pivotal. Just as ideas alone will never be enough to sway the corporate political establishment, so too will they never be enough alone to change the world. Fighting for a socialist world means fighting now to build our movements and learn together as workers how much we can achieve when we stand together.
We can't expect a city council in the pocket of big business to make build the city we need. We must rely on the strength of our movements. We may not have won a People's Budget this round, but we are building a movement that can to win one in the future.