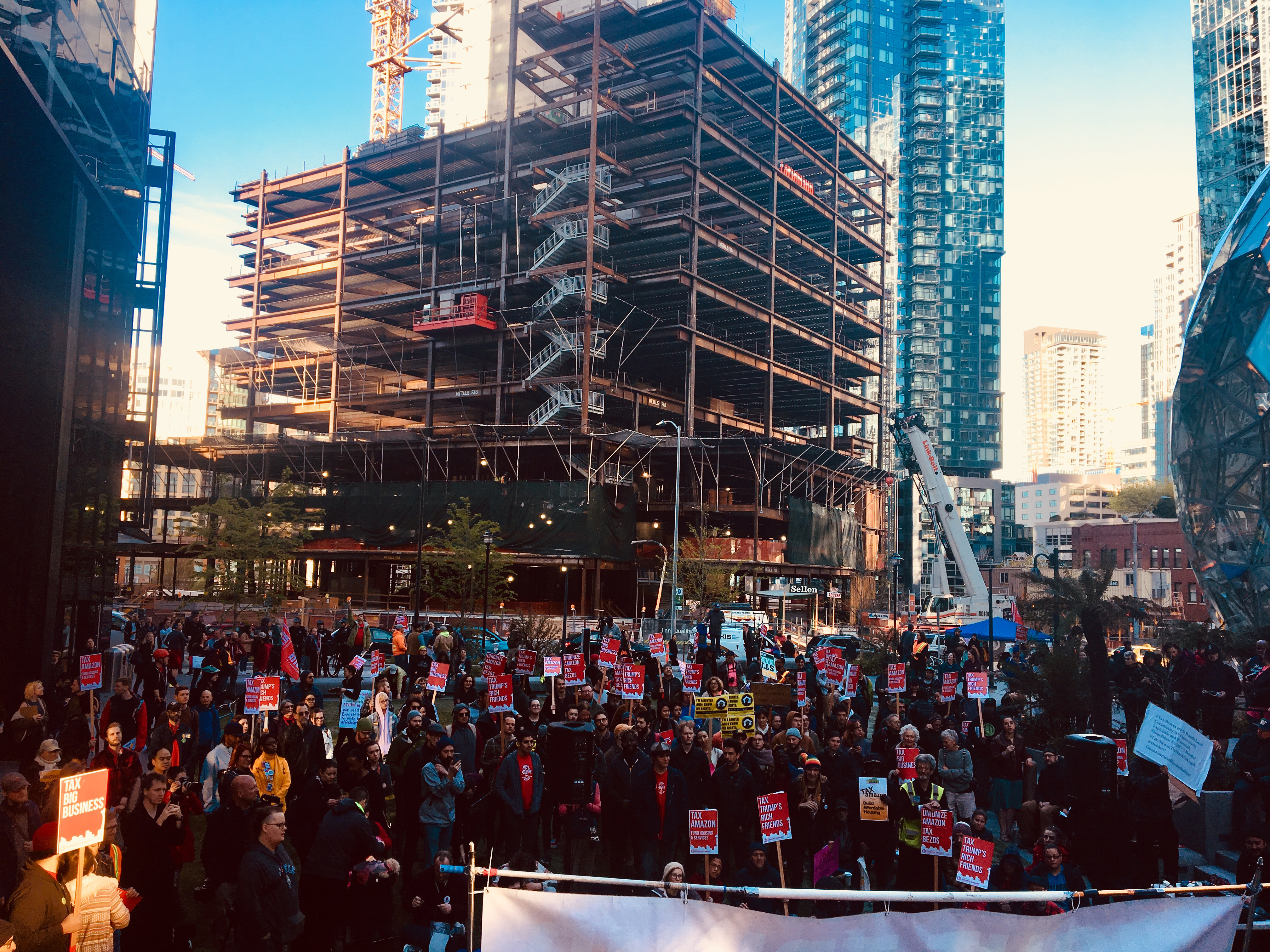 Hundreds of workers, students, and housing activists gathered at the Amazon "spheres" in Seattle's glitzy Belltown neighborhood to deliver a strong message to Jeff Bezos and the city's corporate establishment: our housing and homelessness crisis will not wait: We are ready to tax big business now! Speakers from Real Change, UAW Local 4121, UFCW Local 21, the Housing for All Coalition, Democratic Socialists of America, United Students Against Sweatshops, and several members of Socialist Alternative Seattle, among many other organizations, addressed an animated crowd carrying "Tax Amazon" picket signs, which reflected off the shiny glass walls of the tech giant's iconic spheres. Protesters were demanding the Seattle City Council pass a  $150 million tax on the top 5-10% of businesses in the city and use the money to fund affordable housing and homeless services.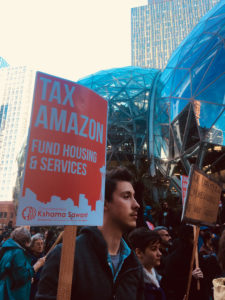 The protest was the result of an active leafleting, phone banking, and postering campaign across the city conducted by the Affordable Housing Alliance, a coalition of housing and social justice activists convened by Seattle City Councilmember Kshama Sawant to fight for bold demands addressing the city's staggering housing crisis. The crowd ranged from seasoned activists of the housing struggle to people attending their first protest.
Amidst chants of "Amazon has got to pay" and "Housing is a human right," speakers addressed the skyrocketing rents and homelessness crisis that have grown in parallel with Amazon's now sprawling campus in South Lake Union — what Real Change organizer and Socialist Alternative member Tiffani McCoy described as "ground zero" of the housing crisis. Many speakers contrasted the clear anger prevalent against wealthy corporations like Amazon that "we know have the money" with recently the released recommendations from the "One Table" task force. Seattle Mayor Jenny Durkan convened a group of business, government, and nonprofit leaders in this task force to address homelessness. One speaker pointed out that the One Table proposals did not specify a single revenue source for their much deliberated "priority actions."
Socialist Alternative member and tech industry worker Sarah C. explained that class struggle methods are needed now to put the levers of society back in the hands of ordinary people. "We support Amazon tech and warehouse workers in their struggle to unionize, and fight together for better pay and working conditions!" she said before going on to say "in order to push beyond what we have already won, we will have to build a sustained fighting force behind bold and strategic demands!"
The legislation to "Tax Amazon" is officially known as the Employee Hours Tax (EHT), a tax on the top 5% to 10% of Seattle big businesses to put millions toward public housing and homelessness services.
Sawant explained that Amazon and big business can easily afford to pay and rejected the "skin in the game" proposals by big business that small businesses, which are already overburdened, should also be taxed under the EHT. This "trojan horse" from big business and the political establishment is just a dishonest maneuver to try to make small business the sympathetic face of the opposition, and has already resulted in a letter signed by 301 business opposing the EHT.
Last year, Jeff Bezos became the richest man in the world. In that same year, Amazon, scandalously, paid $0 in federal taxes after raking in billions in profits. On top of this, it will receive an additional $789 million tax break from Trump's massive corporate tax handout! By taxing Seattle's biggest businesses like Amazon, Microsoft, and Vulcan Real Estate to build homes and shelter the homeless, ordinary Seattleites can pave the way for the biggest transfer of corporate wealth back to the working class since the passage of the $15 an hour minimum wage.
The battle over the EHT is far from over. The corporate-dominated majority of the Seattle City Council voted in November against a similar tax on big business just as Amazon gave $350,000 to now-Mayor Jenny Durkan's campaign. As new layers of workers and youth energized by yesterday's bold and direct confrontation of the forces most directly responsible for the housing crisis move into struggle, it will be crucial to bring forward the strongest possible demand for the full $150 million annual recommendation put forward by the city's progressive revenue task force. While support for taxing big business to fund desperately needed housing and public services is palpable across our neighborhoods and communities, it will take broader mobilizations and a campaign of escalating tactics and actions to pressure the city's political establishment to take meaningful action to put the massive wealth accumulated on the backs of working people toward our needs, not profits for big business! Socialist Alternative Seattle calls on working people across Seattle to pack City Hall at 5 PM on April 23 when the first public hearing on the EHT will be held before City Council.