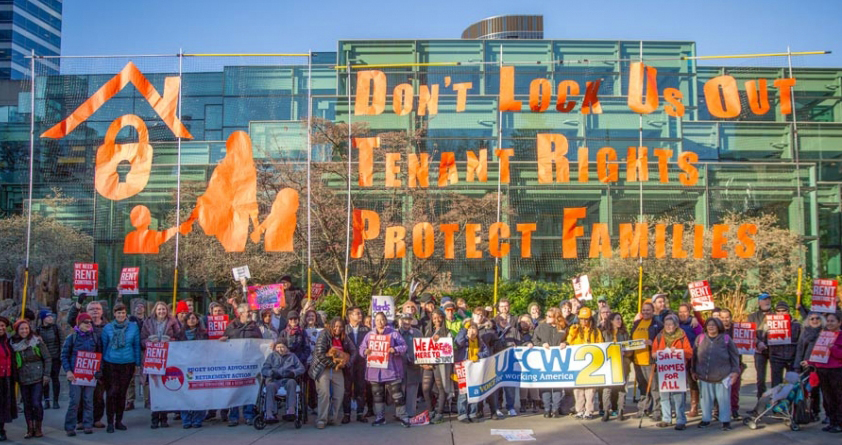 When Nicole Macri (D), Washington State House representing Seattle, announced her bill to repeal the state ban on rent control back in December, she was met with thunderous applause from housing activists who were protesting outside a landlord convention. Macri undoubtedly chose this event because Seattle's lively housing justice movement has been clamoring for rent control since 2015, when Seattle City Councilmember Kshama Sawant and Socialist Alternative built a campaign around it as a necessary step towards relieving Seattle's extreme affordable housing crisis. That campaign successfully pushed Seattle's City Council to pass a resolution calling for the repeal of the state rent control ban – a measure passed in the '80s at the behest of the landlord lobby – and made rent control a central demand of anti-homelessness and housing affordability groups throughout the city.
Macri was elected in 2016 as part of the "Berniecrat" wave on a platform that heavily emphasized her background in affordable housing work. The rent control repeal bill was her first major attempt to make good on campaign promises and deliver real relief to her deeply rent-burdened constituents. Part of Macri's confidence flowed from the fact that Democrats had just reclaimed a majority in the Washington State Senate, giving them control over both State houses and the governorship for the first time since 2012. This removed the need for bipartisan support, cited in 2015 as the main obstacle to progress by numerous Democratic elected officials when asked for their views on the struggle for rent control being waged by Seattle activists.
Yet despite the Democrats' successful takeover in Washington State last fall, Laurie Jinkins, a Democrat and chair of the House Judiciary Committee, failed to move Macri's bill out of executive session this February, ensuring it would never reach the House floor.  
Why?
It was certainly not for lack of public support. At the bill's public hearing just weeks before, hundreds of supporters traveled from all over the state to testify to the urgency of lifting the ban on rent control. Pro-worker groups like Washington CAN organized call-in campaigns to legislators in support of the bill. Representatives from the City of Seattle reaffirmed the 2015 resolution won by Sawant and Seattle housing activists calling for the ban to be overturned.
While Jinkins herself never publicly opposed the bill, Seattle Democratic State House Rep. Jaimie Peterson responded to a question about rent control by saying "I don't think the answer to increasing the housing stock is putting artificial regulations on [property owners]."
This trickle-down theory of affordable housing posits that the best way to bring down housing prices is to remove regulations so development becomes even more profitable, thus, theoretically, increasing the housing stock enough to create a downward pressure on prices. The problem with this argument commonly touted by both Democrats and Republicans is that it has little basis in the real world. In fact, Seattle's development already outpaces every other city in the U.S., and the recent explosion of new high-end luxury housing has not only not stopped skyrocketing rents, but has in fact  coincided with some of the fastest rising rents in the country.
We should take the opportunity to learn from the disappointing defeat of this highly-anticipated rent control bill in Washington and draw lessons to prepare for the next phase of the fight. Rent control has long been opposed by establishment politicians from both parties. It was first put back on the table in Seattle in 2013, when Socialist Alternative and Sawant campaigned for it alongside the call for a $15 minimum wage. The following year, Socialist Alternative made rent control the central demand of it's Jess Spear for State House campaign, forcing opponent, House Speaker Frank Chopp, to say he supported rent control. The struggle was taken to the next level in 2015 with Sawant holding a series of public meetings and a wildly-popular Town Hall debate on rent control, which culminated in the Seattle City Council passing its resolution of support for rent control in the Fall of 2015.  Without the pressure of this ongoing campaign by socialists and housing activists, Macri's rent control bill would never have existed in the first place.
The fate of Macri's bill proves that to pass such legislation will require having our own elected representatives not just on city council, but at the state level, too. The good intentions of progressive democrats like Macri are easily quashed by the weight of the corporate-backed Democratic establishment. Disappointingly, Macri herself has made no effort to call out the treacherous role played by fellow democrats Jinkins and Peterson in siding with developer lobbyists over working people. Perhaps she has been warned that the long list of endorsements she received in her 2016 campaign will disappear if she goes ahead with this agenda seen as hostile by the party leadership's corporate donors.
Whatever the reason, what's clear is that supporters of rent control cannot rely on the Democratic Party – even well-intentioned Democrats like Macri – to achieve our goals. Our grassroots movements need to run left independent candidates who are 100% accountable to us, who reject corporate cash, and who are prepared to fight boldly alongside us for our interests without bowing to pressure to compromise with the corporate-backed political establishment.