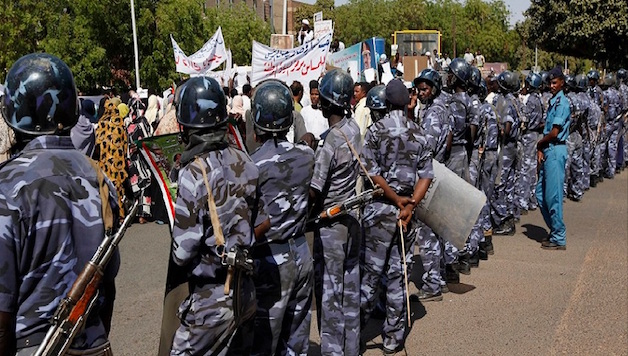 A wave of protests against massive price hikes and government austerity measures has engulfed Sudan over the course of the last two weeks. (see Sudan: Protests erupt against government austerity policies).
Frightened that these protests could develop into a wider movement, the dictatorial regime of Omar Al-Bashir has responded with strong repression. Scores of protesters, journalists, human rights campaigners and political activists have been ruthlessly attacked, intimidated and arrested, and the police has been deployed in silencing the voices on the street. Yesterday Wednesday 17 January in the early morning, the main leader of the Sudanese Communist Party has been arrested at his home by the police. This arrest comes a day after a CP-organized demonstration against the government's austerity measures gathered thousands of people in central Khartoum, shouting slogans like "No to hunger! No to high prices!". This was the largest protest thus far since the recent wave of struggles begun, and it was brutally repressed by the state forces with teargas, beatings and many arrests. On Wednesday afternoon, in another protest organised by the opposition, a new wave of arrests and arbitrary detentions took place. An eyewitness who spoke to the CWI just before that protest reported political police deployed in unusually large numbers, and explained that authorities had flooded the square where the demonstration was set to take place with water tanks, in order to prevent it becoming a focal point for people expressing their anger at the regime and at its anti-poor policies. This type of measures betrays a sense of panic from the part of the corrupt Sudanese ruling elite at the spectrum of mass revolts breaking out in the coming period.
The CWI wishes to express its full solidarity with the people of Sudan, braving the ruthless repressive machinery of al-Bashir's regime to fight for a decent future for themselves. We demand the immediate and unconditional release of all the activists, protesters, critics and political dissidents who have been arrested by the authorities over the last days.
Please send protest letters to the Sudanese Interior Minister Ibrahim Mahmoud Hamid on [email protected], with copies to [email protected]. A suggested wording could be:
"We have been outraged to hear the news about the violent repression by the Sudanese authorities on peaceful protesters exercising their basic democratic rights. This is an unacceptable attempt at forcing the Sudanese people to keep quiet on the austerity policies that are being implemented by the government, despite widespread opposition and the dismal consequences of these measures on people's lives. We demand the immediate and unconditional release of all the protesters and dissidents who have been apprehended in the last days, and the dropping of all potential charges against them. In the event this does not happen, we will make sure that this disgraceful crackdown and brutal treatment of Sudanese voices of opposition is being widely exposed internationally."