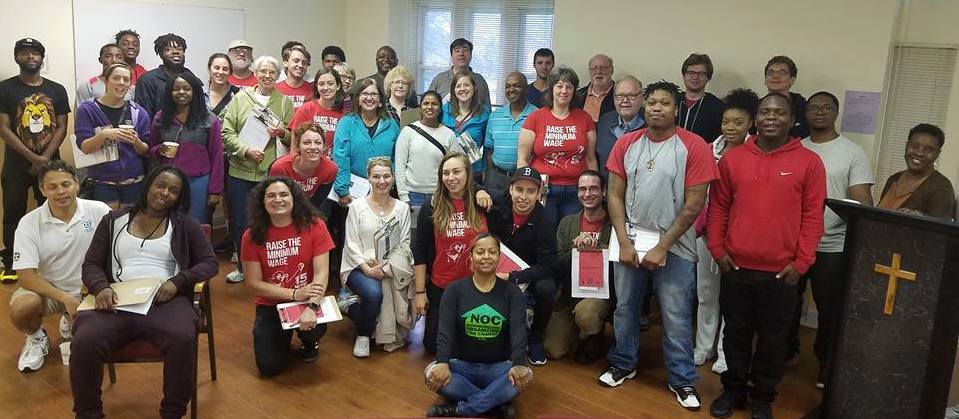 This summer, Minneapolis emerged as the national flashpoint in the fight for $15. Big business and the political establishment faced off against a broad, energetic, multiracial coalition. While the campaign to put $15 on the ballot – initiated by Socialist Alternative – was blocked in a high-profile fight at the Minnesota Supreme Court, the campaign to force the City Council to pass $15 emerged strengthened and poised for a major victory in the months ahead.

The Twin Cities are home to 17 Fortune 500 companies – the highest concentration in the country – but they also have the worst racial inequities in the nation. A staggering 48% of black people in Minneapolis live in poverty, even as the economy booms. Yet, just a few months ago, a majority of the Minneapolis City Council, as well as Mayor Hodges, opposed raising the city's minimum wage – or any serious initiative to address deepening inequality.
After two years of efforts to push City Hall to act, 15 Now Minnesota launched a campaign to put $15 an hour up for a popular vote in November. We built a broad coalition led by Socialist Alternative, Neighborhoods Organizing for Change, a prominent organization in the black community, and Centro de Trabajadores Unidos in Lucha (a prominent group based among immigrants and fast-food workers). In nine weeks, we gathered nearly 20,000 signatures to put $15 on the ballot – thousands more than the official city requirements.
Big business knew that, if $15 got on the ballot, it would pass overwhelmingly. Under pressure from business, the Democratic-Party-dominated city hall worked overtime to block a popular vote on $15, even going so far as to appeal to the Republican-dominated Minnesota Supreme Court.
Although the Supreme Court sided with City Hall to deny voters the right to adopt $15 an hour through a charter amendment, we forced them to finally admit that the City Council has the legal authority to raise wages.
Most importantly, our grassroots campaign has already won the public debate. Polls show 68% of Minneapolis residents support our proposal for $15 an hour, phased in for big business by 2020 and medium-small business by 2022, covering every worker. The same poll showed a stunning 83% of African Americans and 74% of women voters support our proposal – groups that are disproportionately affected by poverty wages.
To mobilize that support into power, we're launching a mass door-knocking campaign across Minneapolis. This will be an enormous volunteer-driven effort, funded by working-class people.
October 15: Win $15 Organizing Conference!
On October 15, Socialist Alternative and the broad coalition for $15 are hosting a mass organizing conference to gather hundreds of workers and supporters together to discuss the strategy to win an ordinance for $15. Here, low-wage workers can come together with their neighbors, community activists, union members, local small businesses, and members of the faith community to build an unstoppable grassroots campaign.
Out of the organizing conference, we aim to host community meetings in every Minneapolis ward to answer common questions about $15 an hour, as well as building the independent movement of workers and supporters to win $15.
Day of Action: Minneapolis fights for $15!
Out of the October 15 organizing conference, low-wage workers and supporters plan to build a day of action to demand a $15 minimum wage. We're working with a powerful coalition to organize the largest workers' rights demonstration in years. We're building a genuine participatory grassroots movement – which, throughout history, has been the tried and true method to challenge entrenched corporate power and big-business-backed politicians. Stay tuned for location and exact date and schedule, to be announced in the coming weeks.
---
No Tip Penalty, No Exceptions, No Delays!
Everywhere $15 has passed, big business makes the same old arguments to protect their profits. They will claim $15 is too high, even though study after study shows the economic benefits in Minneapolis or elsewhere, to all but the richest few. They will claim they need more time, even though corporations are making record profits. They will claim tipped workers should be left out of a living wage, even though tipped workers are predominantly women who experience high levels of workplace harassment. They will claim $15 will cause unemployment, even though study after study shows higher wages strengthen the economy.
While most workers know these big-business arguments are completely false, we can't underestimate their power, especially when amplified by the corporate media. A worker-led, community-based grassroots movement is the best way to counteract the inevitable pressure big-business will put on City Hall to water down $15 an hour.