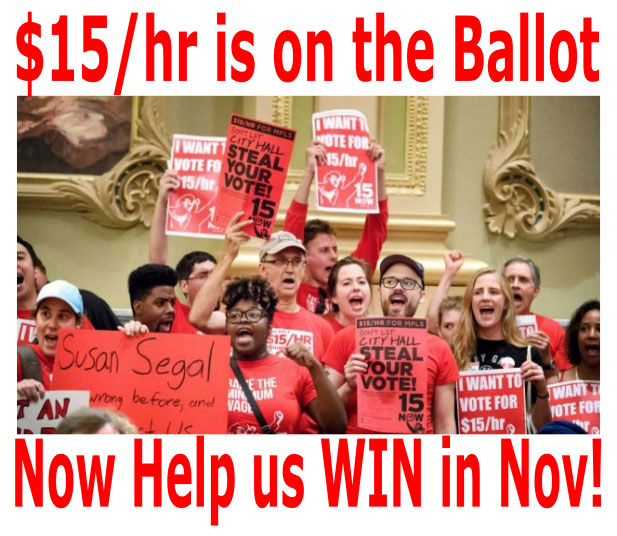 Court overrules City Council's illegal attempt to defend poverty wages: Now we need your help to give Minneapolis a raise!
Reposted from VoteFor15MN.org
Friends,
Today, we won in court: A judge ordered the City of Minneapolis to let the people vote, and put $15 an hour on the ballot November 8. This is a massive victory for all working people in Minneapolis, who dared to challenge big business and the majority of City Council members that opposed our movement for $15 from the beginning.
In the judge's decision, she writes: "To reject this proposal based on its content somehow being improper, which the City urges, amounts to passing judgment on the quality of the proposal which is not the province of the court." City Council clearly hid behind legal arguments to defend big business interests, whose vast profits are based on exploiting working people and fighting any wage increase. But we kept organizing and we won a historic opportunity to end poverty wages in Minneapolis. Now we have only eleven weeks to win the most substantial victory for Minneapolis low-wage workers in decades. Let's do this!
Can you pitch in $15, $50, or $150 to ensure we win on November 8?
We can win in November. A new poll conducted by Patinkin Research Strategies from August 8-11 shows 68% of the people in Minneapolis support our initiative to raise the wage to $15 for big business by 2020 and medium and small size businesses by 2022. The poll showed a stunning 83% of African Americans, and 74% of women voters supported our proposal, groups that are disproportionately affected by poverty wages. A staggering 48% of black people in Minneapolis live in poverty, compared to 13% of white people. Two-thirds of low-wage workers are women. We need to plan a massive outreach campaign to make sure those directly affected by poverty wages have a voice!
Everyone can play a role! Help doorknock, put up posters, make calls, and host events so we can build the strongest possible movement for $15.
We can't underestimate the power of big business. The Twin Cities are home to 17 Fortune 500 companies – the highest concentration in the country. Corporations like Target and US Bank will spend millions to maintain the status quo. They will launch a campaign to scare voters, falsely claiming $15 will bring about the apocalypse, even though nationwide evidence shows raising minimum wage creates economic opportunity, not job loss. Every state where minimum wage was raised in January 2014 saw more job growth than states where wages remained unchanged. Minneapolis workers can lead the midwest with a victory on November 8!
When we fight, we can win. Working people have tremendous power when we organize collectively towards a common interest.
Can you pitch-in $15, $50, or $150 to help us win the biggest victory for low-wage workers in Minneapolis in decades?
Sign up to get involved – Let's Make History! It's going to take a movement to make sure we win.
Join us at two important upcoming events.
First, on September 12, there is a National Day of Action for $15 an hour. Save the Date!
Second, on Saturday, September 17, let's get 150 volunteers out knocking on doors to win $15 an hour. Meet at Corcoran Park (3334 20th Ave S, Minneapolis, MN) at 11:00am for a training, and then doorknocking.
Can you sign up now to door knock, phone bank, table and talk to friends, neighbors and voters?
This will be an all out campaign. They have millions, but we have the people.Read the judge's decision here. 
We believe that we can win.
Thank you so much for your support!
Ginger Jentzen
15 Now Minnesota, Votefor15mn.org