The following has been reposted from kshamasawant.org.
In the wake of the landmark SCOTUS marriage equality ruling, downtown Seattle was packed with hundreds of thousands of people for the massive Pride Parade. People lined the streets with rainbow flags and permanent smiles of celebration for marriage equality.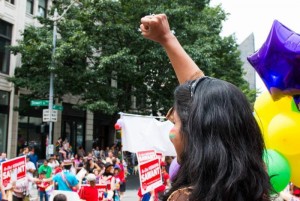 The Kshama Sawant re-election campaign joined the celebrations with an energetic contingent of 150 supporters. Marching with banners that read Fight Hate Crimes, and We Need Rent Control and chanting "Get Up! Get Down! There's a Trans Rights Movement in this town!" and "Rent Control, Rent Control, Make Seattle Affordable!", Kshama's was the loudest and most exciting political contingent in the march. Campaign volunteers handed out over 6,000 fliers calling for an end to LGBTQ displacement from the Hill, hate crimes, and the construction of a LGBTQ center in Seattle.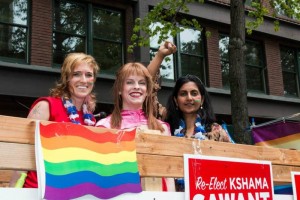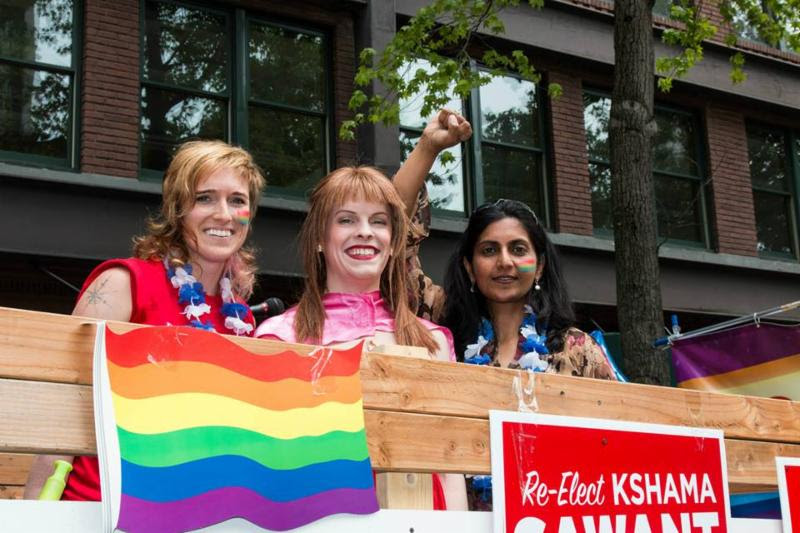 In between chants, Kshama and Danni Askini, Executive Director of Gender Justice League*, spoke to the crowds about the ongoing hate crimes and the need to re-elect a real fighter for the LGBTQ community.
All weekend the Kshama Sawant re-election campaign was present to celebrate the recent victory and to talk about the next steps for the LGBTQ movement, moving beyond marriage to deal with the discrimination, violence, and poverty so many in the LGBTQ community continue to face.
At TransPride, the Dyke March, and Seattle Pride Parade it was clear from the cheers the campaign received from the crowd that Kshama has the support of the community to continue the work she's done in Seattle City Council, to keep building the movement against corporate politics, to make Seattle affordable for all who work here.
A supporter summed up the excitement for Kshama's campaign, "She's the only one who works for us!"
More images from the day can be found here and here.
[vimeo id="132168584″ width="620″ height="360″]
*Personal capacity