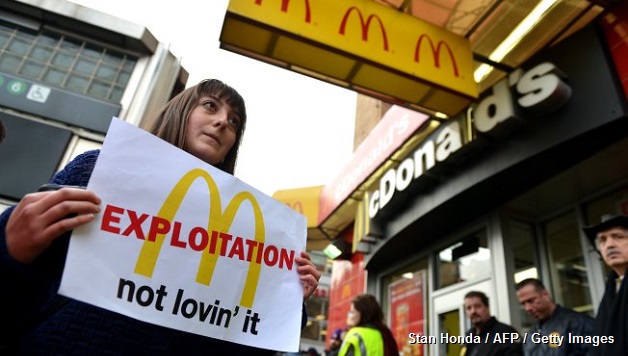 Join 15 Now, labor unions, and Councilmember Sawant on March 28 to let workers know they are getting a raise!
Reposted from 15Now.org
"The $15/hour minimum wage movement delivered a resounding one-two punch against right-wing opponents of 15," began a triumphant Facebook post by Socialist Seattle City Coucilmember Kshama Sawant on Wednesday, March 18.
Sawant and 15 Now played an instrumental role in helping pass the historic minimum wage law in Seattle that goes into effect on April 1, giving a pay raise to more than 100,000 workers in the city, and eventually raising the minimum wage to $15/hour. With just a few weeks until the law goes into effect, big business is still resisting.
On Tuesday, March 17, McDonald's, Subway, and other big franchise corporations known for their poverty pay wages were defeated in court. They were seeking an injunction to block the implementation of the minimum wage law on the laughable basis that their restaurants are being discriminated against by the law.
"McDonald's franchises are small businesses," they cry. "It's not fair that we have to raise our wages faster than mom-and-pop shops in Seattle!" But these arguments were rejected outright in court, as they should be.
$15 Destroying Restaurants?
Meanwhile, a more insidious campaign through the corporate media has been waged trying to spin the story of the implementation of the new law as creating a crisis for small business in Seattle. A story appeared last week in the right-wing media that Seattle restaurants are closing because of the wage increase. Then on Wednesday, the Seattle Times exposed this as a complete falsehood. Once again, the fear mongering by the right-wing media for Wall Street and McDonald's has been proven to be based on lies.
Help 15 Now answer the lies by big business. Chip in $5, $15, or $50 today.
The real story in Seattle is that the city's lowest paid workers are getting a raise on April 1, and eventually will see their wages rise to $15/hour. This is a major step forward at a time of record levels of poverty in the US. The minimum wage would not be going up if not for the heroic strikes of fast food workers themselves, along with the organizing of labor unions, progressive groups, the victory of a $15/hour referendum in SeaTac in 2013, the grassroots campaign by 15 Now, and the support of Councilmember Sawant.
Clearly, our victory is still under threat from the maneuverings of big business, and we need to continue fighting to defend it. While the injunction was not granted to McDonalds, there is still a pending lawsuit. Furthermore, most workers don't even know what to expect on April 1, because of the complicated nature of the phase-in to $15 and the lack of any campaign by the city to let workers know what they are entitled to.
That's why, starting on March 28th, many unions, 15 Now, Working Washington, and Councilmember Sawant will be reaching out to thousands of low-wage workers with the good news: "Seattle is getting a raise!"
Help enforce the new wage law! Chip in $15, $50, or $100 to reach low wage workers.
We will be distributing information to let workers know what they are entitled to, and they if they don't get it, where they can go for help.  Contribute to our campaign today with a donation to help arm hundreds of activists with leaflets, along with advertisements on King County Metro buses and in local media. Help us make sure workers know they are getting a raise and they should not be fooled by the lies of big business.