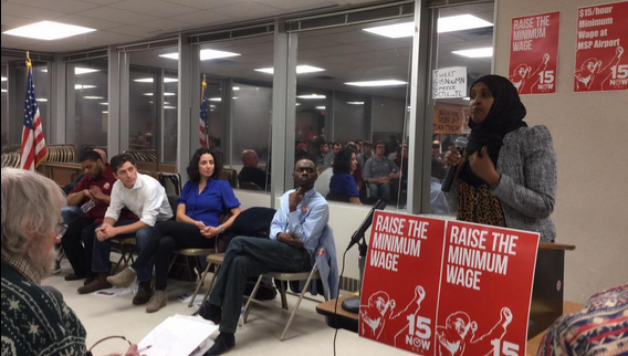 15 Now Minnesota hosted a rally on February 15 featuring Seattle City Councilmember Kshama Sawant, speaking alongside worker-activists and supportive Minneapolis City Council Members. Over 250 supporters attended and contributed $10,000 toward building the grassroots campaign for $15 an hour at MSP airport and in the City of Minneapolis!
Speakers from Neighborhoods Organizing for Change (NOC), Centro de Trabajadores Unidos en la Lucha (CTUL), and the 15 Now MSP airport campaign met an enthusiastic response to their calls for $15 in Minneapolis. Four of the thirteen Minneapolis City Council Members have publicly pledged support for raising the minimum wage in Minneapolis.
Sawant energized the crowd, highlighting the 15 Now movement's victory in Seattle, which will impact 100,000 workers and return an estimated $3 billion into the pockets of workers over the next decade. "The interests of corporations are fundamentally in conflict with the interests of working people," Sawant said, encouraging supporters to build a fierce grassroots campaign for $15.
Unions and community groups had been urging Mayor Betsy Hodges, who was elected in 2013 on a social justice and racial equity agenda, to back a wage hike. But within days after the Sawant rally, which received favorable media coverage, Mayor Hodges came out publicly against Minneapolis setting its own minimum wage.
Mayor Hodges echoed big business's fear-tactic arguments of economic flight and job loss. She is hiding behind a "regional strategy," stating she is in favor of wage increases statewide and nationwide, but not in Minneapolis, (Star Tribune, 02/20/2015). Her statements immediately provoked outrage on social media.
The mayor's stand against $15 an hour will, more than any other issue since she was elected, expose her deference to big business, which remains the dominant force within the Democratic Party establishment. The organized grassroots campaign of low-wage workers and supporters in Minneapolis has been key to winning the support of some City Council Members. Strengthening the grassroots campaign, building popular support for $15, will be vital to overcome the resistance of the political establishment and to win $15 an hour for Minneapolis in 2015.