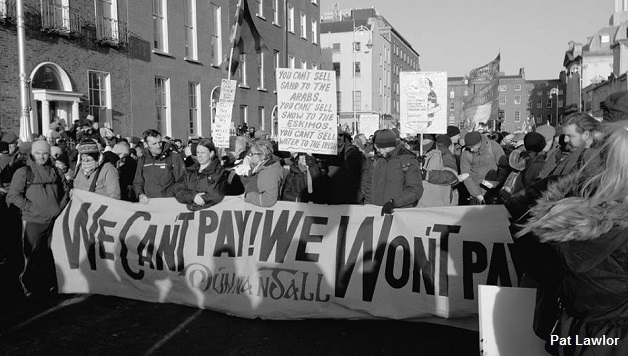 Dublin City Center Comes to a Standstill as Different Marches Make Their Way to the Dáil
Cillian Gillespie, Socialist Party (CWI in Ireland)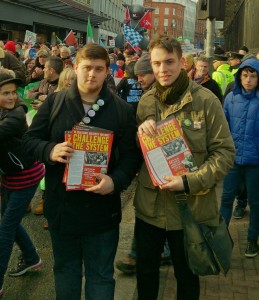 Wednesday, December 10th saw an estimated crowd of 80,000 pour onto the streets of Dublin to once again protest against the imposition of water charges in Ireland.
Dublin City center came to a standstill as different marches made their way to the Dáil (parliament) for the protest that was organised by the Right2water campaign. Those who marched on the demonstration represented the myriad of grassroots campaigns from across the state that have sprung up in the last two months who have been organizing against the charge itself and protesting against the installation of water meters.
The size of the demonstration, particularly given that it took place on a weekday, was a blow to the government's hopes that the series of concessions it was forced to make (including the charge being introduced at a lower flat rate until 2019) would quell the revolt against this austerity tax.
The media, Gardai (police) and the Irish government have consciously sought to understate the numbers on the demonstration, claiming only 30,000 were in attendance and implying that "middle Ireland" had now effectively accepted the new charge.
However it is clear that the water charges has massively undermined support for the government, as shown by an opinion poll carried out by the Irish Times which showed support for the government parties at just 25%. Support for "Independents and Others" shot up by 9% to 32% from the last time an opinion poll was carried at the beginning of October.
Socialist Party Ireland (CWI) member and Anti Austerity Alliance (AAA) TD Paul Murphy highlighted two important points when he spoke at the demonstration at the Dáil. Firstly he pointed to the need for those on the demonstration to participate in building a campaign of organised non-payment against the water charges in the new year before the bills arrived at the beginning of April.
[youtube id="CWpXkR3l-Eg" width="620″ height="360″]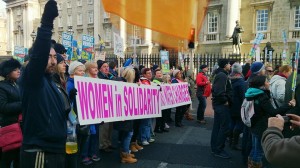 Secondly he argued that local campaign groups should now have a serious discussion about standing a series of anti-water charges and anti-austerity candidates in the upcoming general election, which can act as the political voice for this new working class movement.
Socialist Party activists on the demonstration played a role in the party's own intervention as well as assisting the AAA and the We Won't Pay campaign. In total 8,000 Socialist Party, 20,000 AAA and 35,000 We Won't Pay leaflets were distributed.
The Socialist Party produced a special edition of its paper and sold 750. On top of that we raised €950 in campaign fund, while the AAA and We Won't Pay raised €2,500. Forty people indicated an interest in getting involved with the Socialist Party of Ireland.