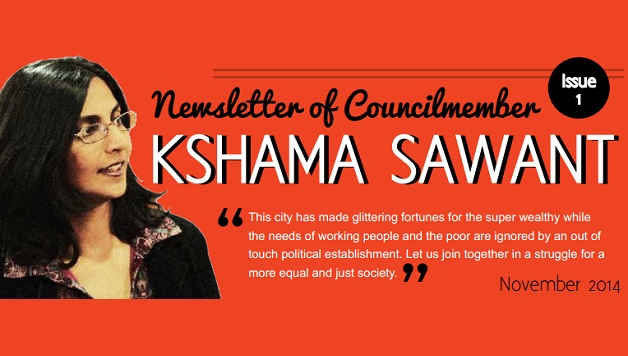 "This city has made glittering fortunes for the super wealthy while the needs of working people and the poor are ignored by an out of touch political establishment. Let us join together in a struggle for a more equal and just society."
This is the first issue of a bimonthly update, which is being delivered around Seattle. To view a pdf, click here.
Dear Friends,
Almost a year ago, I was elected to the Seattle City Council after campaigning to "Make Seattle Affordable for All." Most popular was the call to raise the minimum wage to $15.
Together we made $15 happen. Low paid workers, labor unions, and community organizations — including 15 Now, the organization that I helped launch — won a $15/hour minimum wage! While business interests forced through a multi-year phase in, we succeeded in making Seattle the first major city in the US to achieve this important gain for working people.
The next step is to win affordable housing for all. Seattle is in the midst of a housing crisis and we have to act now – you'll find more on this struggle in this newsletter and at sawant.seattle.gov.
In addition to these "big" issues, I work hard – together with my organization Socialist Alternative and many other community and labor organizations – to also take up important problems people in this city deal with on a day to day basis. This newsletter is about keeping you updated on all of the important struggles we are engaged in. If you want to get in contact with me, please do not hesitate.
Solidarity,
Kshama Sawant
---
Seattle's Housing Crisis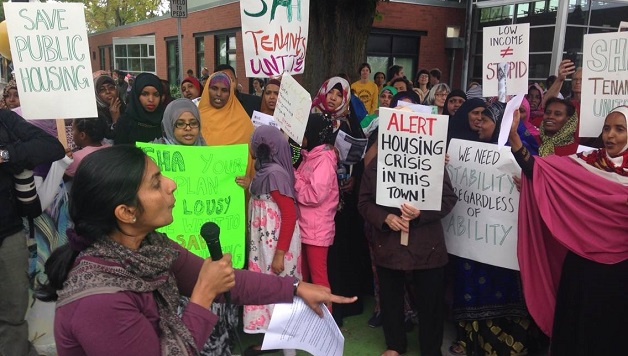 Seattle now faces the fastest rising rents in the country. Over the last four years, the average rent in Seattle rose from $1,001 to $1,293 – an increase of 29%.
Even those in public housing are not immune from these increases. The Seattle Housing Authority (SHA), which is mandated with providing affordable housing for low-income families, is proposing increasing the rents of tenants by over 400% in a span of five years. Opponents of this rent increase, including Kshama Sawant, have cited the harm it would cause to low-income families, immigrants and refugees, people of color, and single-parent households. With 24,000 applicants already on Seattle's affordable housing waiting lists, this policy will simply create a revolving door of poverty, with many forced into homelessness.
Seattle already has a growing homeless population. Shamefully, Mayor Murray's proposed budget only provides funding for 25 people currently residing in the city's overflowing homeless shelters to move into affordable housing next year.
In a city as wealthy as Seattle, no one should be living without shelter. Seattle has become a playground for the wealthy, where large developers make enormous profits and are given virtual free rein over our neighborhoods, and the market caters primarily to high-income customers. This is a prime example of the failure of the capitalist "free market" to meet the needs of working people.
Mayor Murray's solution is to kick the can down the road, with a developer-heavy Housing Advisory Committee that won't deliver its proposals before May 30, 2015! This is not adequate given the scale of the housing crisis so many working people face.
Tenants, homeowners and community groups, however, are refusing to accept the status quo and are fighting back. SHA tenants, alongside Kshama and the Tenants Union, have protested against the attempts to quadruple their rents. Socialist Alternative is campaigning for rent control and an expansion of publicly owned high quality affordable housing. Standing Against Foreclosure and Eviction, supported by Kshama, continues to defend those facing foreclosure, demanding that banks renegotiate mortgages instead of forcing evictions.
To find out more and get involved, contact Councilmember Sawant's office.
The Fight for $15/hour
Earlier this year, the movement for a $15 minimum wage won its first victory in a major U.S. city when the Seattle City Council passed the $15/hour ordinance! In her address to the crowd gathered at City Hall on the day of the vote, Kshama said: "We forced the city establishment to lift the wages of 100,000 low-wage workers in Seattle – to transfer $3 billion from business to workers at the bottom of the wage scale over the next 10 years. We did this. Workers did this. Today's first victory for $15 will inspire people all over the nation."
Now other cities are looking to follow Seattle's lead. However, the battle in Seattle is not over. How the wage law will be implemented and enforced remains a topic of debate. The City of Seattle budget will determine what resources are allocated to make sure all Seattle workers receive the new minimum wage and to stop bosses from stealing wages.
Expand Public Transit – Tax the Rich!
September saw further cuts in services to an already reduced public transit system.  The passage of Proposition 1 on the November ballot to provide additional funding for Metro would be a step forward in meeting the needs of a growing city.
Unfortunately, Proposition 1 is based on regressive taxes which fall hardest on working people. Councilmembers Sawant and Licata fought to remove the increase in the sales tax and replace it with a business "head tax" and tax on commercial parking lot owners.  Yet in their typical fashion of serving downtown business interests and the Chamber of Commerce, the majority of the City Council and the Mayor voted down this progressive alternative.
Kshama is bringing this proposal back up through the City Budget process and proposing that the extra revenue from these business taxes be used to supplement Prop 1 by expanding late night bus service.
Preventing Oil Disaster in Seattle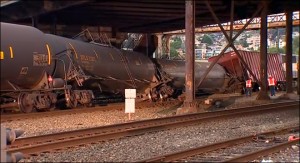 In July Seattle escaped a potential disaster. A BNSF train carrying highly flammable crude oil derailed under Magnolia Bridge without a leak or explosion. This was lucky, but our public safety can't rely on luck.
There has been a dramatic increase in oil and coal trains coming through Seattle, usually en route for shipment to China. This growing export of the dirtiest fossil fuels is a threat to our environment through climate change. To seriously address climate change, these oil and coal trains must be stopped. This was highlighted by the 2,000 strong People´s Climate March in Seattle, organized by a coalition of labor and environment groups initiated by Socialist Alternative's Jess Spear.
Kshama Sawant advocates replacing the fossil fuel industry – and its dangerous oil and coal trains – with renewable energy and green jobs through a massive public investment program. Oil and coal trains should be banned from Seattle.
At a bare minimum, the City of Seattle could immediately impose fees on these trains to cover the costs of their impact to public health and preparations for a possible derailment disaster. If such fees led the big oil and coal companies to stop their deadly traffic through Seattle, not many would complain!
Why Do We Pay More Than Boeing For Electricity?
City Council recently voted to raise electricity rates for residential customers by more than 25% over the next six years. Kshama Sawant was the sole Councilmember to vote against the rate hike. At a time when many working people are struggling to make ends meet, these rate hikes are shameful. What's worse is that they are not necessary.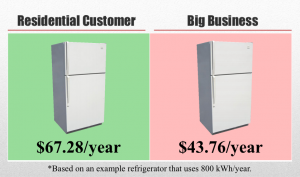 City Light divides customers into different rate classes. Ordinary people pay significantly higher rates, per unit, than big businesses like Boeing and Nucor Steel. For example, in 2013 a resident paid $67.28 to run an 800 kWh refrigerator. Boeing paid just $43.76 for the same electricity!
Kshama drafted a proposal to combine the rate classes and charge a single rate. Residential customers would pay less, small business would pay roughly the same, big corporations would pay more, and City Light would generate the same revenue.
Seattle City Councilmembers like to blame Republicans for Washington's regressive tax structure, but they are unwilling to correct it. As Chair of the Energy Committee, Kshama submitted this proposal to reduce residential utility rates but other committee members would not even allow a vote!
This is only the latest example of the how Seattle's political establishment (all Democratic Party politicians) is working for big business and developers. We need to elect more independent working class candidates who take no corporate money, like Kshama Sawant, so we can implement government policies in the interests of working people and put an end to corporate welfare like reduced utility rates for giant companies like Boeing.
The Mayor's Business as Usual Budget
The City of Seattle has a yearly budget of almost $5 billion. What will be included and what will be left out of this year's budget is currently being discussed by the City Council.
We need a budget that fully funds human services and takes bold steps to expand affordable housing and public transit. In contrast to this, Mayor Ed Murray's proposed budget is a continuation of the previous City of Seattle budget, with only a few minor changes. It is a continuation of the status quo, so we know exactly what we can expect.
We have a growing housing crisis, a shocking growth in homelessness, drastic underfunding of vital services, an inadequate public transit system, and growing income, gender and racial inequality. None of this will be seriously addressed by Mayor Murray's proposal.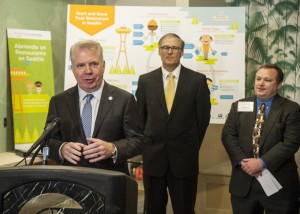 Mayor Murray promises to prioritize "human services, public safety and transportation." Yet his budget is far from delivering on these promises. While this budget includes some much needed funding for a number of services, it overwhelmingly reflects the interests of the wealthy. Murray talks of improving public safety, but continues to dramatically underfund critical human and social services.  Nothing is done to address the gentrification displacing existing communities and undermining the social cohesion essential for healthy and safe neighborhoods.
It is true, as Mayor Murray says, that the City's current revenue does not match what is needed. But his proposed budget ignores numerous options under existing law for taxing the super-wealthy, such as a millionaire tax, fees on developers, an employer "head tax," and "excise taxes" on banks and big box retailers. It also does nothing to reign in excessive executive compensation in the City government which can free up over a million dollars for social programs.
But to make fundamental change – to access the huge wealth and resources of our city and country – we need to build a movement demanding structural change in Olympia and Washington DC to provide funding for the needs of ordinary people. It is clear the establishment that runs Seattle is unwilling to take such steps. It is up to working people to come together and build this movement for real change.
Indigenous Peoples' Day Victory
The second Monday in October – federally named Columbus Day – will now be celebrated in Seattle as "Indigenous Peoples' Day." Councilmember Kshama Sawant, co-sponsor of the resolution that was passed by the council on October 7, emphasized at the Council meeting that this "is about more than just a name change. It is about educating ourselves and our children, about taking a stand against racism and discrimination."
LGBTQ Homeless Shelter
An estimated 40% of homeless youth identify as lesbian, gay, bisexual, transgender, or questioning. LGBTQ homeless people can face further discrimination when trying to access services. Kshama is supporting the call by the transgender community in Seattle for a much-needed, fully funded LGBTQ homeless shelter. We are calling on all LGBTQ supporters to mobilize to ensure funding for this initiative is included in the City budget. To help this effort, please contact Councilmember Sawant's office.
Reproductive Rights
In September, the City Council passed a resolution that called on the federal government to repeal all bans on public funding for abortion, including the Hyde Amendment. It also encourages further efforts to improve access to both public and private insurance coverage for abortion and all forms of reproductive health care. However, as Kshama explained, to defeat the recent attacks on women's rights, we must also build an independent movement from below to defend and advance women's reproductive rights.
City Employees Deserve 15/hour!
Mayor Murray's first act after taking office at the beginning of this year was announcing "an executive order to move toward paying city employees at least $15 an hour" (The Seattle Times 3 Jan 2014).
Unfortunately Mayor Murray has not delivered on this promise. He has the authority to raise the minimum wage for city employees through the City of Seattle budget. Yet the budget he sent to the City Council does not include funding to lift 600 City workers to at least $15 per hour.
Making sure all City of Seattle employees earn at least $15/hour would cost around $1 million annually. This is the same amount that could be saved by capping City of Seattle executive salaries at $150,000 – more than enough to live on – which Councilmember Sawant is proposing as an amendment to the Mayor's proposed budget.
To follow the fight for $15/hour nationally visit 15Now.org
About Kshama
As a member of the Seattle City Council, Kshama Sawant works to be a voice for workers, youth, and the oppressed. Kshama only accepts the average worker's wage and donates the rest of her six-figure salary to building social justice movements. Kshama is the only member of the City Council who refuses any corporate donations and is independent of the Democratic Party political establishment which runs Seattle. Kshama is a member of Socialist Alternative, which is in solidarity with the Committee for a Workers' International, a group that organizes for working-class interests on every continent across the world.