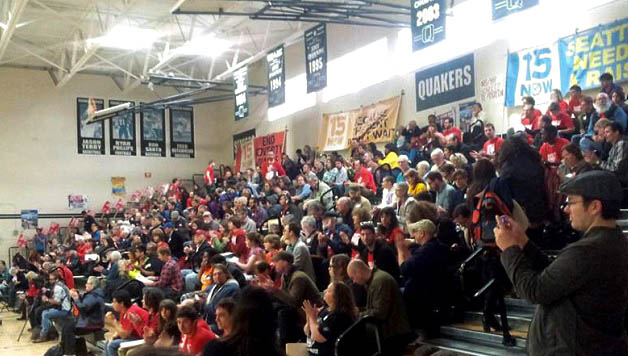 Reposted from 15now.org
The first 15 Now national conference's call to action on the great issue of our time – inequality – was enthusiastically taken up by the more than 500 people who packed into Franklin High School's auditorium this past Saturday. The conference demonstrated the massive support for a $15 minimum wage and the development of 15 Now into a national movement, with 15 states represented.
In sharp contrast to the back room, closed door wrangling of the mayor's income inequality advisory committee conference attendees openly discussed and debated key questions facing the movement. For many, the words of one participant captured the essence of the mass democratic conference, "For the first time in my life I feel like I have a real say in something that truly matters!" The key decision facing the conference was whether to move forward with collecting signatures for a Charter Amendment to enshrine $15 an hour minimum wage into Seattle's constitution. Other issues debated included democratic structures for 15 Now nationally, language defending the family health care plans won by unionized Seattle hotel workers, and a three year phase-in for small business and non-profits.
After several hours of debate, the conference voted overwhelmingly to approve its strategy resolution and move forward with a mass signature campaign.
We'll need to gather 50,000 valid signatures to avoid legal challenges from the likes of Starbucks, the Chamber of Commerce, and the National Restaurant Association. We estimate this will cost more than $50,000 to achieve. Donate $15 today and become a monthly sustainer! Join our signature gathering campaign and put 15 on the ballot in Seattle!
While the day centered on the mass assembly, there were also workshops on scores of issues impacting the movement. Glen Ford led a workshop on how this struggle impacts communities of color, tipped workers led a discussion on the struggle against the tip penalty, and Unite Here workers spoke about the Fight for 15 and their family health care plan.
The conference closed with a rally featuring Kshama Sawant, journalist David Goldstein, Glen Ford of the Black Agenda Report, Peter Taaffe (General Secretary of the Socialist Party of England and Wales), and Mary Clinton of Occupy Wall Street.
"The demand for $15 is so much more than a demand for a few more dollars; it says you are rejecting the race to the bottom." – Glen Ford
"While the mayor's preoccupied with getting a supermajority on the advisory committee, we have a supermajority in Seattle. This supermajority wants 15!" – Kshama Sawant
"I can assure you that the campaign for 15 in Seattle has had an astounding, mesmeric effect on working people around the world." – Peter Taaffe