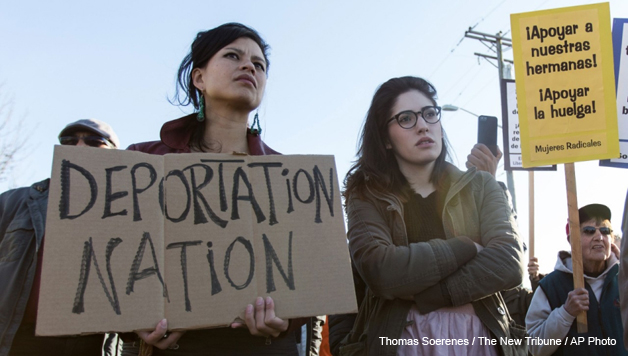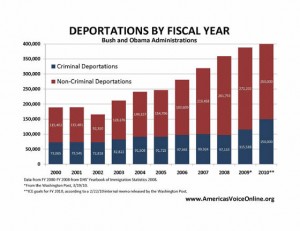 Obama is setting the record for the most deportations of any president in U.S. history. This is a legacy even more brutal than that of his predecessor, George W. Bush, who deported over two million immigrants (MotherJones.com, 4/4/2014).
Spending on immigration enforcement has outstripped all other aspects of federal law enforcement – $17.9 billion in fiscal year 2012 compared to $14.4 billion of combined spending for the FBI, DEA, Secret Service, U.S. Marshals Service, and the Bureau of Alcohol, Tobacco, Firearms and Explosives (Economist.com 2/8/2014).
Private Prison Profits
A big part of the spending goes to private companies profiteering off the misery of undocumented immigrants. For-profit prison operators hold "almost two-thirds of all immigrants detained each day in federally funded prisons as they face deportation" (Bloomberg.com, 9/23/2013).
Private prison companies lobby for increased deportations to expand their profits at the expense of taxpayers and immigrant families. One bizarre gift Congress gave to private prisons, engineered by Democratic Senator Byrd in 2009, is a law requiring the federal government to pay at least $34,000 for detainees per day. These kinds of policies have allowed the stock market valuations of two of the largest detention companies to double in recent years.
Apologists for the Obama administration's draconian deportation policy say it's part of a strategy to win Republican support for comprehensive immigration reform. If that is the case, the strategy has failed. House Republicans refuse to seriously consider any bill that provides a path, however arduous, toward citizenship for undocumented immigrants. This is despite offers from Obama to dramatically escalate border militarization and workplace repression while even further limiting citizenship options.
"No More Deportations!"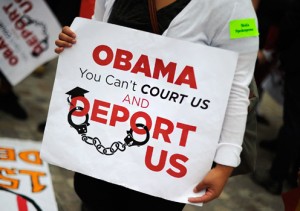 Immigrants' rights activists are stepping up protests, demanding the president issue an executive order halting deportations. Under the pressure of protests, Obama previously issued an executive order for deferred action that effectively curtailed deportations of immigrant youth, popularly dubbed "Dreamers," who came into the country with their parents as children.
Lack of political action is feeding frustration – especially among immigrant youth – and a new wave of heroic civil disobedience. "Since last fall, dozens of undocumented activists with the Bring Them Home campaign have staged several unauthorized border crossings, voluntarily entering federal custody to protest deportations and dramatize the often hidden violence of family separation" (In These Times, 4/1/2014).
The most recent high-profile protest has been the hunger strike and work stoppage of undocumented immigrants at the Northwest Detention Center operated by the GEO Group in Tacoma, Washington. The strike began on March 7, with 750 participating. In days, this number leapt to 1200 – nearly the entire population detained at the center. Inspired by news of the Tacoma strikers, the action has spread to a GEO facility in Conroe, Texas (truthout.org, 3/20/14).
Witnessing such heroic acts of resistance, combined with inaction by Congress, most mainstream immigrants' rights organizations feel pressure to criticize Obama's deportation policy. The National Council of La Raza, who until very recently defended Obama as an ally for immigrant workers, publicly rebuked Obama, making headlines by calling him the "Deporter-In-Chief" (Politico.com, 3/4/2014).
Now it has come out that, contrary to the Obama administration's claims that it was targeting only violent criminals for deportation, up to two thirds of deportations have actually stemmed from minor infractions like traffic violations (New York Times, 4/7/2014).
Increasing pressure from La Raza and others compelled the Congressional Hispanic Caucus to press the president to reverse his deportation policy. On March 13, the White House announced that Obama ordered a "review" of the policy to see if enforcement can be implemented "more humanely within the confines of the law" (Politico.com, 3/13/2014). This alone will not lead to any substantive changes, but the turn in rhetoric should hearten immigrant rights organizers and demonstrate how grassroots protest and direct action are having an impact.
A Movement of Millions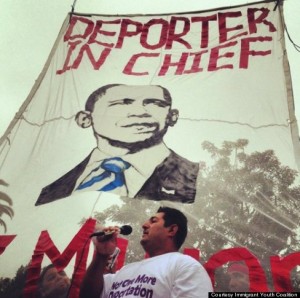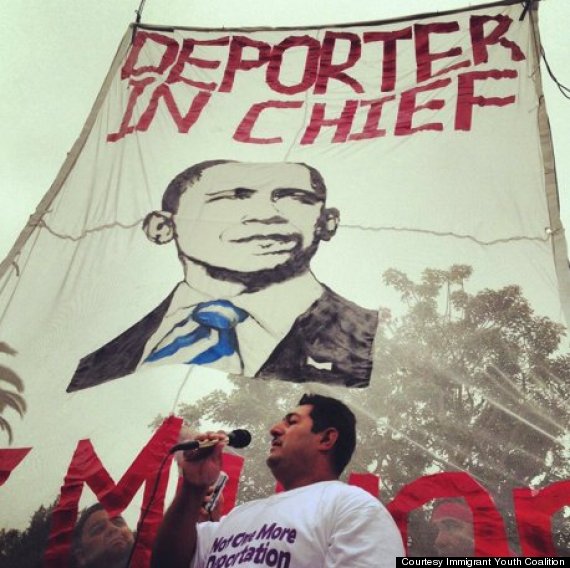 The central question facing the movement remains its attitude toward the Democratic Party, which has proven completely unreliable in the struggle for immigrants' rights. Fed up with hollow promises, young immigrants in particular may be tuning the Democrats out. The Democrats report that they are finding it increasingly difficult to register Latino voters.
The best hope for a push-back against anti-immigrant policies lies with mass protests, direct action, and other forms of resistance by ordinary people across the country. It will be necessary to rebuild a movement on the scale of the millions who protested in 2006.
Inspiring a mass movement is undermined when, at the same time, movement leaders urge support for the Democrats' "lesser evil" policies. Instead, clear demands for an end to all deportations, workplace repression, and border militarization – and for immediate citizenship rights for all immigrants – are needed. Such bold demands for full equality are necessary to inspire a mass struggle, and they place the movement into a direct confrontation with both corporate political parties.
This May Day is an opportunity to once again raise hell against the inhumane and anti-worker policies used by American capitalism to divide working-class people and weaken our capacity to fight together against the policies of big business. Socialist Alternative will be building these protests and highlighting the demand for full rights for all immigrants, a $15/hour minimum wage, and a wider challenge to this rotten capitalist system.