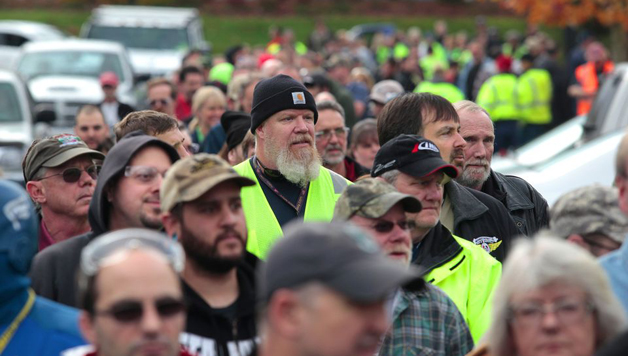 A solidarity statement from Kshama Sawant and Socialist Alternative is below.
Defend Wages and Jobs
Boeing Corp is racking up record profits yet CEO Jim McNerney – in between campaigning for cuts to Social Security – is now
demanding an end to the company's defined-benefit pension fund for Boeing machinists. McNerney would, if he retired today, get a quarter-million dollar a month pension from that very fund.
Boeing's attacks on its workforce, together with the company's demand for $8.7 billion in concessions from the State – to be paid  for out of increased taxes on all workers and small businesses – can only be described as corporate blackmail. Kshama Sawant and Socialist Alternative stand in solidarity with Boeing workers in the face of these attacks.
Democratic Governor Jay Inslee called a special session of the state legislature to ram through the largest corporate tax giveaway in history. Only two state legislators dared vote against. Clearly, Boeing owns 99% of the state government. Meanwhile, King County Metro announced plans to implement a 17% service cut because the same state legislators failed to pass a transportation bill.
Although the existing contract does not expire until 2016, Boeing is demanding permanent changes in the structure of its pension system and in healthcare, as well as an eight year contract extension that would limit raises to one percent every other year. They are also demanding an extension of the no-strike clause that is already in effect from three to eleven years.
Not just Boeing employees but workers and the self-employed of the entire region will suffer if the contract changes and taxpayer-funded subsidies go into effect, through the massively reduced buying power of new employees and retirees as well as having to pay higher taxes to cover the cost of Boeing's corporate welfare.
Members of the International Association of Machinists bravely stood up to Boeing's bullying and voted down Boeing's demands by more than 2-1. "What we're hearing from the Boeing Machinists right now isn't just the usual labor-management posturing," wrote Danny Westneat in the Seattle Times. "It's a primal scream of the middle class."  He added, "you can see why people around here are starting to vote for the socialists".
Pro-corporate journalists have launched a propaganda war attacking the hard won gains of Boeing employees, claiming that "resistance is futile," that Boeing can easily transfer work to non-union South Carolina or elsewhere and that workers have no choice but to give concessions or face massive job losses.
But previous giveaways have failed to stop the aerospace giant from taking work out of State and indeed out of the hemisphere. Claims by Democrats that "this time we'll get an ironclad guarantee" ring pitifully hollow in view of this history. The same was said of the $3.2 billon handout to Boeing in 2003, which was supposed to keep the Dreamliner in-state, but six years later Boeing used that money to build the Charleston plant which is now being used to back up the current threat.
These latest attacks by Boeing show the need for building a strong challenge to corporate power and their politicians. How much money and resources did the labor movement pour into electing Jay Inslee and the Washington State Democrats? And for what? Unions need to start running our own independent working class candidates who will campaign for taxing Boeing and other giant Washington corporations to fully fund public transit, education, and social services.
If Boeing actually goes ahead and carries out their threats to move production out of Washington, we should call it by its name – economic terrorism. They would devastate the lives of tens of thousands of workers, entire communities, and the economy of our state.
The only viable response to such a situation is to say the needs of the people of Washington – the same ones who have subsidized Boeing with tens of billions of tax payer handouts – come first. While Boeing CEO's are free to leave, Boeing's assets – including the intellectual property developed by generations of dedicated engineers and machinists – would need to be taken into democratic public ownership.
Under democratic public control its factories could be rapidly re-tooled to produce wind turbines, solar panels, trains, busses and other vital goods which would create tens of thousands of new union jobs.
Defenders of the free market (i.e. the "right" of Boeing CEO's to pillage its workers and society for their private gain) will claim that taking corporations into public ownership, even when done for the public good, infringes on the corporation's property rights.
But they conveniently forget that in 1987 the Legislature went into special session at Boeing's urging to pass a law uniquely designed to block billionaire T Boone Pickens from a hostile takeover. Lawmakers weren't afraid to mess with Pickens' rights in the free market on that occasion. Workers should reject the attempts of Democrats like Inslee and Reuben Carlyle to cave in to Boeing.
Working people have suffered decades of attacks on our living standards by Corporate America.Enough is enough. It is time to draw a line in the sand. Let's unite to support the workers at Boeing and send a clear message to the CEO's and the corporate politicians that we reject their blackmail!