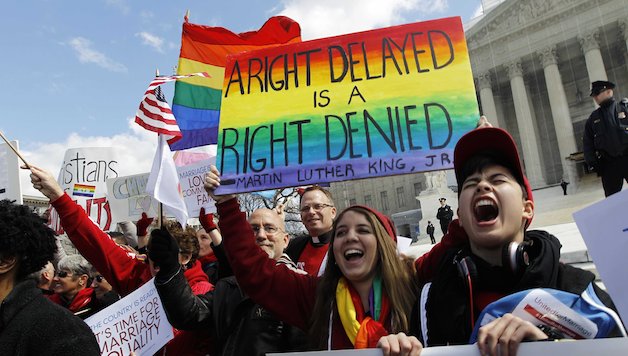 In June, the Supreme Court will likely deliver historic decisions on the Defense of Marriage Act (DOMA) and California's Proposition 8, leaving many to wonder, "Is marriage the final frontier of gay rights?" The verdicts of these cases regarding same sex marriage will come following a season of huge steps forward for the LGBTQ movement.
A Year of Victories!
The 2012 election polls saw voters in four states send a clear message – same-sex marriage should be legal, the federal government be damned. There has been a seismic shift in public opinion on gay rights across the country, with a growing majority supporting marriage equality. An ABC/Washington Post poll shows 58% of the U.S. supports same sex marriage, compared to just 32% in 2004 (Washington Post, 3/18/13). Predictably, and embarrassingly late, politicians are taking note. Obama, the Democrats, and even some Republicans have begun voicing support for marriage equality.
The strong polls, coupled with marches of 200,000 in Washington D.C. over the last few years, represent a significant push from below that moved the politicians in Washington. Kshama Sawant, activist and socialist candidate for Washington state House of Representatives, said while addressing a crowd celebrating the victory of Referendum 74 for marriage equality, "If you think that the Democratic Party politicians did this for you, let me tell you, it was us that won this! The fight for LGBTQ rights has just begun!"
The LGBTQ movement should not stop at marriage, and should recall the lessons of marginalized groups through history. Oppressed people cannot rely on the courts for their rights. No matter what the Supreme Court decides, rights for the LGBTQ community will continue to depend on people moving into the struggle to build pressure from below, in order to defend and expand those rights.
Beyond Marriage
The energy and resources now being poured into the struggle for marriage equality across the country must be used to broaden the movement, to include the fight against all the injustice facing the LGBTQ community, such as job discrimination, immigration reform, access to healthcare, and ending bullying and violence. Discrimination and disparities disproportionately affect working-class, poor, young and elder LGBTQ people. LGBTQ women have higher rates of poverty than heterosexual women (Center for American Progress, 7/2009).
One in five transgender individuals have been turned away from healthcare (National LGBT Cancer Network). 90% of LGBTQ students have been harassed (Gay, Lesbian and Straight Education Network), and LGBTQ homeless youth are over seven times more likely to be victims of sexual violence (National Coalition for the Homeless, 2009).
LGBTQ people are also "far more likely to be victims of a violent hate crime than any other minority group in the United States" (Southern Poverty Law Center). Over 9% of lesbian couples over age 65 live in poverty, compared to 4.6% of their heterosexual counterparts (Center for American Progress, 7/2009).
Transgender people in prisons and Immigration and Customs Enforcement detention centers are likely to be placed in "protective" solitary confinement, merely because they are at higher risk for violence and assault, despite solitary confinement characterization as torture by many in the human rights community (National Center for Transgender Equality, 6/2012).
The U.S. government uses DOMA to prevent same-sex couples from sponsoring one another to immigrate to the US. And it's still legal for employers in many states to discriminate based on sexual orientation – something Obama could do away with a stroke of the pen by an executive order! Clearly there's more work to be done.
Pride: Take the Movement Forward!
From Stonewall to the Gay Liberation Front, to marches of hundreds of thousands on Washington in recent years, the LGBTQ movement has a rich history of struggle. It can build upon these victories and this momentum to move toward a realization of full equality and justice for all. Few in the gay rights movement believe that marriage equality should be the end of the struggle. The majority of LGBTQ people actually identify economic discrimination as the biggest issue they face (Hunter College, 2011).
As the economic crisis deepens, big business will look for ways to place the economic burden on the most marginalized. Budget cuts and sequestration slashes funding for food stamps, unemployment benefits, healthcare and education, which will continue pushing the interests of the LGBTQ community in line with the interests of all workers and other oppressed sections of society. Imagine what could be accomplished if working people, no matter their sexual orientation, gender, or race, joined together to demand a system that is truly equitable and just for everyone.
A united mass movement that fights for the rights of all will be needed to defeat those that profit off of our suffering and discrimination. It's as true today as it was in the 1970s – it's time to get out of the closets and into the streets, to demand full legal and social equality for LGBTQ people!