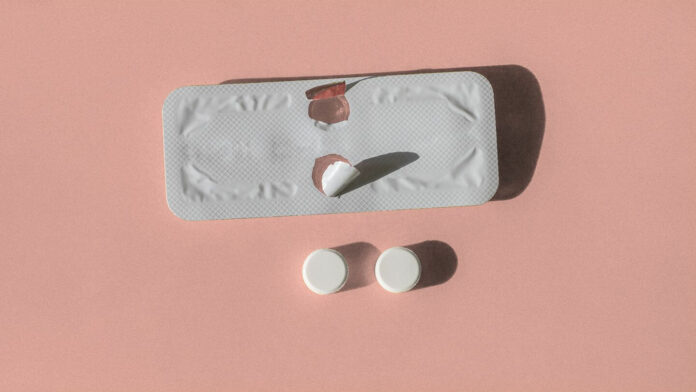 A Trump-appointed federal judge is on the verge of ruling in favor of a bogus lawsuit by anti-abortion groups to ban mifepristone, a critical first-step medication in abortion pill regimens. 
Mifepristone, along with misoprostol, is used in medication abortion, the most common abortion method in the U.S. It does not require in-person procedures or anesthesia, can be taken as soon as a patient knows they're pregnant, offers more privacy for those that can take the medication at home, and is a safe and more affordable alternative to in-clinic surgery. The group behind the lawsuit argued the Food and Drug Administration (FDA) did not properly study the drug's safety and "exceeded its authority in approving it" in the first place over 20 years ago. This is a baseless claim, as mifepristone is one of the most widely studied drugs in the country. 
But in the right federal judge's hands, that doesn't matter.
A Fraud from Top to Bottom
Judge Matthew Kacsmaryk, whose notable cases include stripping LGBTQ workers of workplace protections and safeguarding Trump's "remain in Mexico" policy for asylum-seekers, has flagrantly issued rulings based on his own reactionary politics. The mifepristone case is being heard in Amarillo, Texas, part of the Northern Texas District Court. The anti-abortion group "Alliance for Hippocratic Medicine" decided to file the suit in Amarillo because Kacsmaryk's decision would very likely tilt in their favor.
This umbrella group is comprised of five out-of-state, right-wing organizations who have used the overturning of Roe as an opportunity to further attack abortion rights on a national scale. Mifepristone was originally approved for use by the FDA over 20 years ago, and has been a safe and effective medication with low risk of complications. The Alliance's "concern" for the health and safety of patients is rooted in anti-choice, religious-right politics and does not reflect the views of the broader medical community; in fact, national physicians' and nurses' organizations believe the Dobbs decision this past summer was a serious setback for reproductive rights.
What Happens Now?
After Kacsmaryk issues his likely decision to ban mifepristone, popular reporting tells us that the drug will be taken off the shelves and no one will have access to it. But this absolutely does not have to be the case.
The FDA is an agency with a tremendous amount of discretion. As was decided in a 1985 Supreme Court decision Heckler vs. Chaney, the agency gets to decide whether or not it will enforce a statute – not the courts. Therefore the FDA, under Biden's authority, can decide not to enforce the ban, allowing the manufacturers and distributors of mifepristone to continue to sell it. 
If, however, Joe Biden and his FDA instead choose to unnecessarily uphold the bogus ban, then legal access to the medication abortions will be significantly reduced – even in states where abortion is still legal. There are "abortion deserts" in almost every corner of the country where a person would have to travel at least 100 miles one way to reach the nearest abortion facility. 
Even where abortion remains legal, there are pharmacies and clinics that are preemptively taking mifepristone off the shelves. This is a very dangerous move that will have disastrous consequences. Without mifepristone, many clinics in states where abortion is legal will likely switch to misoprostol-only abortions, while others will suspend the practice of medication abortions altogether. "Miso-only" abortions are a safe alternative, but they are less effective and much more painful.
In the case that the Democratic Party leadership bends the knee to this brutal right-wing attack, pregnant people may need to rely on underground abortion networks or international organizations like Women on Web in order to get the care they need. Organizations like these can be a lifeline for anyone looking to terminate a pregnancy, and they've already seen skyrocketing demand since Roe's overturn.
Unfortunately, though, these organizations are far too small to meet the needs of the tens of millions of women of reproductive age in the U.S. and are no substitute for having legal access to abortion care, whether through the pill or surgery. The threat of arrest already hangs over the heads of pregnant people found to be illegally getting an abortion, a threat that became real when a South Carolina woman was arrested and charged in February for using the pill in 2021. The right wing is determined to use any means necessary to brutalize people seeking abortions, and we will need to mount a real struggle to win back the legal right to abortion in the U.S.
The Courts Aren't On Our Side
Like the Dobbs case, legal experts had shrugged off this "frivolous" lawsuit. But with the case conveniently falling into the lap of a "Trump-appointed darling of the far right," this is yet another instance where the courts will not save us. They are not impartial; they are, in fact, political. This is also the case with government agencies like the FDA who have a fully legal and above-board opportunity to demonstrate that it's willing to ignore fanaticism from the religious right. But based on the Biden administration's total lack of a fight to defend Dobbs, it's reasonable to assume no agency under his control will fight now either – and certainly not without massive pressure.
In order to fight these attacks from the right, we need movements that go beyond a court-based strategy. This has to include first and foremost the creation of new mass feminist organizations. We can't wait for Democrat-aligned groups like Planned Parenthood or NARAL to mount the type of fightback that's necessary, as it's been the Democrats themselves time and again who've refused to mount any real struggle for abortion rights. 
Part of a mass movement strategy to win back the legal right to abortion will also need to include organized direct action. Individual acts of civil disobedience at this moment will be easy to marginalize, as there's virtually no organized feminist movement in the streets, though at a later stage these actions could become essential.
In building this struggle we should look to the heroic abortion rights struggles across the world for inspiration, particularly the struggle in Ireland in which our sister organization, the Socialist Party, played a pivotal role.
A Program For Access To Care
The terrifying ramp-up of misogynist, right-wing ideas has continued past Roe, and if this ruling is unnecessarily enforced by the FDA, it will mean a key lifeline for pregnant people in the wake of Roe's overturn will be ripped away. This lawsuit does not stand alone: hundreds of bills aiming to repress the expression of young people and ban discussions of LGBTQ people and Black history from schools have been introduced just in the last few months. Republicans are looking to turn back the clock on the rights of women, LGBTQ people, and people of color. 
Right now we need to mount a tremendous amount of pressure on Biden's FDA to disregard any bogus mifepristone ban that comes down. Mainstream women's rights organizations are presenting this ban as an accomplished fact – just as they did with the overturn of Roe. We need to highlight the agency that the Democrats have to protect access to the abortion pill with protests, marches, and walkouts.
Ultimately, our struggle needs to remain laser-focused on winning back full legal protections for abortion. To achieve this, we need new mass feminist organizations launching a real movement – not in the courts, but in the streets. We need young women and young people to join this struggle alongside workers. Our goal has to be to cohere the type of movement that can make enforcing these bans politically unviable. Right-wing politicians and figureheads need to fear that if they dare take any punitive action against someone seeking an abortion, they'll be met with the wrath of thousands in the streets.
Because this will have a direct and disastrous impact on a rotten, for-profit U.S. health care system, this should be taken up by nurses' unions, many of whom have been calling for improved workplace conditions and patient safety since the beginning of the pandemic. Their struggle for health care system change and the struggle for reproductive rights are inextricably linked. Other unions outside the nurses' should support and fight in solidarity with the movement.
In the absence of a movement like this, the question of abortion access is a crucial one. A pro-choice movement will need to demonstrate that it's committed to ensuring people have access to medication abortions even when it's illegal. While getting people pills will likely be done in the shadows for the time being, it's important that the distribution of pills is connected to a political strategy, rather than just being a long-term mutual aid project.
The goal should be to bring tens of thousands of people into a vibrant and visible movement, and with strength in numbers, we can build the power to force the system to give us what we demand.