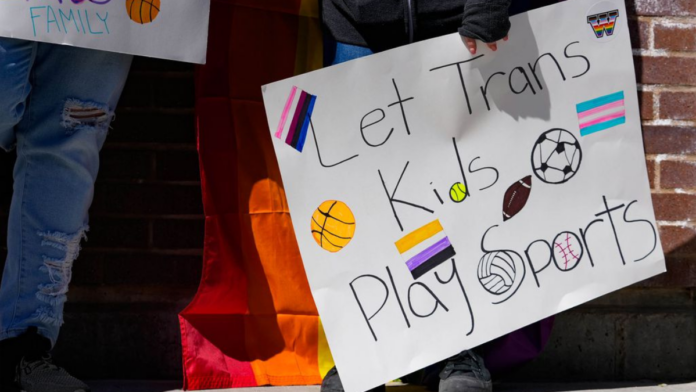 In 2020, the Republican Party took an absurdly specific issue and started to run with it – thus began the crusade to ban transgender student-athletes from participating in sports teams that correspond to their gender identity, under the guise of "protecting women's sports." Idaho became the first state to ban transgender girls from participating in girls' sports in March of that year, alongside other legislation preventing transgender people from legally changing their birth certificates.
Since then, Republican-controlled states across the U.S. have eagerly taken up similar legislation. In 2020 and 2021, 83 such bills were introduced into legislatures. While many of the bills have failed, 18 states now ban trans athletes from participating in sports teams corresponding to their gender identity, meaning that an estimated 30% of LGBTQ people now live in a state with a ban.
The bans overwhelmingly target minuscule numbers of transgender student-athletes. In Utah, the state's ban – which has been amended by a court to allow trans athletes after approval by a panel – would only apply to one known trans athlete, according to the state's school athletic association. Current proposed legislation in Ohio would similarly target six athletes.
While there is little evidence that working-class people broadly desire these policies (just 8% say they've been following the news about it), the continued push by the GOP to scapegoat transgender people has had a measurable effect on public opinion. In 2017, 44% of Pew Research poll respondents believed that someone's gender could be different from the sex they were assigned at birth – by 2021 that shrank to 41%, and dropped even more sharply to 38% just a year later. Still, 64% of Americans favor protecting transgender people from discrimination, even as right-wing fervor whips support behind discriminatory policies like trans sports bans.
Now, a growing number of trans sports bans are going beyond K-12 athletes and aim to exclude collegiate-level trans athletes as well. Texas Governor Greg Abbott vowed at a young conservatives conference in Dallas to ban trans women from women's teams at the college level, after already passing a K-12 ban in 2021. Ohio's revised version of a trans sports ban that failed last year includes a collegiate ban and was re-introduced to the legislature in February.
Participating in high school team sports is linked to higher self-esteem, better social skills, and fewer depressive symptoms. Students who participate in team sports also tend to perform better academically and are more likely to develop lifelong fitness habits. Systematically excluding transgender student-athletes from the teams that correspond to their gender identity not only compounds the bullying and harassment that many already face in their schools but strips them of opportunities for development and growth.
Increasingly, transgender students find themselves marginalized in their schools. Many of them are now banned from participating in sports, and other Republican legislative pushes aim to force teachers to "out" trans kids to their parents without their consent. Some states, including Florida and Texas, have already limited schools from teaching students about gender and sexuality, further ostracizing transgender students. Despite this, there has not been any attempt by Democrats to implement legislation protecting the rights of transgender people.
The reality, despite Republicans and major media outlets spreading misinformation about transgender people, is that the majority of Americans support protecting transgender people from discrimination. Teachers' and nurses' unions, school districts, athletic associations, and student groups should publicly oppose trans sports bans and all other forms of transgender marginalization. Student activist groups in states like Florida have admirably mobilized to out-of-the-way legislative meetings to pack public comment, but this is needed on a much bigger scale to stop the right wing's advance on transgender people.