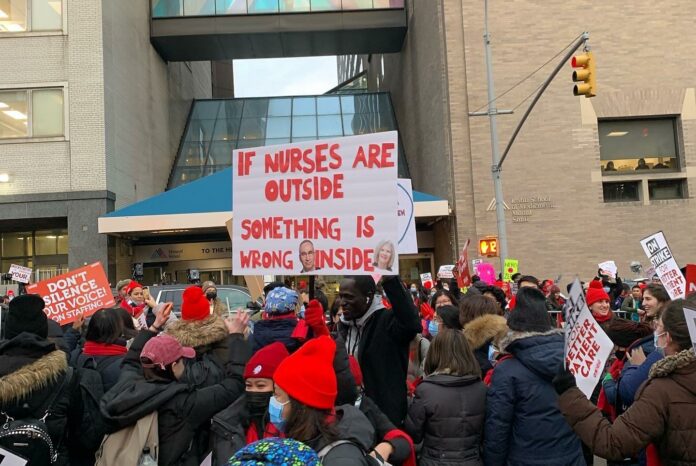 George Cohen (partner of NYP nurse)
7,100 nurses in New York City in several key hospitals have gone on strike starting at midnight Sunday for safe staffing ratios, pay rises that exceed inflation and more. They are taking a stand on behalf of all frontline workers in New York City. Nurses were hailed as heroes during the height of the pandemic but they have not been properly compensated for their effort and their working conditions remain terrible which also puts patients at risk.
New York City nurses at several hospital chains around the city have been in contract negotiations as all their contracts expired Dec 31, 2022. The New York State Nurses Association (NYSNA) claims that 99% of nurses voted for strike authorization on December 22. Tentative agreements were announced in some hospital chains but not at Montefiore and Mount Sinai, where the strike began today.
Energy on the picket line this morning was electric. More than a thousand nurses and members of the community gathered at the front entrance of Mount Sinai's main campus in upper Manhattan to picket, march, and rally. Calls of "What do we want? Safe staffing! When do we want it? Now!" could be heard blocks away at 6:45 this morning, before sunrise. Hospital workers coming off the night shift immediately joined the picket line, while dozens of bus drivers honked in solidarity. Of the strike, one of the biggest in a strategic sector in NYC since the transit strike of 2005, one nurse said, "today is the best thing that could happen" to force their bosses' hands and win a contract that meets their demands.
Socialist Alternative members are visiting hospitals in solidarity with nurses, supporting the strike, and supporting the struggle for the strongest possible contract.
Nurses' demands in these negotiations are focused on staffing and raises that keep pace with inflation. Throughout NYC hospitals, despite having contract language that promises a 1:4 nurse-to-patient ratio, most nurses are lucky to be assigned only five patients, at times being forced to care for up to eight over the course of their 12-hour shifts. As of this writing, many nurses in hospitals where tentative agreements have been announced have seen only a summary of the TAs which promise "Improved enforcement and dispute resolution process" with no details of how to accomplish this. Many units are having difficulty hiring as they refuse to compete with the wages or the flexibility offered to travel nurses – and yet employ travel nurses regularly paying them far more than their staff.
NYSNA appears to have fought for, and won, raises of 7%, 6%, and 5% over the next three years in the deals that have been announced. As inflation is likely to be over 8% in 2022, and we have no guarantees it won't come back in the coming years, this could represent a pay CUT. Nurses and all other workers should be fighting for a Cost of Living Adjustment (COLA) as a standard part of the contract; they can then negotiate raises on top of that.
It wasn't long ago that COLAs were a standard part of union contracts. Now, Socialist Alternative is leading the fight for COLAs again.
Tentative agreements (TAs) have been reached at New York Presbyterian (NYP), Maimonides, Richmond University Medical Center, The Brooklyn Hospital Center, Flushing Hospital, and BronxCare. Despite not all of these agreements having been voted on, NYSNA has called off strikes at those hospitals where tentative agreements were reached. We would argue that the threat of a strike should not have been removed until these votes are completed. Likewise with the nurses on strike at Mt. Sinai and Montefiore, pickets should not be lifted until a contract is ratified because to do otherwise demobilizes the workers if they want to fight for more. It has been reported that at New York Presbyterian, the vote was 57% in favor and 43% which is an indication of the level of dissatisfaction over the TAs.
What Community Support Looks Like – Solidarity
During the beginning of the pandemic, workers viewed nurses as essential workers and had huge sympathy for the brutal conditions hospital workers had to endure. One nurse on the picket line reported how COVID-19 has exacerbated staffing issues, not only due to increased numbers of patients, but because many dedicated nurses were forced to leave the profession due to burnout. The working class knows this is unacceptable, and knows how crucial these nurses' work is to keeping society running.
NYSNA should leverage that support and call for a mass mobilization early in the strike involving the trade union movement and wider public to show the public's support for their actions. Supportive community members should show up wherever and whenever possible to picket lines to participate in the pickets with nurses. When you're there, ask questions, learn the issues and report back to your families, friends, and coworkers on what you saw and heard.
What nurses win in their contracts sets a precedent for the wider labor movement. If they win big, it makes it easier for others to point to those gains as the standard. The opposite is also true, if nurses take concessions other employers will point to those as the standards. We need to support nurses in their fight for the best possible contract. This is a fight for all working class New Yorkers and indeed could have repercussions far beyond the city.