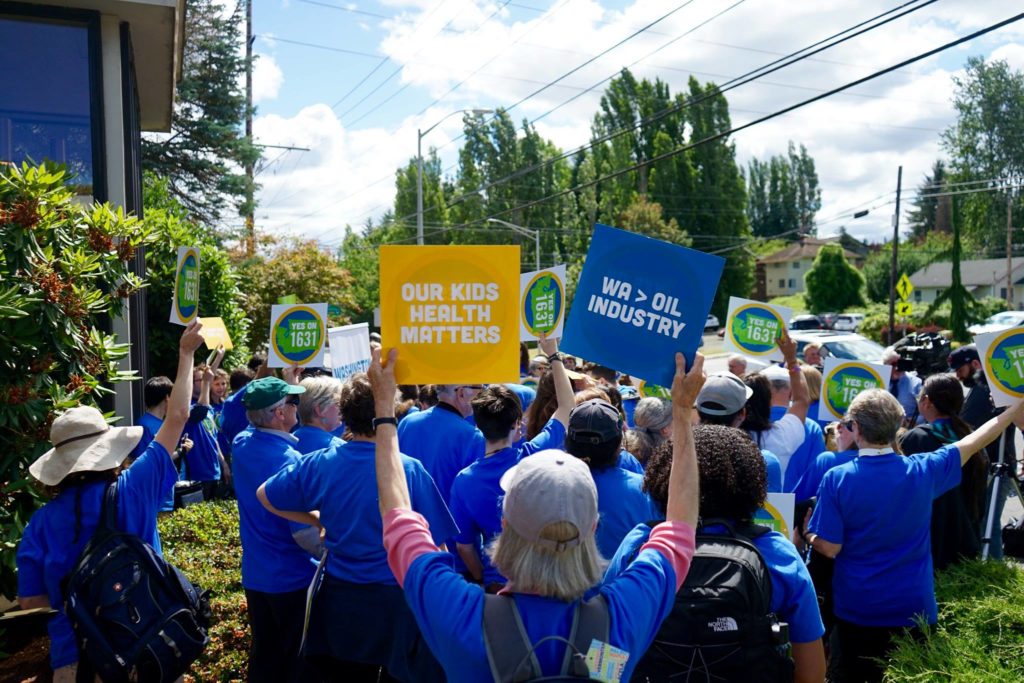 Initiative 1631 imposes cost of climate change directly on the corporations responsible for carbon-based pollution.
Initiative 1631 in Washington State represents a forceful attempt to hold the producers of fossil fuel pollution accountable. On the ballot this November, the initiative creates an escalating fee on carbon emissions for major polluters, and invests the revenue in projects that seek to slow or cope with climate change.
The fee starts at $15 per metric ton of carbon, and rises annually by $2 plus the rate of inflation. Seventy percent of the fee money would be set aside for clean air and clean-energy investments, 25 percent for clean water and healthy forests, and 5 percent for communities. In 2035, when the fee is projected to hit $55 a ton, state lawmakers could either freeze it or vote to continue to let it increase.
Initiatives such as this one that try to reflect the true costs of climate change into the economy are what economists call a Pigovian tax, a tax on capitalist production based on negative "externalities" not included in the market price. Initiative 1631, though, sensitive to Washington State limits on taxes, uses a fee-based system that also commits the funds go toward solving climate-related problems or future protection of the state's environment.
Part of the support for the initiative is being driven by the increasingly visible effects of climate change already happening in the Pacific Northwest. A recent report from the Union of Concerned Scientists notes, in part: "Warming is one of the many factors already driving up wildfire risks in Washington State …And as that built-up carbon dioxide in the atmosphere dissolves into the ocean, it's also making the ocean more acidic, corroding shell-forming species like oysters that are the backbone of the state's $270 million shellfish industry."
Support for the measure exhibits a "tipping point," where even some establishment forces are  backing it under pressure from increased demands for action. The "Yes on I-631 Coalition" includes not only major environmental organizations, and unions like SEIU 1199, the Teamsters and AFSCME. Health organizations like National Nurses United and Planned Parenthood have signed on. And social justice organizations ranging from Casa Latina to Got Green to Puget Sound Sage and Women of Color Speak Out have endorsed as well. But in addition, even Bill Gates and Michael Bloomberg, in a reflection of the broad demand for action to avoid climate catastrophe, are in support.
Despite the surprising breadth of support for the "Yes" campaign, some large corporations were able to secure exemptions from the fee. Given Washington's economic dependence on sensitivity towards its international trade position, those industries, such as aluminum and paper producers and aerospace were able to use the threat of lost jobs and revenue to leverage a loophole. In addition, a coal-fired power generation plant in Centralia operated by Transalta would be exempt from the tax until its scheduled closure in 2025, per an earlier agreement that environmental groups reached with Transalta. Transalta cautioned that they would reconsider the agreement to shut down the plant should they be impacted by a carbon fee. These exemptions show the limitations of fighting for progressive change under an economic system where private corporations control the vast majority of resources.
Big Oil Breaks Out the Big Guns
Opposition to this measure is substantial. Gov. Jay Inslee, has repeatedly failed to gather enough votes in the Legislature to pass carbon-pricing measures, even with a relatively strong environmental movement.
Since the initiative went on the ballot, the petroleum industry has set a fundraising record in Washington initiative battles, having taken in $28.3 million in its campaign to defeat Initiative 1631. Houston-based BP America, which operates Washington's largest refinery at Cherry Point, is the "No" campaign's biggest donor at $9.8 million. American Fuel & Petrochemical Manufacturers, the oil industry trade association that counts BP, Chevron and Shell as members, has given $1 million to stop I-1631. Phillips 66, formerly the lead donor, has given $7.20 million, followed by Andeavor (the former Tesoro) at $4.3 million. The "No" campaign has even funded a TV ad featuring former state Attorney General Rob McKenna who conveniently fails to mention he is now an attorney for Chevron, which has given $500,000 to the No on 1631 campaign.
Scare Tactics
A main strategy of the "No" campaign has been to claim that companies will pass on the cost to consumers at the gas pump. A variety of future gas prices have been used as scare tactics.
Nonpartisan think tank Resources for the Future estimates that under Initiative 1631, the price of gas for Washington residents would likely rise by 13 cents a gallon in 2020, and the price of home-heating oil would rise by 15 cents a gallon. The initiative's supporters say that a worst-case scenario will cost most Washingtonians about $10 a month, while the "No" campaign warns of much higher potential costs.
Although business always want to pass all cost increases on to consumers, their ability to do so depends on broader market forces as well as the strength of an organized public opposition. Consumer outrage can translate into social movements that can limit the amount of additional cost burden transferred to ordinary people. How much big business is forced to pay directly depends on how well such legislation is passed and how strongly it is defended. This was seen in the passage of the fight for $15/hour, where Seattle's legislation set off similar movements across the country and despite the dire predictions of corporate economists, the majority of the cost was born by big business rather than consumers.
Limitations of Carbon Pricing
Carbon pricing have been attempted both in and outside of the United States. For almost a decade, California has charged polluters using a "cap and trade" scheme to set its carbon price, which means it uses a market to determine the price of emitting a ton of carbon dioxide. The state's annual carbon emissions have fallen 13 percent from their historical peak. In British Columbia, a tax was passed roughly twice as expensive as Washington's proposed starting fee, and it rises faster than Initiative 1631 would increase. It must be noted that the BC tax is directly on carbon and therefore also has a regressive effect of landing disproportionately on working class people, unlike 1631 which which taxes big business directly. But in spite of the size and strength of the BC measure, carbon emissions have fallen by only 2 percent since the tax was implemented. These examples indicate that while carbon taxes or fees can have an impact on a region's emissions, broader fluctuations in the energy market also play a major role, and market-based solutions will not be adequate to solve the contradictions built into capitalism which make it incapable of environmental sustainability.
In the long run, using a carbon tax, carbon trading, or carbon fees will not address the fundamental contradictions of the energy industry under capitalism. Private energy companies will keep extracting and burning fossil fuels as long as there is profit to be made. Much more than carbon fees are needed to truly defeat the stranglehold of fossil fuel companies over our economy and address the devastating impacts of global warming. In order to avoid climate catastrophe, we will need a rapid transition away from fossil fuels toward renewable energy. To do so working people will need to take the big energy corporations under democratic public ownership and retool them for solar, wind and other clean energy sources. We will need a just transition and retraining for all workers in the fossil fuel industry into green, family wage union jobs, millions of which can be created in the move to renewable energy.
Yet while 1631 will of course not solve capitalism's climate crisis, it will boost the confidence of working people the world over that we can score significant victories against Big Oil. We regard the successful passage of this initiative as a step towards challenging the stranglehold of the fossil fuel corporations and in raising the need for sustainable alternatives. Socialist Alternative urges a yes vote on Initiative No. 631.