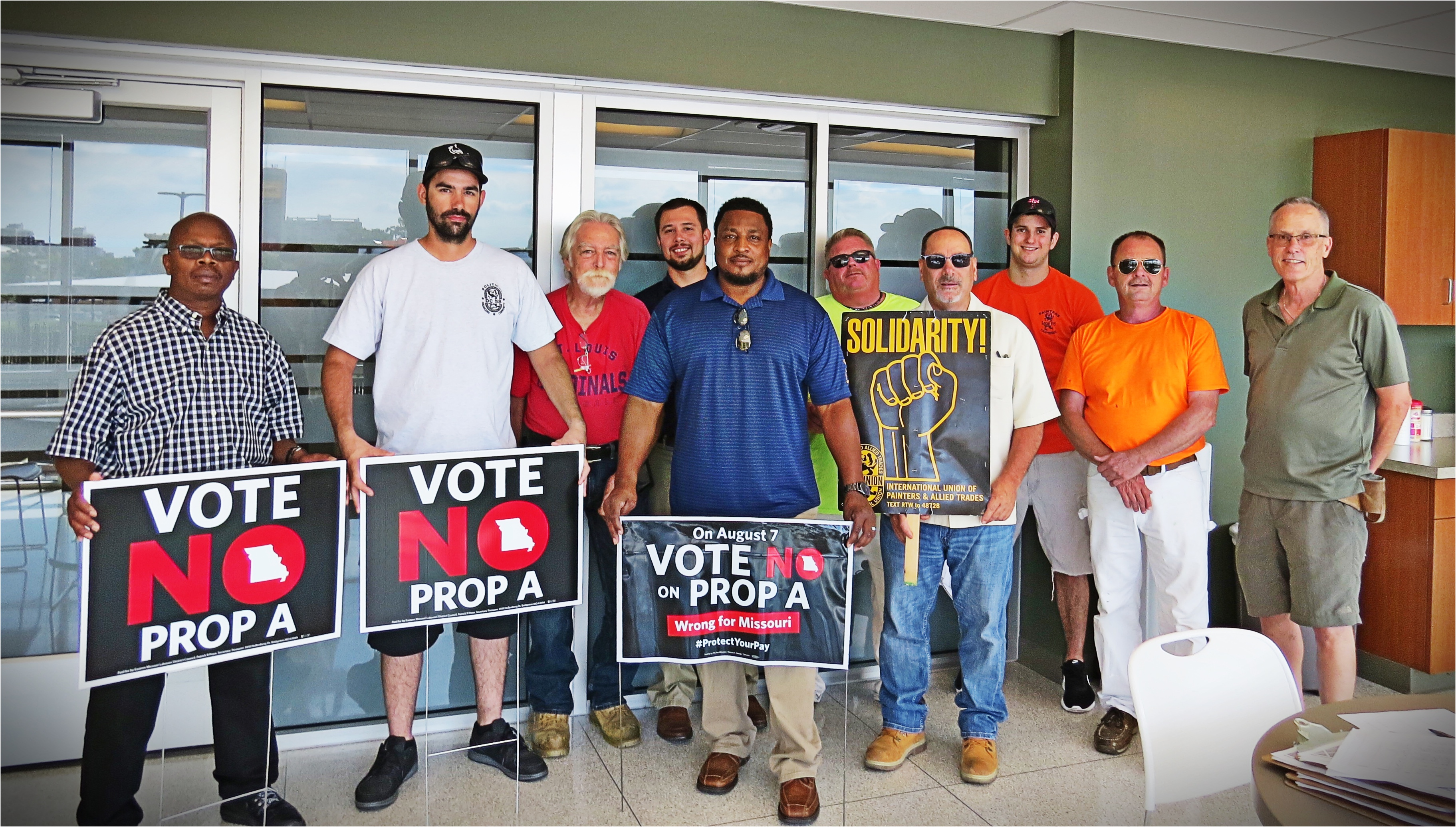 Working people, led by unions, have just won a serious fight in Missouri. On Tuesday, August 7, a "Right to Work" (RtW) law was overturned by a massive 67.5% of those who voted in the referendum. Big business got handed a big surprise by workers in a state that the corporations thought they had locked up.
With the Trump Administration in Washington; the Supreme Court ruling on Janus; a Republican-dominated legislature in Missouri; and last year, the corrupt Republican Governor Eric Greitens signing a Right-to-Work (RTW) law, corporations and their anti-union front groups thought Missouri would be their next victim in their campaign to crush workers' rights.
Right to Work stops unions from collecting mandatory fees from workers who, despite being eligible to be in the union, choose not to and still benefit from union negotiations, contracts, and representation.
Federal labor law requires unions to represent all workers in their local union or "bargaining unit." RtW laws are designed to bankrupt unions by reducing their dues base. .
In most states, unions can collect mandatory fees from those who refuse to join the union. This helps the union defray the costs of representing everyone. Anti-union forces in Missouri thought they had gotten away with making Missouri the 28th RtW state and further weakening the labor movement.
But instead of giving up or delaying the fight against the RtW offensive, unions fought the new law in Missouri. Thousands of working people – both not in unions and union members – organized and went door to door in cities and rural towns and, after six months, collected 310,567 signatures – more than double enough to put the referendum on the ballot.
The corporations countered with a petition to force RtW through an amendment to the state constitution. They poured almost $1 million into it but it failed.
Then big business got the Republicans to try and bury the "No on Prop A" union-backed referendum by legally moving the vote on it up to August, from November, hoping low voter turnout would help. While the Democrats formally supported the repeal of RtW, it was the unions and the boots on the ground that led the fight. This is an important lesson for Missourians and working people everywhere – the Democrats won't fight for our interests, only working people will fight for our own interests.
Socialist Alternative has pointed out many times that even during the reign of Trump, working people can win victories. This was shown clearly in the successful teachers' revolt in West Virginia earlier this year.
The defeat of RtW in Missouri should be remembered and learned from. This victory for labor, like the West Virginia teachers strike, points to the potential for a re-energized labor movement, ready to go on the offensive.
Instead of being narrowly focused on elections to win change, unions and non-union workers in the U.S. need to use the strength and talents of the people who actually do the work in this country to re-build the labor movement and to have our own political representation. We need to organize a new political party for workers and youth which can build a movement to end all the RTW and other anti-union laws for good.