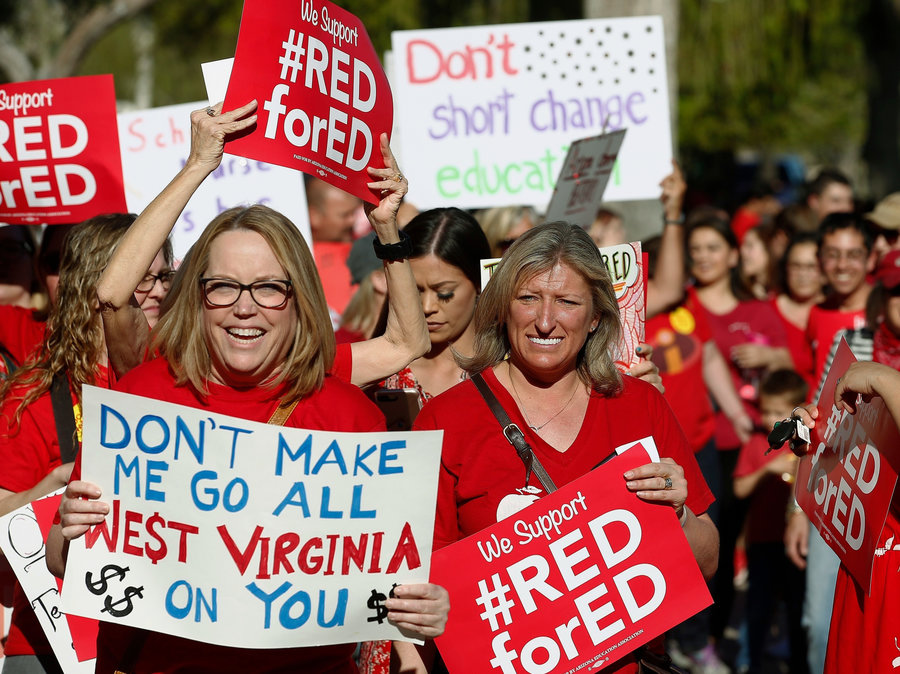 Today, April 26, Arizona teachers have walked out in their thousands. Demanding a return to pre-recession education funding they are saying that a "20% [raise] is not enough." Governor Ducey refuses to meet with walkout organizers. At the same time, in Colorado whose state government is dominated by the Democratic Party, teachers are also walking out. Together, this affects hundreds of thousands of students and families and teachers in both states appear to enjoy huge support. 
On Thursday, April 19, with crowds of teachers, newscasters, and a peak of over 13,000 watching online, the Arizona Educators Association announced that Arizona teachers overwhelmingly voted 78% in favor of a statewide walkout. "Walk-ins" are expected to happen April 23-25. On Thursday, April 26, the statewide walkout will officially begin. They are demanding a fully funded 20% pay increase and the restoration of $1 billion in cuts to education over the past decade. This is a historic vote, setting the stage for the first statewide walkout by Arizona teachers in the state's history. The last major strike in the state was the heroic battle by Phelps Dodge copper miners in 1983.
In late February, Arizona teachers flooded a Facebook group called Arizona Educators United to talk about how to fight back against their current situation. Inspired by the West Virginia teachers' strikes, Arizona teachers have spoken out against a decade-long wave of cuts and wage stagnation. Teachers began by modestly bringing awareness to their situation by wearing red on Wednesdays. This then grew to demonstrations in front of the Arizona Capitol, "walk-ins," and internet campaigns around the hashtag #RedforEd drawing in broad community support.
Teachers then brought forward five bold demands: a 20% increase in pay, restore education funding to pre-recession levels, competitive pay for all education support staff, permanent annual raises, and no new tax cuts until Arizona reaches the national average in per-pupil funding (currently Arizona spends $7,489 per pupil compared with the national average of $11,392). The Arizona Educators United Facebook group has grown into a revolt of teachers with the potential to reverse the unbearable situation they currently find themselves in. This walkout is coming off the heels of the now months-long teacher revolt that started with the wildcat teachers' strike in West Virginia and spread to Oklahoma, Kentucky, Colorado, and now Arizona.
How Did We Get Here?
One of the teachers' bold demands has been to restore education funding to pre-recession levels. After the 2008 recession, Arizona faced one of the largest budget cuts of any state in the country. Under Democratic Governor Janet Nepolitano, the spending for the Arizona Department of Education contracted by over $330 million when revenues were lower than expected in 2008. Between 2008 and 2015, the K-12 education budget contracted by 36.6%. According to azCentral, funding for items such as textbooks, school construction, and buses were "cut by about 85 percent for most schools." Since then, the brunt of any restored funding has come largely from the working class and middle class, as any increases in revenue toward education and the overall state budget have come in the form of increases in regressive sales taxes brought on by propositions such as the temporary "one cent" sales tax increase from Proposition 100 under Gov. Jan Brewer in 2010, an extension on Proposition 301, a 0.6 sales tax increase voted in 2000 and recently extended by the Arizona legislature, and various district bonds and overrides approved by voters.
Arizona teachers' bold demand to the Arizona State Legislature and Governor Doug Ducey for a 20% pay increase, would raise the median pay of $42,474 a year to $50,969. Arizona teachers are currently among the lowest paid teachers in all of the United States. Teachers in the neighboring southwestern states of Utah and New Mexico make a median annual pay of $54,814 and $59,047 respectively. After a derisory 1% pay increase this year, one teacher posted a picture of her paystub which revealed her salary had increased from $35,490 to $35,621.25.
The lack of wages keeping up with the cost of living has led to teachers leaving Arizona in hopes for better pay in other states. In response to the teacher shortage, Ducey, a former Cold Stone Creamery CEO, passed a bill in 2017 that "allow[s] teachers to be hired with no formal teaching training, as long as they have five years of experience in fields 'relevant' to the subject they are teaching." This was a plan that was even criticized by Republican Superintendent of Public Instruction Diane Douglas, herself the target of  a petition of over 40,000 signatures calling for her recall shortly after her election because of her inexperience in education, her pro-corporate advocacy background, and her pro-privatization agenda. Shortly after Arizona Educators United, now under the slogan #RedforEd, began protesting in front of the Arizona State Capitol – which is now a museum due to recession-era cuts – GovernorDucey shot down the demands of the teachers and only agreed to his original 1% pay increase for teachers.
Now, after immense pressure from the teachers, Ducey gave a press conference promising he will increase teacher pay by 20% by 2020, though no legislation has yet been brought forth. His own website even now is still promising to increase the education budget by only 6%. All of this comes off of Ducey's 2014 campaign promise of no new tax increases and more tax cuts for large corporations, which received enormous praise from conservative think-tanks like Americans for Tax Reform.
Too Little Too Late
Clearly, this is too little, too late for the Arizona teachers. When textbooks are falling apart, when teachers pay is stagnant, and when class sizes are increasing to up to 40 students a class, promises to increase funding while in practice putting teachers in a chokehold won't cut it. Doug Ducey has been exposed as a representative of a capitalist class that seeks to drive working people down to the lowest depths possible. The seeds have been planted by Doug Ducey and other governors before him. Now he is reaping what he has sown.
Socialist Alternative is in full solidarity with the Arizona teachers and their historic statewide walk-out. Their movement is a historic and bold step that will inspire millions of workers around the country. As shown in West Virginia, Oklahoma, Kentucky, and now Colorado, the steps taken by the Arizona teachers are a part of a growing nationwide revolt against years of stagnant wages and cuts in necessary services such as education. As the teachers' strikes and the current student walkouts over gun violence have shown, working Arizonans cannot wait elections in November to fight for their for their interests.
Many Democrats in Arizona as in other states will be running on the promise of restoring education funding. But no matter who is in control of the statehouse after November, the teachers, along with other public-sector workers, will need to remain mobilized and fight for their interests. For example, just before the recession, in 2006, Democratic Governor Janet Napolitano approved of a $500 million corporate tax cut while Arizona was in a $1.5 billion budget surplus. While some Democratic candidates may be genuine in their intentions on this question, the party as a whole is thoroughly controlled by corporate interests and has proven again and again that it is no ally of working people. In reality, the only truly reliable political force would be an independent party based on the interests of working people taking no money from big business.
As the teachers' revolt continues, Socialist Alternative is calling the national teachers unions, other public sector unions, and progressive figures like Bernie Sanders to organize a national day of action with marches around the country, demanding to restore all the cuts and to fully fund education by taxing the corporations and billionaires. In the era of Trump, clear steps need to be taken to show a path forward against his and his billionaire colleagues' big business agenda.
The bold collective actions taken by the teachers should be met up with bolder action by the people in leadership roles to show that high-quality education is not a privilege and that gains can be won by movements putting forward bold demands toward the rich and powerful. Ultimately, in a system that fundamentally requires the ruthless drive for profit at the expense of the vast majority of people globally, these gains will need to be defended and protected. If we are going to secure our gains, our movement will need to take steps towards fighting for planning a  democratic socialist economy  run by and for the interests of the vast majority of people, not for the profit of a few.