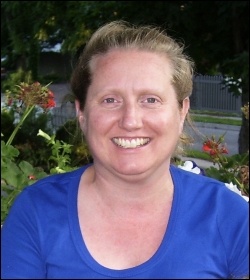 Lorraine Dardis, a founding member of the organization now known as Socialist Alternative, has tragically died, aged only 53. She conducted a determined struggle against a malignant, aggressive brain tumor, but was eventually defeated. She died peacefully on March 22. Even for those who have long been aware of her illness, including her parents, her death has come as a profound shock.
Lorraine had outstanding abilities and there is much, much more she wanted to accomplish. She was a wonderful person, a true friend to many comrades and friends. She had the extraordinary gift of connecting with people in a few minutes – sometimes becoming a life-long friend.
At the same time, Lorraine was a steely class fighter who never believed in giving up. She will be deeply missed – but never forgotten.
Internationalist
Lorraine developed an internationalist outlook from an early age. Her father, from a working-class family in Newark, New Jersey, was in the army. The family regularly moved from one base to another across the US and West Germany. Her mother is from France.
Lorraine's entry into anti-capitalist politics came through the international peace movement. She dropped out of studies at Boston University to visit the women's peace camps at Greenham Common and Faslane nuclear bases. Later, Lorraine travelled around Europe, meeting people in Ireland, France, Netherlands, and elsewhere.
On returning to Boston, she worked various low-pay jobs. She was involved in some of the struggles of a militant local branch of the UAW (United Autoworkers) which organized a variety of workplaces. In one of the jobs Lorraine met Jeff and Martha, who were working to establish a US organization that would work with the CWI.
Lorraine was more than ready for such an organization. In fact, she complained they had not involved her sooner. For the rest of her active political life, she devoted her considerable talents to building SA and the CWI.
Lorraine joined the organization in 1985, a year before the founding conference. When Labor Militant was launched, she helped edit the paper. She was an intrepid paper-seller. Later she worked as a full-timer in Chicago and Boston.
Joining our organization at that time was an enormous step. There were no more than about 40 members (with four or five branches) in a vast country. The political climate was not favorable. Reagan had been elected president in 1981, implementing ultra-free-market policies and launching an offensive against the unions.
Lorraine was inspired by our socialist aims, and her commitment and enthusiasm inspired others. She recently wrote: "Having already come across a range of political groups with different approaches and principles, I was attracted to [what was to become] Socialist Alternative for two main reasons: Its support for creating a genuine democratically-run and grassroots-controlled socialist society internationally; and its member-based, democratic, and anti-bureaucratic structure and functioning."
Lorraine passionately believed that Marxists should be in the forefront of the fight for real equality for women and fight for socialist policies to protect the natural environment.
While she could not be active in recent years, she was overjoyed by the successes of Socialist Alternative in Seattle and Minneapolis. She felt the growth of the membership and of SA's broad influence vindicated the undramatic, pioneering work of the 1980s and '90s.
Condolences that have already poured in testify to Lorraine's extraordinary qualities. Tenacious in defense of political objectives, she was at the same time a very sociable, unusually sympathetic person, very loyal to her many friends. She had a joyful sense of humor. No one who met her will forget her.
Fighter
Served in January 2014 with a terminal diagnosis of 12 to 18 months, Lorraine was determined to fight the malignant brain tumor (Glioblastoma multiforma). She was told that it was treatable but incurable. Her strategy was to hold out until a cure was found. "I'm a fighter," she said: "I won't give in."
Radio-therapy, chemo, and Lorraine's determination kept the tumor at bay for three years. Then it began to grow again, while successive rounds of chemo became less and less effective. She still refused to give up the struggle. Only in the last few days did she admit to me, "I may not make it". No one could have fought harder or longer.
I have done my best to be objective, but I must declare a personal interest. For over twenty years Lorraine and I have been together. In 2000 she moved to London so we could live together. She was my best friend, trusted comrade, wise counselor, my inspiration, the love of my life.
****************************************
Socialist Alternative sends our condolences to Lorraine's mother and father, her five brothers and the wider Dardis family. Condolences also to Lynn Walsh and Lorraine's acquired family, Daniel and Irina, Mateo and Emma. We share the anguish of the many comrades and friends who knew Loraine.
Lorraine's funeral will be in England at Eltham Crematorium (Falcon Wood) at 1pm on Wednesday April 18, followed by a reception nearby.
****************************************