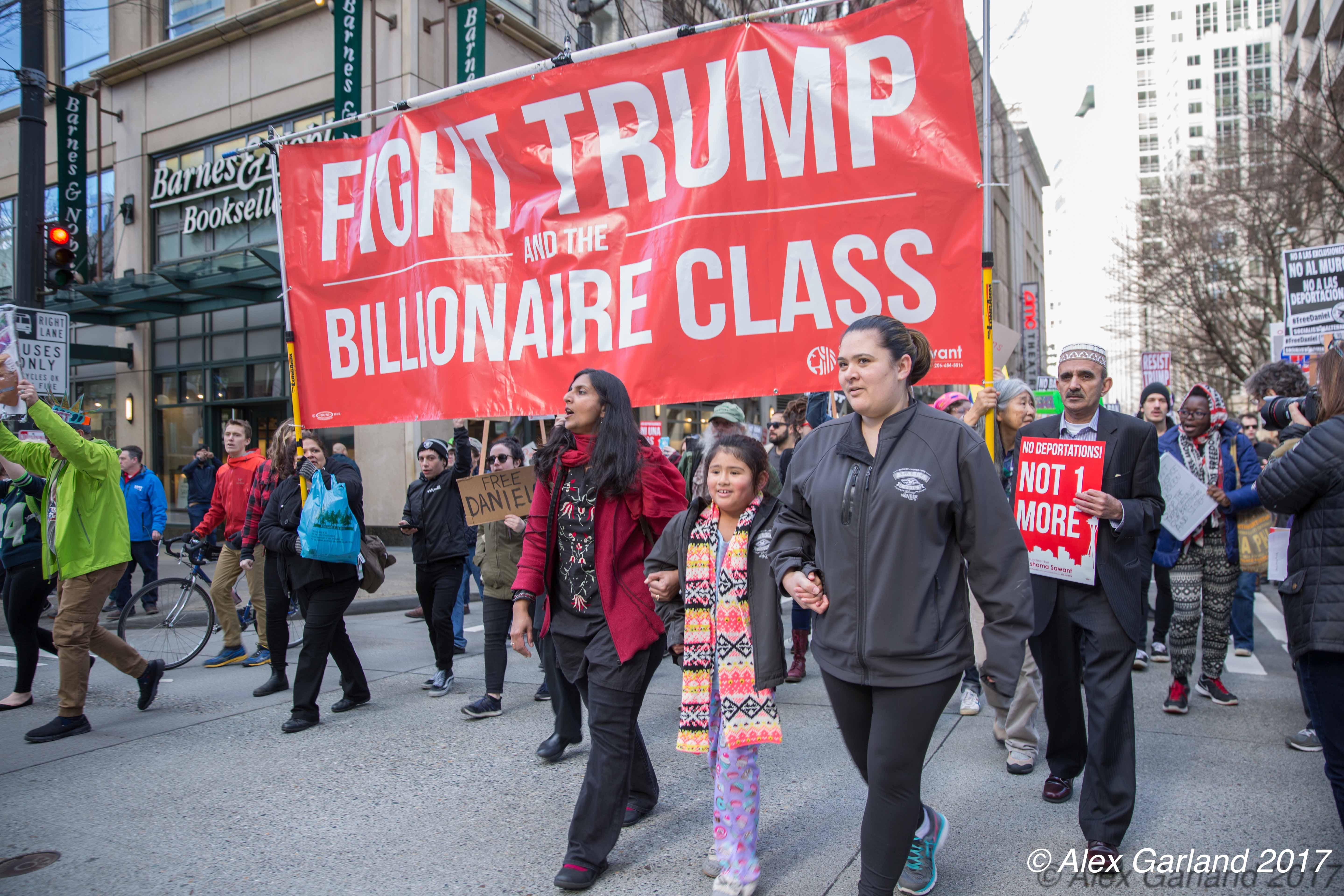 Seattle's socialist City Councilmember Kshama Sawant is facing two defamation lawsuits, the aim of which is to silence an outstanding representative of working people and the oppressed. The first is from two police officers who shot and killed a black man in 2016. The other is from a landlord notorious for his tenants' complaints about conditions. A broad-based independent defense campaign is being prepared, which Socialist Alternative will fully support.

Donate to the Kshama Solidarity Campaign!
These lawsuits are part of a broader effort from a section of the establishment and the right wing to silence and criminalize dissent. There have been various bills brought forward around the country, in the wake of Black Lives Matter protests, imposing draconian penalties for different types of unauthorized protest. The Trump administration has also made clear its sympathy with these efforts.
The Killing of Che Taylor
In February 2016, two policemen shot Che Taylor in Northeastern Seattle after he followed orders to get down and put his hands in the air. The two officers who shot Taylor were the closest of a number of policemen surrounding his car. A widely circulated police dash-cam video of the incident appears to show Taylor's hands in the air and moving to the ground, in compliance with officer commands, when he was shot at point-blank range. The police claimed Taylor was turning to pull a gun out of a holster as he got of the car but they have refused to release additional video they have of the "death scene." Taylor was hit by four of the seven bullets fired and died of his wounds.
No weapon was found on the victim. A weapon was later reported to be in the car, though even the official inquest found he was attempting follow orders, putting his hands in the air, when he was shot. However, as is almost always the case in these situations, the official inquest jury did not result in a decision to prosecute the police.One of officers, Spaulding, has now killed two people, the other victim being a mentally ill Native American killed during a domestic dispute.
Defamation Lawsuits
Kshama Sawant, speaking at a protest outside City Hall, called the shooting by the officers a "brutal murder." In a brazen attempt to intimidate Sawant and all those challenging police violence in the black community, these two policemen then filed a defamation lawsuit against Sawant. A defamation suit can cost hundreds of thousands in legal fees – clearly beyond the pay of the average Seattle police officer. Many speculate that the officers' lawsuit is being secretly bankrolled by a group or individual looking to silence BLM and Sawant.
The judge ordered the officers to provide more specifics for their allegations. Instead, the officers are trying to blackmail the City of Seattle into a settlement. Giving a deadline of April 2, the officers are threatening to re-file their lawsuit, this time against both the City and Sawant. We are demanding that the City not give in to this blackmail and not give a dime of taxpayer money to these cops. Any settlement would be used to cast a shadow of guilt over Kshama, creating a further chilling effect for anyone standing against police racism and killings.
"It's a very, very high bar" to prove defamation, says Emily Chiang, legal director at the ACLU of Washington, (TheStranger.com, 8/25/17). It seems that the real aims of those secretly bankrolling this lawsuit are to drag the case out in the media for as long as possible in order to attack and undermine Kshama in the court of public opinion. This is especially dangerous with a potentially tough re-election battle shaping up next year, as big business and the political establishment are determined to defeat the socialist in City Hall.
Meanwhile, Seattle landlord Carl Haglund has also launched a lawsuit accusing Kshama of defamation for calling him a "slumlord." In 2015, Kshama and tenant activists scored an important victory in forcing Haglund to back down from major rent hikes at one of his apartment buildings, which tenants complained was infested with mold, roaches, and rats among other code violations. Councilmembers Sawant and Nick Licata then successfully passed an ordinance to outlaw rent hikes in Seattle for housing units with code violations. Haglund's lawsuit is a clear case of sour grapes.
The Real Agenda
Kshama has a long record of speaking out against violence by the Seattle Police Department (SPD). This lawsuit seeks to silence her and to send a warning shot to other prominent voices who might speak up against police killings of black people. Unfortunately, there is a long history of similar intimidation tactics, from both police and other powerful forces seeking to defend the institutional racism which is hardwired into American capitalism. Recently, Colin Kaepernick – the NFL quarterback who sparked waves of anti-racist protests among athletes by taking a knee in solidarity with victims of police violence – has been blacklisted by the NFL.
The attitude of the establishment toward Kshama on this issue is exemplified by the Seattle Times which has failed to expose the racism and abuses by the Seattle police. Yet, they have had four op-ed articles criticizing Sawant's objections to the way the SPD treats black and Latino people. The paper and a number of establishment figures campaigned, unsuccessfully, against the City's legal department agreeing to defend Sawant, which is standard practice in lawsuits against city officials for actions taken in their official capacity. Not surprisingly, the paper has also vehemently opposed Kshama's candidacy in 2013 and 2015.
We Will Not Be Silenced
Our movement must continue to point out how police officers who use excessive force and kill people in situations where they are not in imminent danger are rarely prosecuted and even more rarely convicted. This is linked to the deep institutional racism still shaping law enforcement and government policies, resulting in communities of color bearing the brunt of police violence. Yet now, for stating that such policies are murderous, Kshama is under attack.
Local authorities have failed to act in defense of victims of police violence and hold the SPD accountable, despite a Department of Justice (DOJ) decree in 2012 related to excessive use of force by the department. The DOJ's report revealed that SPD officers systematically escalate situations when arresting people for minor offenses. Fifty percent of the cases where police used excessive force involved people of color – in a city that is 70% white.
Police violence is not only directed against blacks, but also immigrants, social activists, and labor activists. We need a broad defense campaign to bring these injustices to light and to help publicize other cases of police violence.
Violence and intimidation are part and parcel of the structural racism which is embedded in American capitalism. Brutal inequality and poverty, alongside the "war on drugs" and gentrification have devastated many communities. We need living-wage jobs, health care for all, and affordable housing rather than repression to address deep social problems.