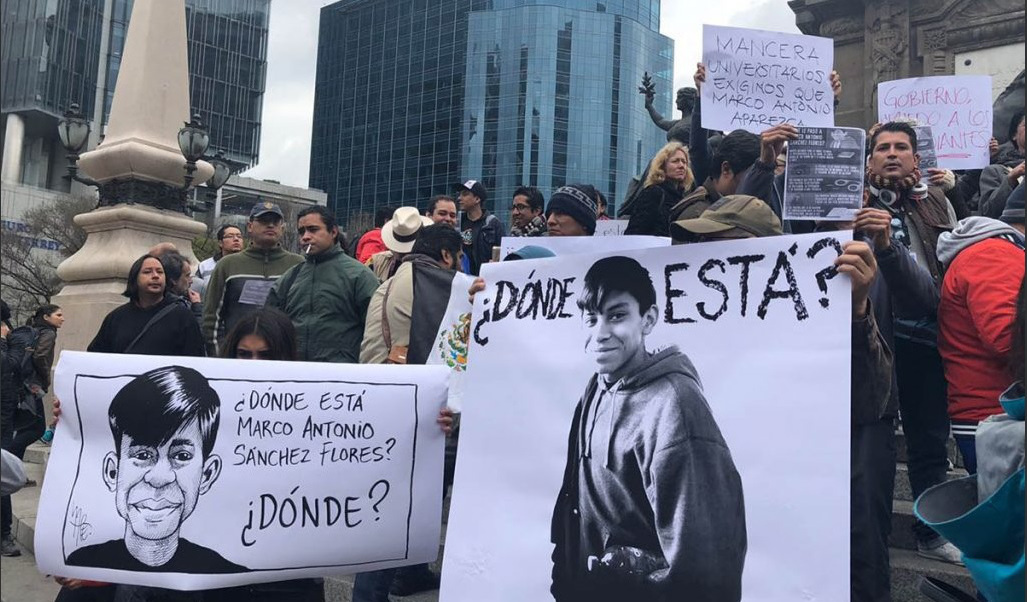 On January 23, Mexico City high school student Marco Antonio Sanchez was arrested without cause by two officers of the city police force, who were apparently trying to get a bribe from him. He was beaten and then disappeared, and the police denied that he was in their custody. As his family and friends demanded to know what became of him, the media picked up this story. Five days later, he turned up 20 miles away – wandering disoriented, wearing another person's clothes and having been beaten, tortured, and drugged so badly that he didn't even recognize his own family. A horrific photograph showing him beaten, emaciated, and terrified went viral. Today, a court is waiting for Marco to recover sufficiently to testify against his captors.
Over the last two decades more than 6,000 minors have disappeared in Mexico. All of Mexico remembers the disappearance three years ago of the 43 students from Ayotzinapa, in which the police and the government were involved in both the crime and the cover-up.
The day after Marco's release, Sunday Jan 28, his parents addressed a crowd of 1,500 students and teachers outside his high school. Members of Izquierda Revolucionaria, its youth wing Students Union, Sindicato des Estudiantes (SE) and the revolutionary socialist feminist organization, Libres y Combativas went to this meeting which decided by a 2:1 vote to blockade the school for 24 hours on Monday. The original demands were simple and echoed those of Ayotzinapa:
For the release in good health of comrade Marco Antonio Sánchez Flores!
They took him alive and we want him alive!
Izquierda Revolucionaria is a small but growing organization of revolutionary feminists and socialists that is affiliated with the Committee for a Workers' International. One member is a student at Marco Antonio's school, High School #8, which is one of a group of 13 very large high schools linked to the National Autonomous University of Mexico (UNAM). These high schools have 8-10,000 students each while UNAM is enormous, with a population of 300,000 students and a long tradition of Left-wing activism.
Rebeca and Marcos, two student comrades of Izquierda Revolucionaria and the Sindicato des Estudiantes take up the story:
"[Izquierda Revolucionaria's] contribution was to argue for wider demands and to keep the protests going, not only for justice and support for Marco, but to stop the criminalization of youth, against the new internal security law that allow the military to intervene in demonstrations, and against the epidemic of homicides and disappearances in the country. We helped build for the march by raising these political demands. We also collected donations from students and teachers to print thousands of flyers and posters.

The march on February 8 went from High School #8 to the University. About 500 people marched but many more students were out participating in other ways, like forming brigades to go to the subway stations and pass out leaflets. Two schools were completely shut down, so that's about 15- 16,000 thousand students who stayed away, with partial shutdowns in the other schools.

The most important thing that [Izquierda Revolucionaria] brought to the movement is a way forward. There are various political groups in every school but we can offer them a way to link the anger of hundreds of youth with a political alternative – only in this way can we win the involvement of the millions."