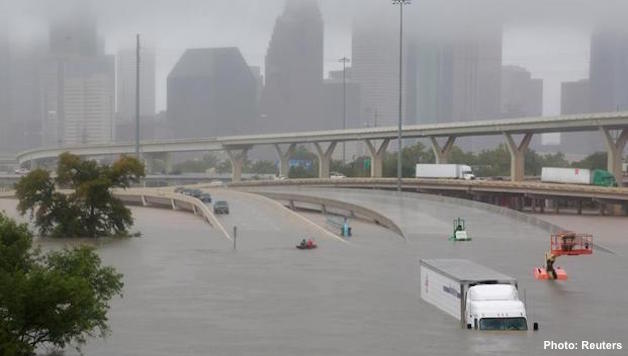 "Climate Change hits poor people first," states Crystal Dávila, "that's why it's not talked about in an urgent manner." The house of the 24 year-old high school teacher was flooded by Hurricane Harvey herself. Six inches of water damaged almost all her furniture, books are beyond repair, drywall needs to be replaced and the floor is damaged. "It feels like starting from scratch," summarizes Crystal, a member of Socialist Alternative in Houston. Many of her neighbors had to rip out their walls, cupboards, and throw out most of their possessions. "But you also see so many cars here now, so many people coming to help," emphasises Crystal, and with some humor within the challenging situation she adds, "even a lot of BBQs developing out of it."
The calls for help went out over social media and working people responded with generosity. At Crystal's high school, people could get food, diapers, toys and clothes – donations dropped off in solidarity.
However, the challenges facing those hit hardest are rising, says Crystal: "Poor people now struggle, still with one foot in the mud, to pay the rent, to pay the bills, to repair their cars. And a lot of the people here in Pasadena," on the south-eastern side of Houston, "had to live from paycheck to paycheck already before. I have not heard of anyone getting financial help yet, not from insurance companies, not from the government." A lot of people still need shelter or rely on families and friends. "Many houses in my neighborhood are still empty, people can't live there."
As affected working people come together, "I think those communities should now decide how to use the resources to rebuild Houston, how to rebuild their communities. The decisions should be taken democratically, not based on the maximum profit for developers," argues Crystal.
Crystal was not able to work for a week and a half during Harvey, but was lucky enough to be paid for that. This was not the case for all workers, not even in all public school districts for the teachers.
Students, some of them quite traumatized by the experience are now facing relocations of schools and a piled up curriculum. But which schools are really safe? "The parents should have a say about relocations. The city and school district need to make sure parents can still combine dropping of their children to a new school location that doesn't hinder their workday. And the parents, teachers and students should get full information and be asked to fully weigh in on whether schools are too damaged by dirty water to be reopened," demands the high school teacher.
Landlords Take Advantage
At the same time, renters face landlords who try to take advantage of the aftermath of the flooding. "Friends of mine are looking for a new apartment, but the prices just skyrocketed after Harvey," reports Crystal.
"We need emergency rent control as an immediate tool to fight back against the greed of developers and landlords," argues Brian Harrison, branch organizer of Socialist Alternative in Houston.
Some landlords are trying to use the opportunity to kick out renters and redevelop the area. Even the city government seems involved in some of those practices. Brian, a life-long Houstonian, outlines the example of a 14-story affordable housing tower, where many elderly people live, many on housing assistance. "After Harvey people got a notice saying they had five days to leave their homes. Five days!" says Brian. "The shock alone could have killed people."
Socialist Alternative members spoke with the residents and helped to organize a protest at a Houston Housing Authority meeting. "There is zero transparency about what really is damaged in the building. And there is great concern that developers are viewing this as an opportunity to tear down affordable housing and build highly lucrative new buildings there," explains the 36 year–old. The mayor stepped in and accepted that the five-day notice had to be dropped. People were granted some more time, but some still only a week and a half, others till October. And no one received any guarantees about their future. "Instead of a real explanation and guarantees, the head of the Houston Housing Authority just said, you must trust me. That's ridiculous," says Brian.
"First of all we demand full transparency. The tenants have a right to see all the documents about what needs to be fixed in the building. Is there really a need for them to leave the building at all? In addition If so, the city government has to give and keep clear promises that the renters, most of them seniors, get moving assistance and an offer for at least similar, if not better, affordable housing. Socialist Alternative will keep campaigning to defend the renters," promises Brian Harrison.
"We Help Each Other"
Back in Pasadena, where Crystal Dávila lives, the majority of people are Latinos, "99 percent at my high school," says Crystal. At the same time as Harvey, Trump's attack on DACA hit the community. Undocumented immigrants are in a much weaker position to get any financial help from the government in relation to damages from Harvey. Even worse, they are being targeted by the racist policies of the Trump administration. "The political climate is just hostile to the Latino community," expresses Crystal. "And then natural catastrophes are not hitting all people in the same way. The most oppressed again suffer the most," Crystal summarizes.
Next to Crystal's high school are chemical plants. In the immediate aftermath of Harvey, residents reported an unusual smell in the air. "We were not informed what this was, we were not informed how to take precaution, we still don't know what this was," says Crystal. The left-wing media platform Democracy Now! had reported about it, but not the mainstream media and no hint from the authorities.
"Last year we got flooded twice, this year the water was high even before Harvey. But the infrastructure is not there to protect us. We need serious investment in infrastructure," says Crystal, "but Houston is doing the opposite. There is no zoning law getting in the way of developers. The city is just doing everything for their interests. Houston was built for cars, built with concrete everywhere. But the concrete doesn't do a good job to absorb the rain." In Crystal's view that needs to change, fundamentally. But this would require pushing back against developers as well as the influential automobile and petrochemical industries.
"The whole last period was so depressing, from Trump getting elected to Harvey hitting Houston," says Crystal, "but you can also look at the other side: People are not inherently greedy. We help each other, we are able to form a community. We can form this kind of society where we care about people not profits," the socialist says, insisting also to end our conversation on a tone of "radical hope."