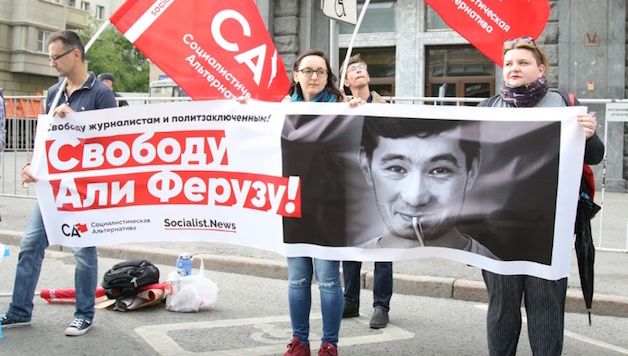 Rob Jones, Socialist Alternative (CWI Russia)
On 26 September Ali Feruz will be returned to a Moscow court where a decision on his deportation will be reviewed. This follows the earlier decision to suspend the deportation of Ali to Uzbekistan, where he faces likely arrest and imprisonment. He fled that country after being tortured and following attempts to make him become an agent for the regime.
Ali Feruz was initially sentenced by a night-time court to be deported to Uzbekistan. Born in Uzbekistan, Ali grew up in Russia, and his parents and siblings are all Russian citizens. He went to study in Uzbekistan and while there reported on the authoritarian nature of the then Karimov regime. He was arrested, badly tortured and pressured into becoming an agent for the country's security services, which he refused. He fled back to Russia, applied for asylum but was turned down.
Since he has returned to Russia, Ali worked as a journalist on the opposition paper, Novaya Gazeta. In that role, apart from being openly gay, he has fought against any attacks on human and democratic rights, has helped to expose how conscript soldiers are bullied and how the army covers up the deaths of contract soldiers. He has worked closely with members of Socialist Alternative in establishing the Independent Trade Union of Journalists, which also played a major role in exposing the brutal attacks on the LGBT community in Chechnya.
The decision to suspend the deportation was a small but significant victory for the public and international campaign in solidarity with Ali. It is unusual for the Russian courts to step back in this way and it is clear that the highly political and determined campaign has had an effect. But there are still people within the regime who are determined to take action against Ali.
This was demonstrated, last week in Moscow, during a protest against increasing restrictions on the internet. The government is restricting access to social media, trying to control private messaging services and to stop the use of secure VPNs. Even though the protest was legal, supporters of the 'Hands off Ali' campaign and Socialist Alternative (CWI Russia) met with continuous harassment by the police and far-right. On entering the "security scanners", through which all participants have to pass, the FSB (political police) tried to confiscate the Hands Off Ali banner, claiming "you will not be allowed to speak of this Uzbek pedophile here".
Nevertheless, we managed to set up our stall. The far right harassed LGBT participants on the protest. Then suddenly our stall was surrounded by riot police and eleven people, together with the Socialist Alternative banner, our new journal and stall were frog-marched off to a police bus and taken to a police station. Most of those detained were released, without charge, later in the evening, demonstrating that the police had no legal basis for their actions. Some LGBT activists were charged with "breaking the rules of the protest" (by raising demands that had not been agreed for the demonstration by the police!). The police, by their actions, rather than restrict the spread of information about the campaign, have helped us – the video of their heavy-handed actions against supporters of Ali Feruz has been viewed by 15,000 people!
This harassment does not reduce our determination. On the contrary, it shows that our work and the wider international campaign are having an effect. Ali Feruz's plight was profiled at many Pride events events internationally, including in Sweden, where CWI activists had a big intervention on the issue, and just last weekend in Newry, in Northern Ireland, where, like Russia, the LGBT community are fighting for basic rights.
It has been taken up by different trade unions, and because Ali is a journalist, media unions, in particular. Over 65,000 people signed the on-line petition demanding Ali's release.
The decision to suspend Ali's deportation will not have been taken without consultation and approval by the Presidential administration – they want to avoid his case becoming a further cause of embarrassment affecting relations with Europe. But for now, Ali is being kept in the so-called "Suvsig", a new prison just outside Moscow especially for foreigners, in poor conditions. He could be there for months, if not years, as the slow legal process unfolds. Ali risks damage to his physical and mental health the longer he stays in Suvsig, for a "crime" he did not commit.
Attacks against theatre director
The attack on Ali is not an isolated case. Even Russia's theatres are under attack. A well-known theatre director, Kirill Serebrennikov, was placed under house arrest allegedly following the misuse of state subsidies. The reality is that some of the plays he celebrated upset the Russian Orthodox Church and Putin government. A new ballet, "Nureyev", Serebrennikov directs and which was due to premier at the Bolshoi Theatre, was recently "postponed".
The only way to fight such attacks against freedom of expression is to ensure the maximum possible distribution of information and mobilisation of public support. The Hands Off Ali campaign is organizing a concert and calling for maximum support for Ali when he is next due in court on 26 September.
We request that the international campaign continues, with pickets organized at Russian embassies and where that is not possible, for protest messages to be sent to Russian embassies in the week before 26 September. Please raise Ali's case in trade unions and LGBT groups. Messages of support can be sent to [email protected]
We demand:
Immediate release of Ali from deportation prison
Ali's deportation to be stopped and Ali granted political asylum
Freedom for all journalists, media workers and political prisoners