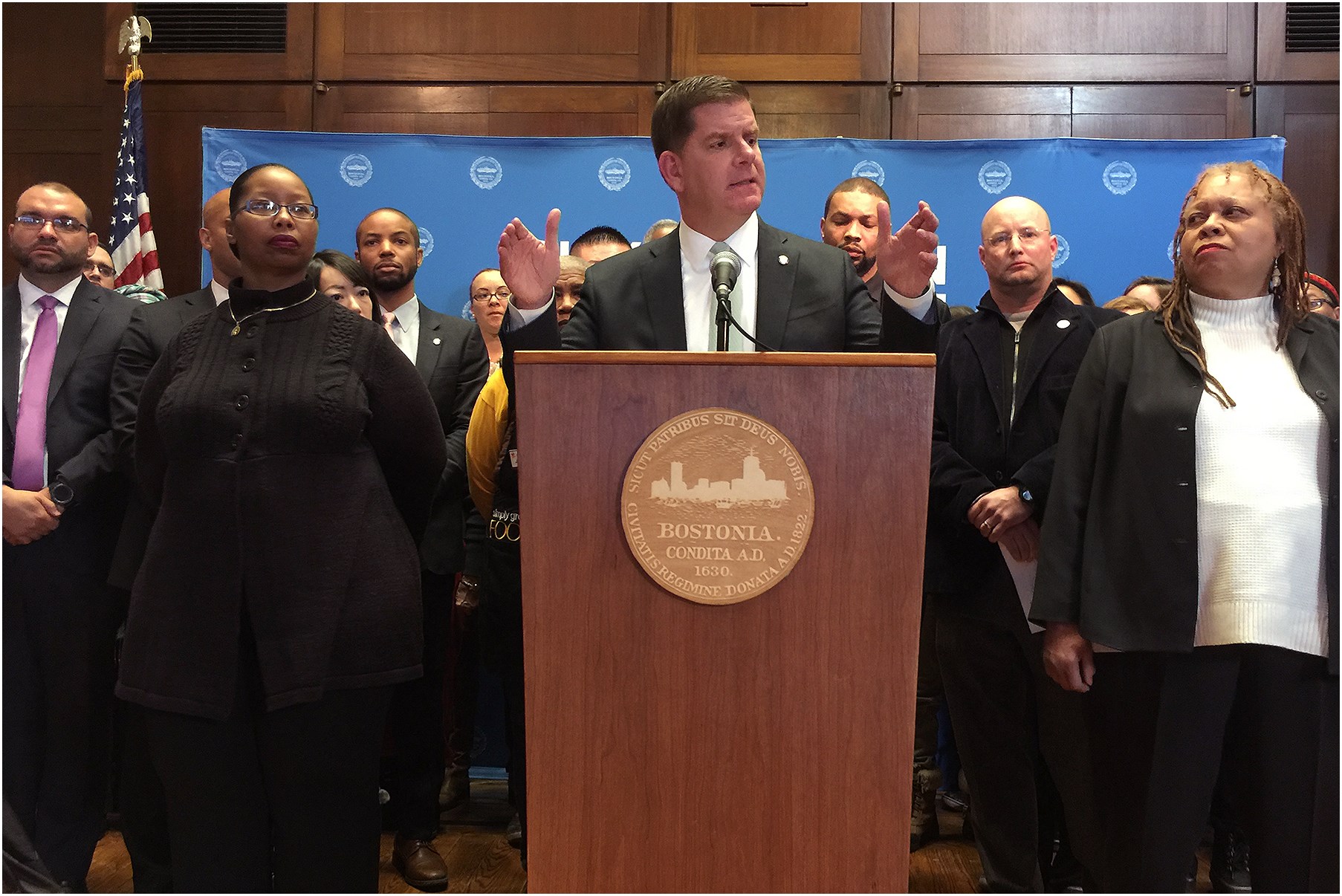 In Boston, like in cities across the country, Trump's election has meant a re-emergence of protests and demonstrations on a mass scale. Hundreds of thousands have taken to the city's streets over the last 100 days, including Boston Mayor Marty Walsh.
Walsh has spoken at some of the major anti-Trump demonstrations and, in January, declared that immigrants could take refuge in City Hall and his own office, winning him national recognition within the movement. In March, he lambasted Trump for his 2017 budget of extreme cuts to social services, calling it "heartless, reckless, and irresponsible."
Socialist Alternative welcomes Marty Walsh's recent progressive stances, but actions speak louder than words. And given Walsh's record throughout his first term, it's important to keep a critical eye with Walsh bidding for a second term in the upcoming mayoral race.
Unfortunately, not all 180,000 undocumented immigrants in the greater Boston area can fit into Marty Walsh's office, so it's going to take more than a flashy promise to defeat Trump. If we look at how the immigration ban and Trumpcare were defeated – through occupations, protests, and aggressive turnout to town hall meetings – it is clear what needs to be done in Boston.
With the May 1 "Day Without an Immigrant" fast approaching, immigrant communities, unions, and all who stand with them are preparing for strikes, sick-outs, and student walkouts. If Marty Walsh is serious about defending immigrants, he should publicly support the best proven method we have to do so – protest and mass collective action.
No Retaliations Against May 1 Demonstrations
Two years ago a city employee was fired for taking part in a Black Lives Matter highway blockage and last year Walsh publicly condemned the 3,500 high school students who walked out of classes to protest his budget cuts to public education.  If he's serious about beating back Trump's agenda, Walsh should pledge to not punish city employees, students, and teachers who decide to take part in the May 1 actions.
For most minority, immigrant, and working-class people, Boston is becoming unlivable. The cost of housing is skyrocketing, public education is being gutted, and social services are being cut, all while corporations like GE are getting massive tax cuts. We need a Mayor that truly represents working people in the city. This would mean first and foremost having candidates that don't take corporate cash.
Unfortunately, Walsh's challenger for mayor, Tito Jackson, although currently one of the more progressive city councilors, has also decided to accept corporate donations to his campaign, including from the CEO of Suffolk Construction, the biggest corporate construction company in Boston and a major player in gentrification. For Jackson to truly represent working people, he would have to reject donations from big businesses and their top executives, especially big developers.
Socialist Alternative will continue to build the anti-Trump movement in Boston and all movements that help working people. We'll fight to hold politicians accountable when they make progressive claims. And we'll continue to build the socialist movement that fights for a city, country, and world based on economic, gender, and racial justice, not corporate greed.