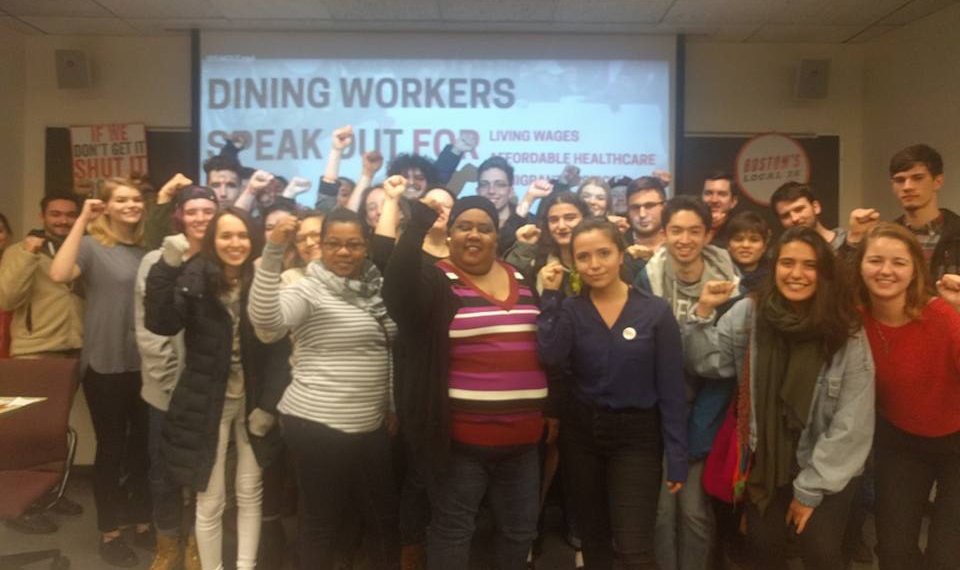 As workers across the country walk off the job on International Workers Day, students too will be pouring out of classrooms to fight back. At Harvard and Northeastern, this fight against the neoliberal agenda of the billionaire class has been taken up by university dining hall workers supported by students.
At Northeastern University in Boston, Massachusetts, a university with a $693 million endowment, some three hundred food service workers across the campus are currently paid an average of $20,520 a year. Represented by UNITE HERE! Local 26, workers and students have been campaigning together around contract negotiations to demand a livable wage, affordable health care, and justice for workers. Socialist Students at Northeastern has been actively engaged in this campaign, helping lead up the campaign's student outreach efforts.
The food service workers at Northeastern unionized and won their first contract in 2012. The initial contract improved conditions by increasing the hourly wage of workers and securing a better health care plan, but since then, hours have since been slashed, many workers are laid off over the summer, and the health care plan offered by Northeastern is still largely unaffordable.
As the contract negotiations are fast approaching, the HOWL coalition, made up of Socialist Students and a number of other progressive political and cultural groups on campus, is building student support for the union and the workers' demands for minimum annual incomes and affordable health care plans.
Socialist Students at Northeastern has taken up organizing the outreach working group within the HOWL coalition and has been focused on bringing the campaign to the attention of the broader student body. We are bringing the campaign to a citywide student coalition called Coalition to Organize and Mobilize Boston Against Trump (COMBAT) to build citywide student support for.
The September 2016 strike at Harvard is a concrete example of the necessity of progressive student groups and unions fighting together on college campuses. Dining hall workers at Harvard, also represented by Local 26, went on a 22-day strike after failed contract negotiations demanding minimum annual incomes and more affordable health care. In support of this, students walked out of class in the hundreds. Their victory demonstrated the power of student-worker struggle.
When workers withhold their labor and students refuse to attend class and shut campus operations down, we show the administrators that they need us to run the university, but we don't need them. Each campus victory grows a united student-worker movement that can challenge attacks on working-class people everywhere.
Representing mostly immigrant and non-white workers, Local 26 fought Northeastern's administration to allow workers to strike on Inauguration Day and the university gave in, enabling hundreds of workers to strike and attend a rally organized by Socialist Alternative and the Democratic Socialists of America later that day.
The work at Northeastern has exposed many students and community members to the poverty wages and dismal health care situation that are compounded with discrimination, lack of economic opportunity, and threats of deportation faced by immigrants in the U.S. Socialist Students stands for organizing on campus and in the larger community for living wages, health care, and to oppose Trump's right-wing agenda of cuts. The HOWL campaign, and the victory at Harvard, are demonstrating how a strong labor movement and strike action with community solidarity can both stop attacks and win materials gains for working-class people and working-class immigrants. It is crucial that students organize both on and off campus in order to win gains for themselves as well as all working people living under Trump's reactionary regime.