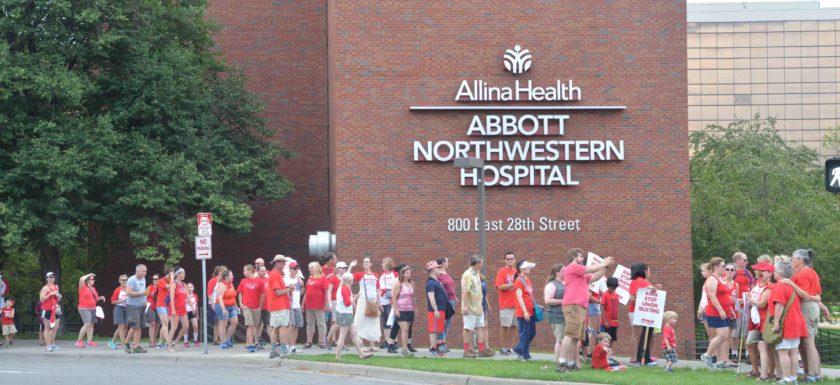 After thirty-eight days on strike, the 4,800 members of the Minnesota Nurses Association (MNA) in Minneapolis-Saint Paul voted on October 13 to accept a deal with Allina Health, the largest hospital chain in the Twin Cities. It was the largest indefinite strike by nurses in many years. Neither side was able to claim victory and the strike set the stage for future contract struggles and workplace confrontations.   
Five of the six Twin Cities hospital chains had settled contracts in January agreeing to salary increases of 2% for each of the three years of the new contract and no changes in benefits. After a seven-day strike in June, it became clear that Allina Health wouldn't budge and the union started an open-ended strike at five metro facilities on Labor Day (September 5).
While the union brought issues to the table aiming at increasing staffing levels and workplace safety. Allina Health management had been preparing for this fight. It made a calculated attack on the nurses' health insurance plan, cancelling coverage on October 1. Management estimated that most nurses would abandon the union and go back to work especially when facing the looming loss of their health insurance. They hoped to deliver a serious blow to the union.
MNA nurses have their own health insurance plans – the same plans all employees had in the '90s, but the MNA contract had a clause that there could be no diminishment to the health insurance plans during the life of the contract. Over time, as has happened in workplaces across the US, a race to the bottom, almost all employees (including management) were moved to lower quality plans.
The strike began with picket lines at the five facilities and a corporate campaign aimed at embarrassing Allina management and the board of directors.
With a limited strike fund from the 20,000-strong statewide MNA, the union ran a hardship fund for its striking members. For communication, a strike captain structure was set up where nurses stepped up as strike captains and maintained communication with around 10 members from their units, and communicating both from the bargaining team to the members and vice versa.
The union's corporate campaign was aimed at Allina's Board of Directors and CEO. MNA educated nurses and the public about who is on Allina's Board – CEOs and upper management from companies like General Mills, Buffalo Wild Wings, Piper Jaffray (an investment bank), Securian, and others. This shows both how corporate the so-called "non-profit" health care world is and the way the 1% is organized against workers. The corporate campaign's actions included Skyway marches of hundreds through both downtown Minneapolis and St. Paul with the largest action taking place at the General Mills shareholder meeting. Dozens of smaller actions took place at these companies as well as at places that Allina's CEO (and big Clinton supporter) Penny Wheeler spoke publicly.
A September 12 joint march of MNA, 15 Now, and other community groups took place in north Minneapolis, with demands to raise the minimum wage to $15 an hour, cap the maximum interest rate at Payday lending places, as well as for a fair contract for nurses. This action linked up issues faced by nurses with issues other workers face, and pointed out that the 99% has a common enemy. This was the first action where nurses took the streets. Most of them had never been to an action or a protest before. By the end of the strike, more actions took place in the streets.
Negotiations resumed at the end of September producing an offer at the beginning of October which was overwhelmingly rejected and the strike continued.
The Governor and mediators upped the pressure on both sides to reach a deal and got both sides to agree to send a small delegation to meet in the Governor's mansion and stay until a deal was reached. This was then put forward to the members with the negotiating team recommending accepting the offer. This offer gave up the MNA health insurance plans in two years, putting MNA members on the same (lower value) health insurance plans as the rest of Allina's employees and didn't get nearly the monetary value of those plans back. In return, the contract offered MNA nurses a series of one-time payments into flex spending and health reimbursement accounts. While small gains were made there are major issues in staffing and workplace safety that remain contested. While none of that is enough to cover the loss of the MNA health plans, it is clearly more than management intended to give.
The most important development from this strike was the lessons nurses learned in action and campaigning. Nurses found their voices. Not only was the union not defeated, but many more nurses signed up to be union stewards and became more comfortable taking their struggle to the streets. Nurses are going back confident to refuse unsafe assignments, and take their breaks – calling managers when they aren't able to take a break to have them figure out a plan. Clearly the struggle will continue in the months and years ahead.
Allina spent over $20 million on the seven day strike in June alone. While Allina had a lot of money saved up, this was a war of attrition. This shows that while Allina is claiming its goal was to save "$10 million a year" by taking away the MNA insurance plans, this was not their only goal, as they likely spent 10 times that on this strike alone. This price tag should give other employers, and Allina, pause to think about future attacks on MNA nurses.
There are many lessons that need to be discussed among the MNA union activists and the broader labor movement for future struggles.
Unlimited strike action can be successful, but has to be undertaken only in conjunction with a well-prepared broader strategy of escalation including city-wide rallies, appeals to other unions, and other campaigns.
Dealing with conditions where the employer cannot be shut down because of public health considerations requires aggressive public outreach for public action – like MNA used during the strike. But this also needs to be explicitly linked to calling for a boycott against a specific employer in non-emergency health care. Actions like the joined rallies with the campaign for $15 minimum wage and other campaigns and unions were excellent examples of how unions need the broader movement including BLM, Campaign for $15 and other unions in order to win. These links should be part of building an independent force to defend all workers in struggle. The tactics of the civil rights movement – of mass civil disobedience, boycotts and mass picketing – also have important lessons for workers in struggle.
A strategy also needs to be developed to take on the broader fight against labor laws that make many successful tactics illegal, such as calling for solidarity strikes or physically blocking strikebreakers, customers, or deliveries from entering.
The role of the corporate political establishment was clear for all to see during the nurses heroic strike against Allina Health. So long as the unions continue to support politics as usual and corporate politicians the unfair labor laws will continue. To build a fighting labor movement will require rebuilding the unions as fighting and democratic workers' organizations in the workplace but also will require running independent worker candidates who will fight on the side of the 99%.
Katie Quarles, RN, United Hospital. Negotiator, member of MNA board of directors (personal capacity)