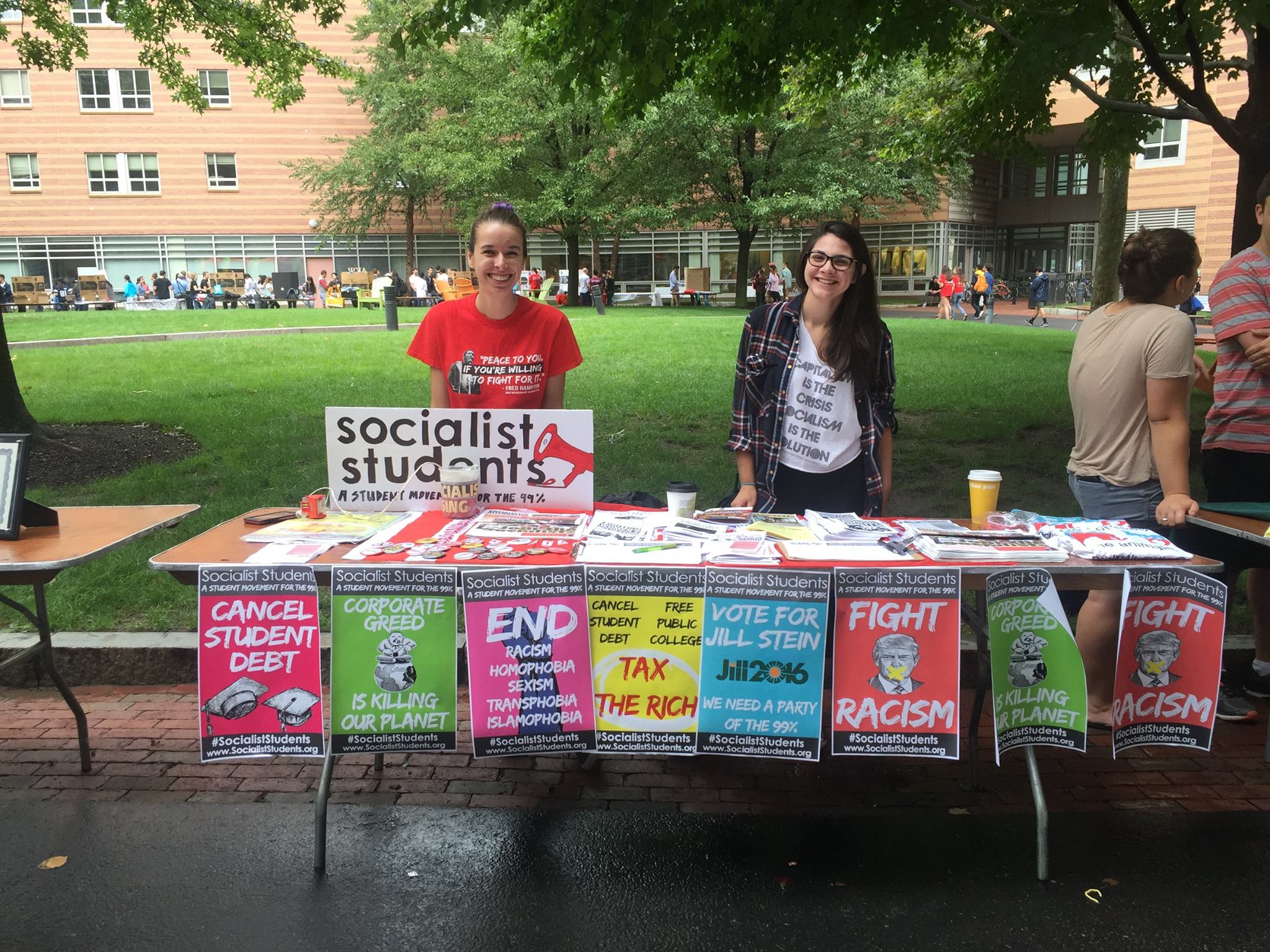 Young people today are growing up in a system facing fundamental crisis. Our living conditions are deteriorating, and our planet is getting sicker and sicker. Our generation is both the most educated in history and also the most shackled with college loan debt, with little to no prospects of ever escaping it via the largely low-wage jobs open to us. As a result, young people across the country and the world have started looking for alternatives to the rotten exploitation of capitalism.
Seeing the growing interest in socialist ideas, student members of Socialist Alternative have launched an initiative called Socialist Students. We believe that the youth movement is only just beginning to heat up and that, in the coming years, students and young people will continue to be at the forefront of struggles against racism, mounting debt, low wages, and corporate destruction of the planet. But to fight back effectively, we need to be organized. We launched Socialist Students in order to reach the masses of young people who are newly entering struggle and looking for genuinely revolutionary ideas on how to fight back.
Great Response
The launch of Socialist Students began earlier this month with setting up literature tables at dozens of colleges and universities across the country. Through these tables, we were able to reach hundreds of students looking for a way to fight back against the endless horrors of capitalism. Many young people indicated that the reason they gravitated toward us was simply seeing the word "socialism." They were familiar with socialism, as they'd heard about it through Bernie Sanders and were curious what it meant. This confirms the unprecedented openness that exists to socialist ideas among young people right now, and throughout the two weeks of tabling, we sold over 800 copies of Socialist Alternative newspaper!
Unsurprisingly, many students also came over to the table seeking clarity on the presidential elections. In the primaries, young people voted overwhelmingly for Bernie Sanders, and many of us are experiencing whiplash, having seen what was once an incredibly hopeful election turn into a nightmare battle between two wildly unpopular candidates. In conversations with students, we put forward our call for a vote for Jill Stein as a means of continuing the political revolution, and many students were excited by this idea.
Next Steps
Across the country, we are hosting public meetings on "The Case for Socialism" with a special guest speaker from Socialist Students in England and Wales. These meetings have led to important discussions among students about the increasingly grim state of capitalism and the global fight-back against this inequality. Examples that have been discussed include the rise of Bernie Sanders in the U.S., Jeremy Corbyn in the U.K., the youth movements in Brazil and South Africa, and many other developing battles worldwide. These meetings are getting a tremendous reception and are laying the ground for Socialist Students as an emerging national force on campuses like the University of Cincinnati, the University of Massachusetts-Boston, the University of Houston, and many others!
In the next few weeks, we will be hosting debates at schools across the country titled, "Who should progressives support in the general election – Hillary Clinton or Jill Stein?" In these debates, which will be between Socialist Students and student supporters of Hillary Clinton, we will make the case for the strongest possible left vote in 2016 and for building a new party of the 99%.
Socialist Students is positioned to be a real force at a number of schools across the country, and it provides an incredibly exciting opportunity for young people looking to get active in struggle. The youth movement is only just beginning and, with a truly revolutionary tendency within that movement, this generation can play a leading role in struggle in the next historical period.