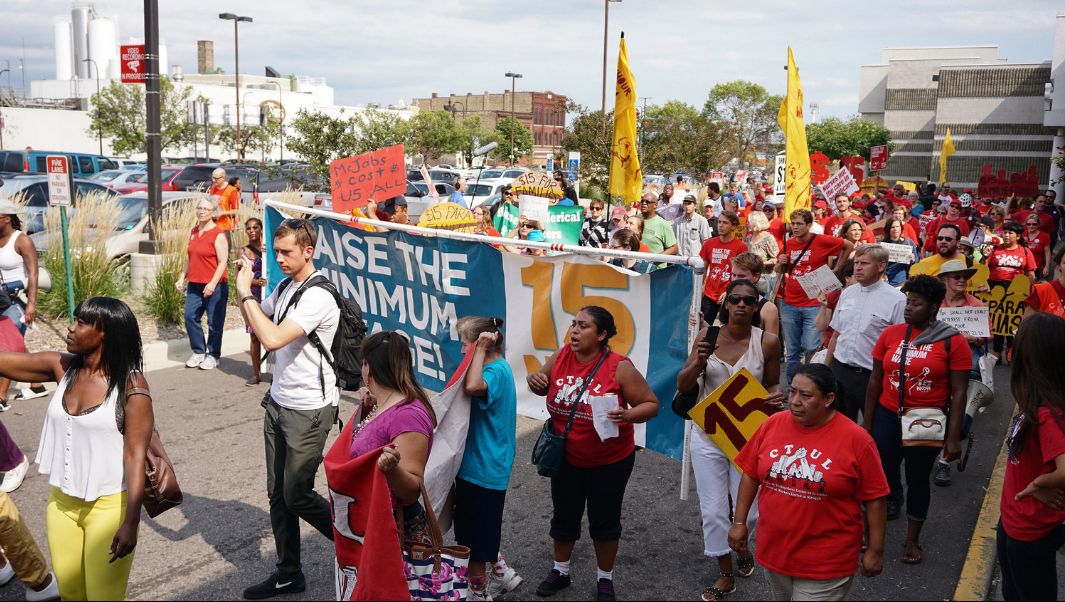 September 12 was a national day of action for 15. Below is the report from Minneapolis followed by the leaflet that Socialist Alternative passed out nationwide. You can download the pdf here.
On September 12, low-wage workers, faith leaders, striking nurses and allies marched down West Broadway, rallying outside big businesses that profit off of poverty. The march, led by fast food workers organizing with CTUL, started at Wendy's and proceeded down West Broadway with stops at Ace Payday Lending, Burger King, McDonald's, and US Bank.
Though the Minnesota Supreme Court sided with the Minneapolis City Council last month and blocked a $15 minimum wage charter amendment from the ballot, low-wage workers have vowed to run one of the largest grassroots campaigns in Minneapolis history to win a $15 minimum wage. Today's march launched the next phase of the campaign: demanding the Minneapolis City Council pass a $15 minimum wage ordinance now.
"We know since this country's inception, the wealth that has been built in this country has been built off of Black and brown bodies," said Rod Adams, economic justice organizer with Neighborhoods Organizing for Change. "We are here to take a stand against poverty and the big businesses that keep people in poverty, and to demand the city council pass an ordinance for a $15 minimum wage now."
Big businesses in Minnesota will fight relentlessly to continue profiting from poverty wages. Can you help workers build one of the largest grassroots campaigns in Minneapolis history by donating $15/month to the campaign?
 "In Minnesota, black people are three times more likely to be unemployed than white people, and three times less likely to own a home," said Nestor Garcia Olague, an organizer with 15 Now Minnesota and a North Minneapolis resident. "But my council member Blong Yang and the Council majority have shown more commitment to corporations paying CEO's thousands of dollars an hour, like McDonald's and Wendy's, by blocking $15/hour from voters and the low-wage workers most affected by poverty pay. No procedural arguments can stand in the way of City Council raising the minimum wage to $15/hr. We demand that City Council pass our ordinance for $15/hr, which 68% of Minneapolis residents support, with no carve-outs, with no exceptions."
"I've worked for Burger King for five years and am only making $9.75 an hour," said Lexi Collins, a CTUL member and fast food employee in North Minneapolis. "On top of that, we don't get paid for all of the hours that we work. They use a lot of different tactics to make sure that we don't get all of our money.  We need fifteen dollars an hour now. We are going to keep fighting until we win!"
"I have five children that I take care of, and at $11/hour I can barely afford to pay my rent every month. I can barely afford child care and I can barely afford to take my kids to child care. $15 would make it a lot better for me as a mother to take care of my kids," said Rosheeda Credit, a NOC leader who works as a personal care attendant. "To live in Minneapolis and not be able to take care of our families is very upsetting. For them to tell us we have no choice but poverty wages is wrong. For us to work all day every day and only afford to just pay rent is wrong."
Outside Ace Payday Lending, people who had gotten stuck in the debt trap told their stories about how payday lending preys off of poverty wages. "People that don't make a living wage can't afford an emergency. Payday lenders trap you in a cycle of predatory debt. They get rich off the backs of the poor. It's time to end poverty wages and the predatory lending that's bleeding our communities dry," said Pastor Paul Slack, president of ISAIAH.
Nurses with the Minnesota Nurses Association, who are currently on strike, also joined the rally to support raising the minimum wage and workers' rights. After the rally, low-wage workers joined the striking nurses and headed to Buffalo Wild Wings, which has a representative on the board of Allina Health, to demand a fair contract for nurses.
"We're here supporting $15/hour because this is about our community. Poverty is a leading cause of sickness, of not having proper access to food and healthcare. It's these same businesses that lobbied the Minneapolis City Council to keep $15 off the ballot that are trying to break our union and push for-profit healthcare," said Katie Quarles, an MNA nurse on strike and member of the MNA board of directors who collected signatures for a $15 minimum wage in Minneapolis. "Nurses are standing up to Allina and striking to build a movement of workers that can fight for better working conditions, quality pay and our right to collectively organize."
Workers vowed to keep fighting until the City Council passes an ordinance for a $15 minimum wage. "I'm here for the mothers and fathers who can't stand here, the families who can't be here right now," said Rosheeda Credit. "We need $15 and this fight is not going to stop until we get $15."
---
Fight for $15 – National Day of Action Sept 12th
To Win $15 Our Movement Needs a Political Alternative
In 2012 fast food workers in New York City sparked a national movement for $15 by going on strike to demand a living wage. SEIU and other unions poured millions of dollars into promoting this movement. The victories in SeaTac, Seattle, and then California, New York, and beyond, inspired millions. Under this pressure, and from that of Bernie Sanders supporters, the Democratic Party was forced to formally endorse a $15 an hour minimum wage.
But the truth is, after four years of struggle, the path to a living wage remains blocked for the vast majority of low wage workers. At- tempting to win $15 city by city, workplace by workplace, remains an uphill battle. Several recent defeats underline this challenge.
CLEVELAND: On August 11, the Cleveland City Council voted down a $15 minimum wage proposal. "Raise Up Cleveland" and SEIU are now pushing for a ballot initiative in Cleveland. However, the city council's bureaucratic maneuvers may block this route as well. Like most major cities, the Cleveland City Council is completely con- trolled by the Democratic Party.
BALTIMORE: On August 15, a Democratic Party majority on the Baltimore  City  Council  kicked a proposal to raise the minimum wage back to a committee, where they hope it will die. Workers in Baltimore are now putting their hopes in electing a new council in 2017.
"That's not the exception, that's the rule. Beyond some fragile lip service, everywhere the Democratic Party is blocking our efforts, not promoting them," argues Ginger Jentzen, the National Organizer for 15 Now and a leader in the fight  for $15 in Minneapolis.
MINNEAPOLIS: On August 5, the Minneapolis City Council voted to block a ballot initiative for $15 from getting on the November bal- lot. Facing pressure from Target and McDonald's, an 11 to 2 majority argued it would be illegal to let the voters decide to raise wages. Vote 15 Minnesota, a broad labor/community coalition, had handed in 20,000 signatures, cul- minating an intensive two-year campaign led by 15 Now. An Au- gust poll showed 68% of likely voters favored the ballot measure, including 83% of African Americans and 74% of women.
Responding to the Democratic Party's attempt to suppress voters rights, Vote 15 Minnesota sued the city. Initially a judge ruled in their favor, forcing $15 onto the November ballot. However, the Twin Cities is home to 17 Fortune 500 companies, the highest concentration in the country. Acting on their behalf, the Democratic Party establishment appealed to the Republican dominated state Supreme Court to overturn the judge's ruling, block the will of voters, and keep 100,000 low-wage workers in Minneapolis at poverty wages. One of these Minnesota judges was even on Donald Trump's shortlist for the U.S. Supreme Court!
"It took an unholy alliance between Democrats in city hall and a Republican dominated court to block $15 in Minneapolis," explained Jentzen. "We will continue strengthening our    grassroots    movement,   but that's not enough. We need elected representatives that are 100% on the side of workers and who will use their office as an organizing center. This won't happen until we organize our own party for the 99%," Jentzen concluded.
"That was also our experience," reports Kshama Sawant, Socialist Alternative city council member in Seattle. "We won $15 with a relent- less grassroots movement, backed by the unions but with Socialist Alternative as the political backbone. It is no coincidence that Seattle, where the socialist movement is strongest, was also the first major city to win $15," explained Sawant. "Even here, where they were too weak to block us, the Democratic Party machine did everything they could to water down our efforts to appease their business backers."
Representatives can't serve two masters, both workers and corpo- rate America. "Socialist Alterna- tive is fighting tooth and nail for every step forward for working people," said Sawant. "But for us, that's linked to a wider struggle.
We want to put people over profit and build a socialist society based on racial, gender and economic justice. If you agree, join us in building a powerful socialist movement in America."
---
Dump Trump! Build Solidarity Against Racism
The $15 an hour minimum wage struggle is part of the wider fight for racial justice. Alongside the fight against police brutality and all manifestations of racism, many Black Lives Matter activists are backing $15 to address the concentration of black and brown workers in poverty wage jobs.
However, alongside the rise of a new black freedom movement, we have the most racist, sexist, and Islamophobic presidential candidate in recent history. We need to stop Trump. We need a movement to cut across the poisonous ideas he is spreading and block the revival of far right forces in US society.
By linking our movements together we can cut across the divide and conquer tactics of big business and right wing politicians. We will only win if we are united in struggle. Part of the power of the fight for $15 is that it unites workers across lines of race, immigration status, gender and sexual orientation, into a common fight against big business.
Unfortunately, that's  also why  we can't rely on any big business politicians to lead the fight for $15 or to block Trump's rise. In reality it  was the Wall Street policies pushed by Hillary Clinton that prepared the ground for Trump. Clinton served on Walmart's board without criticizing the company's poverty pay or union busting. She has championed NAFTA and other "free-trade" agreements, destroying hundreds of thousands of jobs in a global race to the bottom. Clinton promoted ending welfare, throwing hundreds of thousands into poverty, especially women and people of color. Her corrupt policies promoting war and Wall Street have angered millions, opening the door to the Tea Party and Trump to pose as an    "anti-establishment"  alternative.
We can not allow Donald Trump to be the only alternative to the Wall Street, establishment Democrats. If we fail to build a powerful left alternative, it will only help the rise of right-wing populism and this dangerous demagogue. The potential is there for a new mass party built from the mil- lions looking for a "political revolution against the billionaire class." We need to build that party!
That's why Socialist Alternative is calling for a vote for Jill Stein, the strongest left candidate in this presidential race. A good result for Stein will not only help to show that millions are fed up with the status quo and ready to fight both Trump and his right-wing agenda, but will also help spur support for a a pro- working class, anti-establishment alternative to t the Wall Street politics of the Democratic Party.