Our second week of Beyond Bernie public meetings attracted hundreds more attendees all over the nation. Hosted by Socialist Alternative and Movement4Bernie here is a second round of reports from meetings held July 14-17. Read about previous meetings here.
New York City
Seattle
Portland, OR
Charleston, SC
Tacoma, WA
Bellingham, WA
---
New York City – How Do We Carry on the Political Revolution?
by Landry Haarmann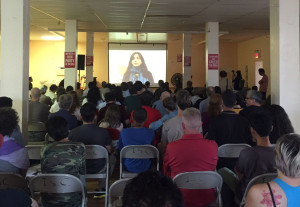 Just days before Bernie Sander's endorsement of Hillary Clinton, over 125 people joined comrades from Socialist Alternative New York at Brooklyn's May Day space to discuss that question.
The event – live streamed by Now This News – brought into focus how to best continue the work of political revolution, opening with video address from Green Party candidate Dr. Jill Stein and Socialist Alternative's  Kshama Sawant and Eljeer Hawkins.
Jill's address spoke to the need to carry on our political revolution. "You've come too far to turn back now," she said.
Kshama followed Jill, urging that we need to build powerful mass movements for working people. As such, Kshama revealed in her video address that Movement4Bernie is taking a bold step to continue its work Beyond Bernie, and relaunching as Movement for the 99%.
Following the addresses, attendees took part in discussions, and a number of people shared their thoughts, acknowledging the importance of mobilizing in this moment against the democratic machine and the two parties of Wall Street.
"It's on us to start this revolution," one attendee told the crowd.
It's clear more now than ever that, in Bernie's endorsement of Clinton, we need to continue the work of political revolution. The successes of our public meetings show that working people are willing to take part in struggle.
---
Seattle – Grappling with the Lessons of the Sanders Campaign
Over 200 people gathered into a packed hall in Seattle to discuss how to continue the political revolution. It was a diverse group – from labor leaders to Berniecrats, from socialists to young people whose first experience in politics was the Sanders campaign.
After watching a video message from Green Party presidential candidate Jill Stein, Kshama Sawant spoke about the effect that Bernie's political revolution has had on the political landscape in the U.S. and the openness to build a new mass party of the 99%, but also about his recent endorsement of Clinton and the dilemma Bernie Sanders supporters find themselves in…
---
Portland, OR
Long prior to the vast majority of Bernie followers posting #FeelTheBern on social media, Socialist Alternative (SA) was calling for the formally "Independent" Senator from Vermont to run in the 2016 Presidential Election—as an 'Independent', of course.  While disappointed and strongly opposed to him running within the Democratic Party — a corporate and capitalist-friendly political party where social movements "go to die" — SA continued to support him, while challenging him run to November, with or without the Democratic Party.  It was during this time that #Movement4Bernie (M4B) was born.
It is time to move beyond Bernie. Movements must learn to walk on their own. – Kshama Sawant
As it became evident that he would end up supporting Hillary Clinton and wouldn't earn enough delegates to win the un-democratic election process that the Democratic Party advocates, M4B transitioned, demanding that he break free from the DNC and run independently, ideally with Jill Stein of the Green Party, all while realizing the unlikelihood of this.  SA and M4B joined the millions of Bernie supporters who were saddened, if not angered, to see him recently endorse Wall Street's Candidate, whom he said "must become our next president" — Hillary Clinton.
In answer, the movement now transitions to Movement For the 99%.
Portland's SA branch joined dozens of other branches in the month of July and thousands of people, holding their own public meeting on the 16th of the month at the Portland Central Library, in the US Bank Meeting Room, ironically.
Attendance was beyond what we had imagined, filling the space to beyond capacity, making it the largest, if not one of the largest events the Portland SA Branch has ever held.  After a lead-off from Branch Committee person and recent National Conference Delegate, Will P., we heard a pre-recorded message from Green Party presidential candidate, Dr. Jill Stein and New York City comrade Eljeer Hawkins, followed by an extensive message from Seattle City Councilwoman and SA member, Kshama Sawant — the second best known socialist in the U.S.  The messages preceded exceptional public comments from the attendees.
Forty-two people signed up, expressing interest in joining the organization; twenty-two papers were sold, as well as two subscriptions and a host of other materials.  We estimate that about 150 were in attendance.
If you are interested in joining Portland's SA, the local manifestation of the world-wide organization Committee For a Worker's International, please contact us to set up a meeting!  We can be reached at Portland[at]socialistalternative[dot]org.
---
Charleston, SC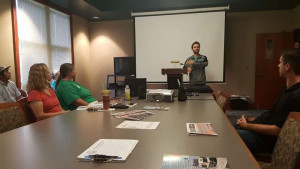 On a stormy Sunday afternoon in Charleston, South Carolina, 25 people to come out for the Southeastern U.S. Beyond Bernie meeting.  About 3/5 of those in attendance were regulars in Charleston's activist scene — from Black Lives Matter, Charleston Green Party, and otherwise – and about 2/5 arrived thanks to the Movement4Bernie petition, the local Bernie campaign, and Facebook networking. For most of the people in the room, it was their first time hearing Kshama Sawant speak, and considering Socialist Alternative's strategies around achieving social justice by building an anti-capitalist movement, and engaging in electoral politics in the interim for the sake of building the movement.
After watching the videos and hearing local representatives speak, a lively discussion followed which touched on everything from the nature of socialist politics today to questions about electoral opportunities on the horizon in the Charleston area. Eight people were interested enough to buy newspapers, and one college student expressed interest in starting a Socialist Alternative branch at his college in Columbia, SC! For the organizer who assembled the meeting, it was a positive confirmation of the hunger for a political alternative in the Republican-dominated South, and of the receptiveness of progressive-leaning folks to considering strategies with proven track records of success (i.e. Kshama Sawant in Seattle).
---
Tacoma, WA
On Tuesday, July 12, nearly fifty people attended a meeting to discuss the future of the political revolution. Video speeches were shown of Jill Stein, Kshama Sawant, and Eljeer Hawkins. Ramy Kahlil came down from Seattle to speak. As Bernie Sanders had just endorsed Hilary Clinton earlier in the day, there was a wide variety of responses by those present. Most who spoke felt strongly, with Socialist Alternative, that it is time to move beyond Bernie.
People attending the Tacoma meeting came from as far away as the Olympic Peninsula. $300 was collected in donations and paper sales, and a long list of contacts was collected.
---
Bellingham, WA
The Bellingham meeting with a huge success with 60 people attending from Whatcom and Skagit counties. The room was packed and even with the Western Washington University out of session,  we had a good mix of community members, activists, and students who contributed to the conversation. Despite our small resources, we were able to pass out 1,000 flyers at the Pride Parade, the Skagit Farmworkers March, and other community gatherings.
Responses in the discussion and opinions on the street were quite positive and reflect the need for a new kind of politics in this country. We have a golden opportunity to build on the enthusiasm that Bernie's campaign created, and it is clear that people are looking for a way to move beyond the corrupt two party system. The group strongly refused to capitulate to lesser evilism and were quite receptive to our ideas of building a new party of the 99%!
The meeting was held in collaboration with the Whatcom Greens and the sense of respect and cooperation between the organizations was tangible and this gave credit to our message of collaborating to build a larger coalition. The Green representative enthusiastically thanked us for organizing and mobilizing folks to the meeting and actually urged people to join Socialist Alternative to help build an alternative to this corrupt system. We couldn't have said it much better ourselves!