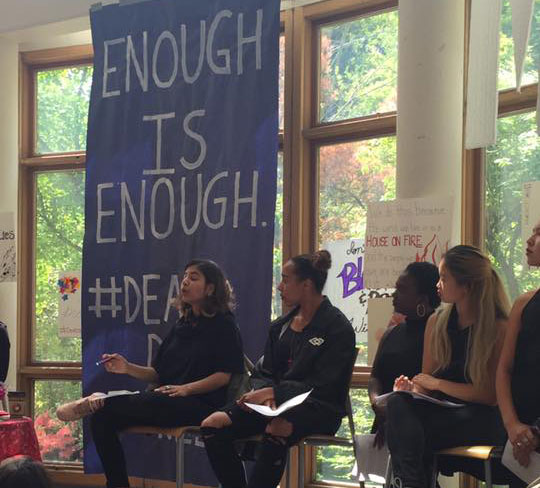 After years attempting to address the lack of an ethnically diverse curriculum, a need for cultural competency and hostile classrooms a group of Seattle University student's calling themselves the MRC Student Coalition began a sit-in at the Matteo Ricci College's administrative offices.
Matteo Ricci College presents itself as a rigorous, ivy-league-level humanities education within the university. Over the past decade, the curriculum of the college has been challenged by students for its euro-centrism, and Dean Kelly refused to even discuss it.
Enough was enough.
Students, backed up by a faculty fighting for union recognition and some professors who also testified to a hostile atmosphere, decided to occupy the Casey Building and demand the Dean of the Humanities department, Dean Kelly, be fired.
This sit-in united students and faculty at Seattle U, as well as students from around Seattle. It united movements for an ethnically diverse curriculum as well as the unionization effort for adjunct faculty. Seattle U is a private, Jesuit university for whom Dean Kelly was the face of its anti-union arguments.  
Over the course of the sit-in, current and former faculty of the Matteo Ricci college shared their experiences voicing concerns only to be threatened, intimidated, and even fired. Students used the space to not only discuss the current fight against the Dean but also the racist system that denied the dignity and humanity of LGBTQ students and students of color.
After sitting in for 22 days, Seattle University (Seattle U) students won a victory on their path to greater say in their curriculum at the University's Matteo Ricci College, a humanities program for undergraduate students. Dean Jodi Kelly was put on administrative leave, and two days later, students secured the administration's agreement to all their demands regarding curriculum review and proposals.
Once the sit-in started, the students used it to reach out to faculty, staff, and students. Among others, Seattle City Councilmember Kshama Sawant, once an adjunct at Seattle U, visited and discussed with students. Within days, students organized a march through campus of up to 200, and continued to attract attention from students, alumni, and faculty. Multiple articles were written in the local news, yet rarely presented students' concerns fully or accurately.