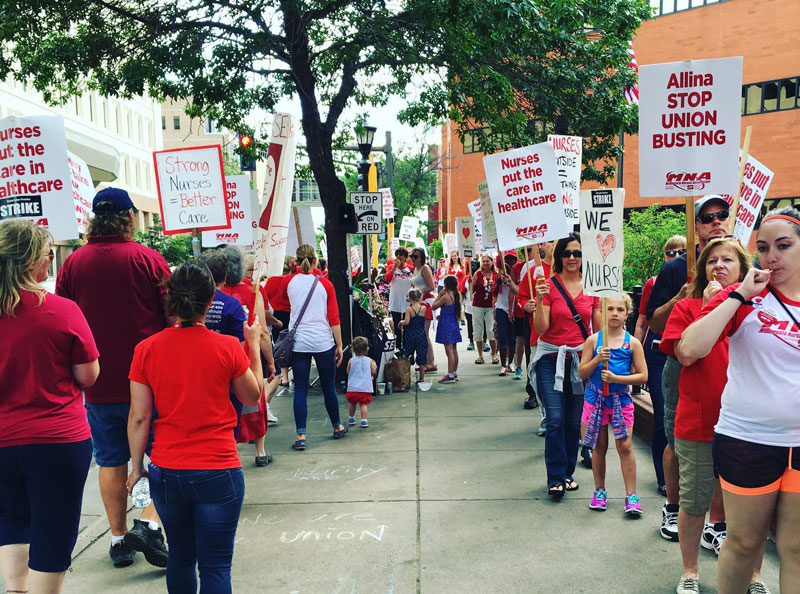 Last Sunday, 4,800 nurses at five Allina Health hospitals in the Twin Cities, Minnesota area began a one week strike.
Socialist Alternative stands in solidarity with the striking Allina Minnesota Nurses Association (MNA) nurses. We're happy to see nurses rebuilding a fighting labor movement in this country, following the massive Communications Workers of America Strike against Verizon, which mobilized 40,000 workers into an important victory against a massive corporation.
The issue which provoked the strike was Allina's attack on the workers' health insurance plan and the attempt to replace it with a much worse plan. This type of attack on unionized workers' health care plans has been seen again and again in the recent period. We're happy to see nurses standing up to the corporatization and profit mongering of the healthcare industry, fighting to be able to deliver the best care possible to patients as well as defending living standards of working people against the growing inequality gap.
Health insurance is connected to work-life issues. Nurses have a right to be able to take breaks each and every shift and work in a safe place without fear of assault, or fear of not being able to care for their patients properly due to chronic short staffing. While facing risks like communicable diseases and assault in the workplace, it is very important for nurses to have quality health insurance. We believe everyone should have access to quality health insurance and no one should be bankrupted over an illness or injury.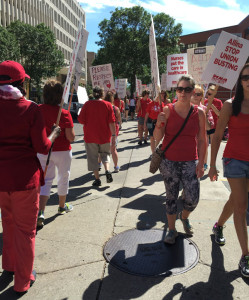 This strike is also about the broader wellbeing of the community. We stand with the MNA against budget and staff cuts which boost corporate profits at the expense of patient care. In addition, we applaud the MNA's fight for Medicare for all, a policy championed by Bernie Sanders and supported by millions of people. It shows how a strong labor movement can represent the interests of working people generally.
This is why it's especially important that the MNA is actively supporting the fight for a $15 an hour minimum wage, starting with the ballot initiative in Minneapolis. Winning $15 an hour would give a raise to over 100,000 workers in Minneapolis, including thousands of health care workers and staff. It deepens the solidarity between nurses in Minneapolis and the community they treat, presenting a united front against the same corporate power which has devastated unions and working people generally. An injury to one is an injury to all!
We all know this is about more than just health insurance; Allina is trying to weaken the union in the workplace. Insurance now, pensions next. Other area hospitals will be watching to see if Allina can break the MNA nurses, and, if they smell blood, they'll be on the attack in three years.
Thank you Allina MNA nurses for taking on the lead in defending your union and standing up to the corporatization of healthcare as well as the growing income inequality we are seeing worldwide!