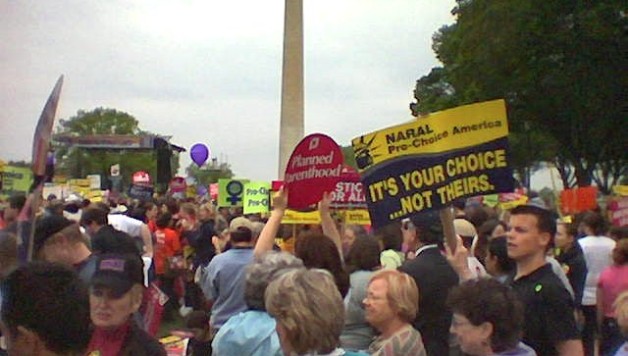 Texas and the Supreme Court Threaten National Reproductive Rights
By June, the Supreme Court will rule on Whole Woman's Health v. Hellerstedt, a case that could have disastrous implications for reproductive rights across the country. In 2013, Texas passed House Bill 2, severely limiting Texas women's access to abortion facilities. This bill has closed more than half the clinics in Texas: down from 41 to 18.
The legal arguments center on whether or not these changes can be characterized as "undue burden," which was defined by the Supreme Court in Planned Parenthood v. Casey as health regulations that can have "the purpose or effect of presenting a substantial obstacle to a woman seeking an abortion." HB 2 forces longer waiting periods for treatment, prohibits abortion past 20 weeks post-insemination and, with a later amendment, requires all clinics to have mandatory ambulatory surgical center (ASC) certification.
The primary cause of the 1973 passing of Roe v. Wade was the militant political activism that dominated the public sphere at the time.
Earlier this March, the Supreme Court heard arguments in the Whole Woman's Health case. According to a U.S.News & World Report article: "If the Supreme Court rules against Whole Woman's Health, Texas will be left with as few as nine abortion clinics" (1/11/2016). In the wake of Justice Antonin Scalia's death, Whole Woman's Health said goodbye to an opponent; however, if all of the remaining justices vote according to their party, the vote will be split 4-4, bringing the decision back to the Fifth Circuit, the body that upheld the restrictions in the first place.
Texas' HB 2 law is representative of an overarching national War on Women. In 1982, there were 2,900 active abortion clinics in the United States. As of 2015, there were 739, with the number continuing to decrease. NARAL Pro-Choice America reports that sixteen states have piggybacked on Texas' recent restrictions. Among the most extreme, Indiana's bill would force mothers to pay for the funerals of miscarriages. Without concerted action, these types of restrictions will continue to be implemented all across the country.
The primary cause of the 1973 passing of Roe v. Wade was the militant political activism that dominated the public sphere at the time. Advancements in civil rights have always been fought for and achieved by mass movements of the working class, not by the intent of state and federal bodies. It is essential that we join together as the working class to build an independent political alternative to the two parties. A unified movement that fights capitalism's oppression of women with a single-payer health care system and safe access to abortion is the only way to ensure reproductive rights for all.