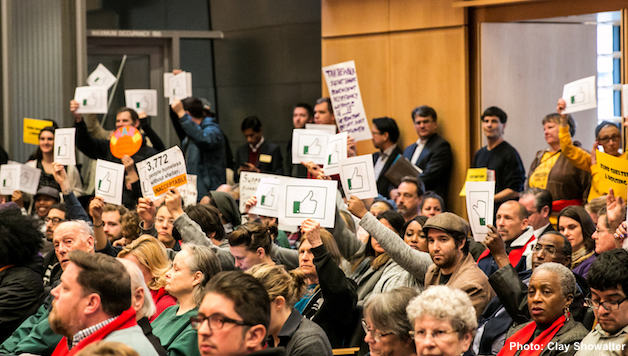 12 Weeks Paid Parental Leave
By Kshama Sawant
The value to parents and newborns of paid parental leave is well-understood and uncontroversial. Research shows that paid parental leave leads to better health for newborns, better educational outcomes for kids, more equitable access to the workforce and higher incomes for women, greater participation in parenting by fathers, and lower occurrences of domestic violence.
Paid parental leave is a gender equity issue, an educational issue, and a social justice issue.
The global standard is a minimum of 12 weeks, and many countries provide significantly more. We need to fight for this benefit in cities, states, and nationwide. Earlier this year, Seattle's City Council unanimously passed a four-week benefit – an important step forward, but still inadequate.
During the city budget discussions, we moved an amendment to immediately provide 12 weeks paid parental leave for all workers employed by the city as a step toward a citywide 12-weeks ordinance next year.
On November 23, the conservative majority of the Council blocked this motion with a 5-to-4 vote.  Occurring twenty days after the election, it's a clear sign that campaigning talk about gender and social justice is over.
Back to business for corporate politicians means back to business for working people, as well: We will not drop this issue. But to come back and win, we need to build again on our own strength: the organized movements of working people.
Kshama Sawant is a Seattle City Councilmember and a member of Socialist Alternative
---
Seattle City Budget: Corporate Agenda Trumps Needs of Homeless, Working People
Socialist Alternative's Seattle Councilmember, Kshama Sawant, again pushed hard to win some concessions for working people during the city's budget cycle. 300 people attended the second "People's Budget Town Hall" to demand significant changes for affordable housing and racial, gender, and social justice.
For example, $2.3 million was added in funding for homeless services. $1 million was added to fund public transit passes for low-income public school students.
However, significant changes brought forward by Kshama were blocked. While the mayor and the Council declared a "state of emergency" on homelessness, Kshama's budget amendment to spend $10 million to fund shelter for an additional 1,000 people received only one additional vote. All seven others voted "no," while 3,800 people were counted on the streets without shelter in Seattle's last count of homelessness as of January 2015.
In a city with growing income inequality, a crisis of affordable housing, and now an official state of emergency around homelessness, the overall budget followed the "business as usual" approach.
Explaining her vote against the budget as a whole, Kshama stated, "I would support a budget that taxes the rich and big business to end the housing crisis, to end homelessness, to begin the process of creating a world-class mass transit system in Seattle. It would use the city's bonding capacity to contract with every affordable housing nonprofit and government agency in the city to massively expand the city's supply of affordable housing as quickly as possible. It would address bloated city executive salaries, it would prioritize job programs, mental health and drug treatment before the punitive aspects of the criminal justice system."
"To get there, to fulfill our needs, we need to continue strengthening grassroots progressive movements. Our movement needs to elect an independent left-wing majority to the Council," Kshama concluded.
---
Kshama Sawant Hosts February 27 People's Assembly
By Patrick Ayers
Now that we've defended Kshama's seat on the City Council, let's get organized to continue the fight for an affordable city for all. 
Against a flood of corporate cash, and with the support of over 600 activists, 30 unions, and dozens of progressive organizations, Socialist Alternative member Kshama Sawant was re-elected in November to another term on the Seattle City Council.
Our campaign put the interests of working people first. We advocated urgent solutions to the city's housing affordability crisis. We rejected corporate cash and built a grassroots campaign that knocked on 90,000 doors and made 170,000 phone calls.
Our victory puts us in a strong position to organize and win more in 2016 and beyond, including 12 weeks paid parental leave, stronger taxes on developers, tenants' rights, a millionaires' tax, and more.
That's why, on February 27, Kshama will be hosting a People's Assembly to Make Seattle Affordable for All at City Hall. The People's Assembly will bring together trade unionists, tenants, Black Lives Matter activists, students, and others to discuss the way forward on the issues that are most important to working people.
The Seattle Model 
Kshama's two years in office have transformed city politics. But how?
She only has a single vote on the Council, and she's often blocked by the conservative Council majority: all Democratic Party members, most of them with close ties to the corporate establishment. But, by basing her office on movement-building and linking up with other grassroots efforts, she has been able to help make things happen.
Take, for example, the biggest victory: the $15 an hour minimum wage. Not a single Seattle City Councilmember supported a $15 an hour minimum wage before our 2013 election victory.
Kshama's 2013 campaign and grassroots victory over a 16-year incumbent made $15 minimum wage the biggest issue in the city.
Despite this support, we kept the pressure up from below. We wasted no time after the election victory. We packed the inauguration with hundreds of $15 an hour supporters, and we launched 15 Now as a grassroots organization that anyone could join.
Our movement threatened to file our own credible $15 an hour ballot initiative if the mayor and City Council failed to deliver. Within six months of Kshama taking office, the City Council unanimously voted for the first $15 minimum wage legislation in the country. The sole socialist had shaken the establishment.
Lessons for Building the Movement Today
The council office helped win many more victories, and all of them relied on the active involvement of ordinary people who organized neighbors, packed city council meetings, marched, rallied, and went door-to-door.
This "Seattle model" – grassroots movement-building and independent working-class politics – shows how working people nationally can challenge the domination of the 1% over politics. As Kshama explains, "you don't have to be a socialist to fight for workers' rights, but it definitely helps."
Kshama and Socialist Alternative unapologetically defend working-class people. This means not accepting the framework of a profit-driven system: "You can't represent both the big corporations and working people," says Seattle's socialist council member.
Linking the day-to-day struggles for improvements to the struggle for a fundamental democratic socialist change, Kshama's party, Socialist Alternative, has been the backbone of her campaigns. There's a huge opening to build a fighting working-class movement and a whole new kind of politics in Seattle and across the U.S. Please join us on February 27, and also consider joining Socialist Alternative.