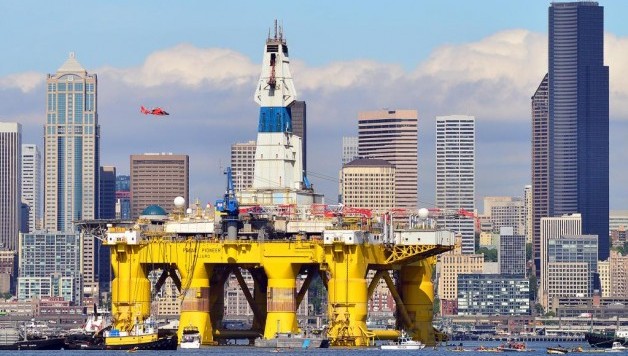 Download the leaflet from the campaign to re-elect Socialist Alternative member Kshama Sawant to Seattle City Council.
Arctic drilling rig arrived in Seattle – step up the resistance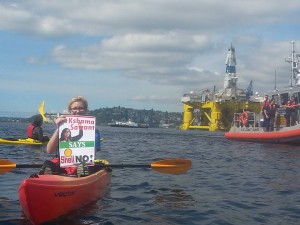 Thursday morning the rapid-response call went out: The "Polar Pioneer" – Shell's massive Arctic drilling rig, was on its way to Seattle. Within an hour, Socialist Alternative activist Kailyn Nicholson and I were sitting in kayaks in Puget Sound with thirty other activists. As the behemoth came around the corner, we gave Shell a chilling welcome with a giant banner that read "Arctic Drilling is Climate Chaos!"
At 10 am on Saturday May 16 at Seacrest Park, the main kayak flotilla, which is expected to be hundreds of boats, will spread out around the drilling rig to protest it's arrival in our port, with thousands protesting on land at Seattle Port Terminal 5, where this massive rig (which actually resembles a giant middle finger) will be hosted for the next weeks while it's repaired.
On Monday May 18 at 7am on Harbor Island (where the oil rig is moored), a mass direct action of non-violent civil obedience is planned to prevent the repair work on the oil rig.
Building a mass movement to stop Shell
This year, Seattle has been abuzz with news of the Port of Seattle's decision to host Shell's Arctic drilling rigs. From the beginning, when news broke of the secret deal struck between the Port of Seattle and Shell subsidiary Foss Maritime, the public has been told that this is an inevitability.  The contract has been signed.
This is exactly what everyone said about the Keystone XL pipeline, and yet, 4 years later, it's still not approved.  All 6 projects to develop West Coast coal export terminals have been effectively killed from local grassroots organizing massive opposition. Concerned Seattleites know this track record.
This is the final step in a $6 billion political maneuver by Shell to open up drilling in the Arctic. We will not sit back and let Shell use our port as a pit stop in it's quest to dig up more oil. A movement has formed challenging Shell, using a variety of tactics – from lawsuits, to pressuring local officials, to direct actions.  This movement has turned the wheels of local politics.
From the first Port of Seattle meeting, Socialist Alternative Seattle City Councilmember Kshama Sawant has been saying "Shell No!," and now the movement has pushed the political establishment of Seattle into motion, too.
The City Council unanimously passed a resolution urging the Port of Seattle to reconsider its lease agreement.
The Mayor commissioned a study that deemed Foss Maritime's permit isn't legal.
The Port of Seattle has asked Shell to delay arrival.
But Shell came anyway.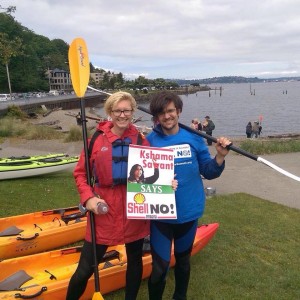 "I urge everyone to come out on Saturday to support the kayak flotilla of activists.  Together, let's demand that not only should Shell leave immediately, but the Port of Seattle must begin to live up to it's motto of "Where a sustainable world is headed."  We demand the waterfront stay a working waterfront, with union living wage jobs that don't risk our collective future," says Councilmember Kshama Sawant.
Kshama Sawant is calling for:
No Shell Oil rigs and ships in Seattle – Don't let the Port of Seattle participate in the environmental disaster of oil drilling in the Arctic.
Living wage union jobs at Terminal 5 – that don't risk our environment. Protect our working waterfront!
A moratorium on oil and coal trains passing through Seattle.
Creating jobs by massively expanding mass transit and green energy – a "just transition"for all workers in fossil fuel industries.