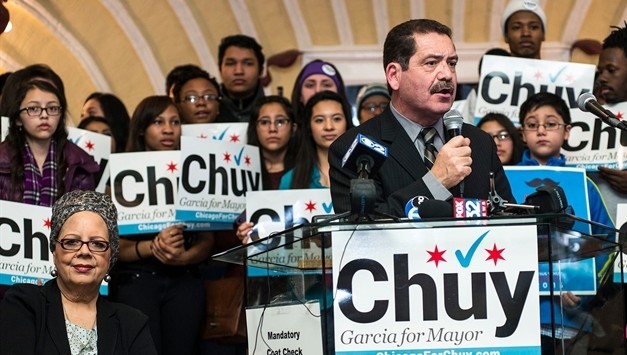 Chuy Garcia Fails to Challenge the Politics of the 1%
Chicago's 2015 mayoral and city council elections will be analyzed for years to come, but one thing is clear: the city was, and remains ready for change. Everyone knows that Mayor 1%, multimillionaire Democrat Party strategist Rahm Emanuel, was forced into a runoff election after a majority of voters opted for "anyone but Rahm."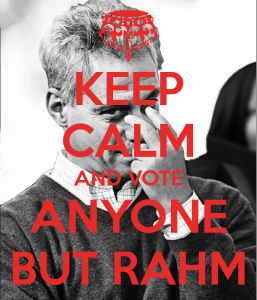 But Rahm remains in office after what working class voters and left wing activists who worked on the campaign widely agree, was a very weak campaign by popular progressive Democrat Jesus "Chuy" Garcia. Despite this the vote was much closer than polls predicted with Garcia receiving nearly 44% of the vote. It shows that there is an enormous hunger for a real challenge to corporate politics. This is true not just in Chicago but in cities across the US.
The tragedy of this situation as we pointed out after the primary was the absence from the race of Karen Lewis, head of the Chicago Teachers Union (CTU), due to serious illness. If Lewis, who led the inspiring teachers' strike of 2012 which had widespread support in working class communities, had stood on an independent platform clearly articulating the interests of the 99% against the 1%, she could have beaten Rahm and struck a huge blow for working people across the US.
City Council Races
The mayoral race, however, was not the only race to watch in this election. In the overwhelmingly working class 35th ward the incumbent, developer-funded, alderman Rey Colon was trashed 65-35 in the first round by 26 year old openly gay challenger Carlos Ramirez Rosa. Across the city 19 other incumbents, including Deputy Mayor Ray Suarez, were forced into runoff elections.  On April 23rd the Board of Elections declared that challenger Milly Santiago had defeated Alderman Suarez by 79 votes.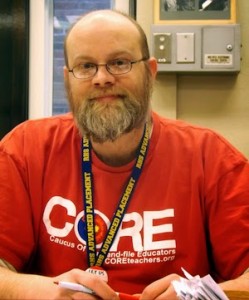 Two of the city council races in particular show the potential for left wing, independent candidates to take on the Democratic Party machine. Public school teacher Tim Meegan failed to reach the runoff by a mere 16 votes against Deborah Mell, daughter of one of Chicago's most notorious Machine power brokers, former Alderman Dick Mell. The Democrat-appointed Chicago Board of Elections refused to order a recount or a runoff despite a flood of allegations of impropriety and the closeness of the vote itself.
In the heavily industrial, and post-industrially polluted 10th Ward on the city's far SouthEast side, another CTU member, independent, daughter of legendary Steelworker's leader "Oil Can Eddie" Sadlowski, was initially declared the winner over incumbent and Rahm ally John Pope by just 89 votes. In the days that followed, as both sides waited for late mailed ballots to come in and be counted, rumors swirled that Pope's supporters were continuing to collect mailed ballots days after the deadline for mailing them. Pope was reputed to have a mailing machine in his office. In the end, Garza was officially declared the winner by a nail-biting 20 vote margin, receiving 5,825 votes to Pope's 5,805.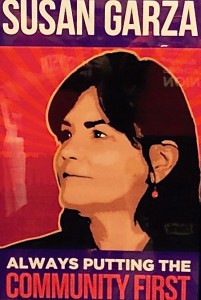 The issue of possible vote theft notwithstanding, the fact is that according to conventional wisdom, neither of these independent, working class candidates should have come anywhere near the incumbents. Both campaigned for a $15 minimum wage, against school privatization and corporate power and for taxes on the rich, including a financial transaction tax levied on the Chicago futures exchanges. The results show unequivocally that there is mass support for these ideas.
How Chuy Became a Contender
It's hard to imagine a better constructed experiment to demonstrate the need to build an independent, working class alternative to the Democrats than the 2015 Chicago Mayoral election.
A neoliberal Democrat armed with millions in corporate cash was forced into a runoff because a majority of voters preferred anyone but him. Rahm Emanuel's first four years in office were known for no-bid contracts, lavish spending on the already rich, and austerity for the rest of us. In the run-up to the election his misdeeds were widely publicized in the mainstream media and he was faced with a challenger with no history of corruption – in itself a rarity in Chicago politics – and a compelling personal story, rooted in a working class, immigrant neighborhood famed for its progressive politics.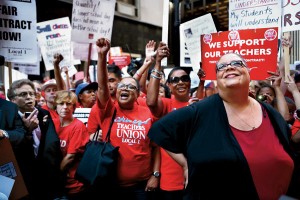 In the fall of 2014 Garcia was asked to run for Mayor by Chicago Teachers' Union President Karen Lewis after she became ill. Based on this endorsement, progressive activists flocked to the Garcia campaign despite the fact that his original, signature demand was for a thousand additional police, a jarring notion at a time when the Black Lives Matter movement had been putting thousands of mainly young people of color on the streets in protest against the excesses of police departments all over the country. For want of a better alternative, in a five-way race that included one white candidate with a reputation for standing up to Rahm but no broad base of support, and a Black millionaire who never convincingly explained why he was running at all, Chuy achieved second place with 34%. Emanuel, despite out-spending him 12 to 1, with $15 million raised and a personal endorsement from President Obama, only managed 11% better, coming out with 45% of the vote in a record low turnout of 34% of eligible voters.
The first challenge in American politics is to get past the cynicism that says "you can't fight City Hall", and Rahm's humiliation accomplished that goal. Voters all over the city were energized by it. Political consultant Thom Serafin was quoted as saying that Garcia's campaign could become "a rallying cry for labor and a new focus against the 1%."
Chuy's primary-night speech was genuinely inspiring. In addressing his supporters, he seemed to speak on behalf of disenfranchised people everywhere:
"Nobody thought we'd be here tonight. They wrote us off. Said we didn't have a chance. Said we didn't have any money while they spent millions attacking us. Well — we're still standing. We're still running. And we're going to win. Today we the people have spoken – not the people with the money and the power and the connections – not the giant corporations – the big money special interests — the hedge funds and Hollywood celebrities who've poured tens of millions into the Mayor's campaign. They've had their say for too long. They've had their way for too long. But today, the rest of us had something to say …We want a change. And we're going to change it together."
How Chuy Refused to Fight Mayor 1%
And yet what happened over the next six weeks was a demoralizing refusal on the part of the Garcia campaign to say how they were going to change anything. The day after that speech, Chuy was challenged by reporters to come up with a plan to fix the city's finances and to say how he was going to pay for schools and city services, such as the thousand cops he had promised. Instead of pointing to the glittering skycrapers of downtown Chicago and announcing an intention to tax the rich, Chuy asked the reporters to wait a week, after which he would announce a financial plan. Rahm's spin doctors had only to run clips of Chuy's evasive remarks in order to start the process of framing him as weak, indecisive and not competent to take on the City's financial problems.
This was massively compounded a week later when Chuy's plan turned out to be to wait until after he won election, and then appoint a committee to look over the city's books, which he claimed were so badly cooked that he had no way of knowing what to put forward. A white paper that he released the same day only dug the hole deeper by talking about consolidating services to save money, and by saying that a property tax increase was not ruled out but was a "last resort". He also refused to say who would sit on his fantasy committee.
Every year, $800 trillion passes through Chicago's futures exchanges, making it one of the world's biggest financial centers. That amount is approximately 47 times the US gross national product and it is entirely untaxed. On the other hand, every day Chicago residents pay 9.25% in regressive sales taxes on most purchases. Both Rahm and Chuy said in the debates that this tax needs to be extended to cover services like haircuts and oil changes.
But for the next five weeks Chuy never said he'd tax the rich, he never said he'd close loopholes and corruption in the way that downtown real estate is taxed and he dismissed the idea of a financial transaction tax by saying "It might work at a national level but I don't think it's what we need for Chicago". He constantly quoted Moody's and Standard and Poor's reports as indicators that the current Mayor had destroyed the City's credit rating, and he said repeatedly that unions and taxpayers would have to sacrifice in order to pay for this crisis.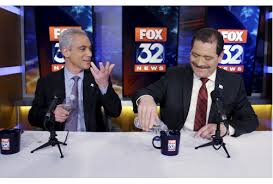 In the second of three televised debates, Chuy did attack Rahm on several fronts, using the memorable line "You are not the King of the city". But when Rahm asked him if he would be able to say "no" to the unions who were backing him, instead of turning the question back on the Mayor for his $26 million in campaign donations from the rich, Chuy responded "I'm gonna tell those unions lots of bad news, because you've made the city's finances so dire."
This sent a clear signal to working class voters threatened with higher property taxes and endangered pensions that Chuy was not going to defend them.
Putting Forward A Real Alternative
Members of Chicago Socialist Alternative canvassed the streets repeatedly during the election period, with a statement designed to address the issues that were not being brought up by either candidate in the elections. The statement said "We need quality schools, housing, and jobs, not more cops! " and made the following demands on the incoming administration:
An elected Civilian Review Board with full powers over the police, including hiring, firing, and budget priorities and the immediate payment of reparations to police abuse victims.
Full funding for education and jobs paid for by taxing big business and the super-rich, who are profiting off of racial and economic inequalities
Rent control and new affordable housing so that no family in Chicago pays more than 1/3rd of their income on housing and no one is homeless.
An immediate $15/hour city-wide minimum wage, paid sick days, paternity and maternity leave and an end to all forms of employment discrimination.
A plan like this, announced by the Garcia campaign on day one, could have won the election. But Chuy, as a progressive Democratic Party politician, was not prepared at the end of the day to challenge the powerful corporate interests that dominate Chicago. This was the real issue that led to his defeat, not lack of resources. Chuy was by no means penniless; he accrued over $6 million in donations, with the biggest ones coming from the Service Employees International Union and other public sector unions such as the Teachers and transit workers. There were also many, many donations at or below a thousand dollars.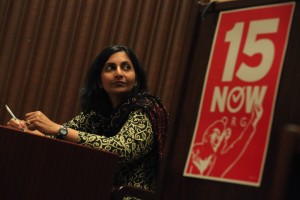 There is an excellent existing example of how to build a citywide independent left political campaign and win. Socialist Alternative's Kshama Sawant won 95,000 votes in Seattle to become a city council member in 2013 based on a bold pro-working class program which featured the call for a $15 minimum wage. She also pledged that if elected she would live on the average working class wage and give the rest of her salary to help build the movement. Having won the race, Sawant helped form 15 Now, a grassroots campaign which played a decisive role in pushing back the resistance from corporate interests and forced the city council to pass the first $15 minimum wage in a major city. This victory played a direct role in pressuring Rahm to support raising the Chicago minimum wage to $13. Building electoral campaigns that are directly linked and accountable to working class campaigns and communities is the way to inspire people and to win!