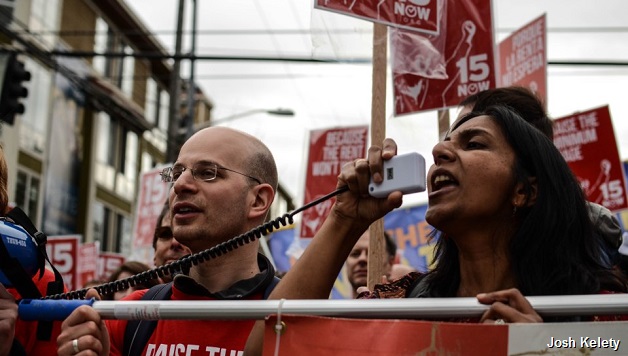 Join the many endorsers and supporters of Kshama Sawant's re-election campaign! We are proud to announce that the International Association of Machinists and Aerospace Workers District Lodge 751 (IAM 751) has endorsed the Kshama Sawant re-election campaign! Representing over 33,000 workers, IAM 751 has a rich history of challenging the rapaciousness of Boeing executives and corporate America and winning gains for working people and the middle class through struggle. IAM 751 joins Teamsters locals 117 and 174, International Longshore and Warehouse Union (ILWU) 19, Washington Federation of State Employees 1488, and others on the growing list of unions endorsing Kshama as their representative on the Seattle City Council. You will find a list of endorsements on the campaign website.
Fighting Corporate Cash
The big developer Vulcan, an engine for the gentrification in District 3, was already donating in the race against Kshama. The anti-teachers'-union "Alliance for Education" stepped in with its money to stop Kshama. Non-union hotel owners threw in their cash to remove Sawant from City Hall.
We can defend this seat – but we need your help! Volunteer and donate now, on KshamaSawant.org.
Donate Now
Please visit KshamaSawant.org now and dig deep to keep Kshama as the driving force for working people on Seattle's city council. The maximum for individuals is $700 for individuals and $1400 if you are married. Can you donate $100, $500, or $1400 now? Every dollar helps to push back against the corporate donors trying to buy elections.