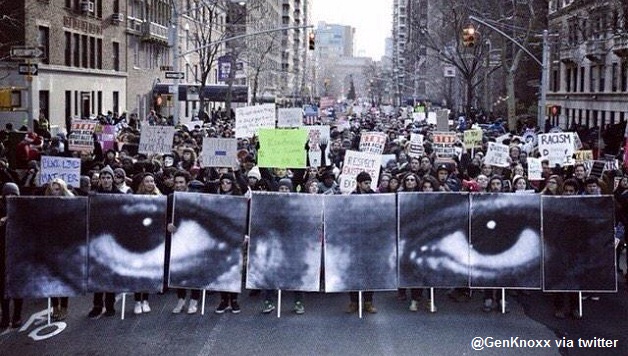 Mike Brown, Eric Garner, Tamir Rice, John Crawford, and Akai Gurley. These names join Amadou Diallo, Oscar Grant, Sean Bell, Ramarley Graham, and many others not listed here, all victims of racist killings at the hands of the police.
The killing of Mike Brown sparked protests in Ferguson that quickly expanded into a nationwide movement against police brutality and systemic racism. The decision to not indict Mike Brown's killer, followed by the failure to indict the cop who killed Eric Garner, sparked nightly protests in many major cities, with demonstrators shutting down malls, highways, and streets, forcing the public to pay attention to the racist violence inflicted on communities of color.
The #BlackLivesMatter movement has lasted more than 120 days. Communities have organized solidarity messages, rallies, and marches in 160 cities across the US and in countries all across the world, from London to Lebanon, showing the global impact of the protests and widespread solidarity.
Below we report on the actions that took place across the U.S. on December 13th:
Boston, MA
By Edmund Schluessel
Thousands gathered on the steps of Massachusetts's State House Saturday afternoon to launch a mass march, co-sponsored by Boston Socialist Alternative, in solidarity with Michael Brown, Eric Garner and Bo Ramsey-White, all victims of police violence. Among the crowd were many high school students who had never attended a demonstration before, as well as veterans of the over a dozen marches that have taken place across the city for the past three weeks.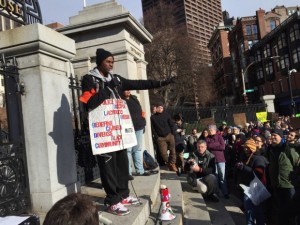 To poetry and chants of "Black Lives Matter" demonstrators marched north to the overloaded maximum-security Suffolk County Jail, where chants & claps sent a message of solidarity to its hundreds of prisoners. Those prisoners responded by banging on windows, clapping, and writing messages in tape on the insides of their windows. One message read, simply, "they beat up the inmates".
Despite a concerted effort, attempts to break a police line and cross the Charles River failed with 23 demonstrators arrested. At a public open mic discussion held during the march, Socialist Alternative members raised the need for tactics to evolve beyond marches for the movement against racism and poverty, to build for and call on trade unions to strike in opposition to the racist police state and the economic oppression of Boston's millions of workers and poor.
---
Mobile, AL
By Camilla Shoosmith
As a community of majority blacks, Mobile is a lot like Ferguson in that it is fraught with poverty, unemployment, and police violence, and is controlled by a mostly white city council and police force.
At our last demonstration, following the lack of indictment of officer Darren Wilson, in an attempt to quell anger — Mobile was the site of riots following the Rodney King incident and many feared a repeat — a city councilman was present to announce the city was planning on buying body cams. As we all saw on the case of Eric Garner, video footage of a killing does not guarantee an indictment.
In light of this information, Mobile Bay Socialist Alternative decided to call a public meeting to discuss the city's plan and the next steps for the local movement to take. On Saturday, December 13, we hosted a community meeting of thirty people to discuss what steps forward were necessary to address racial profiling by police.
The meeting's attendees agreed to present to the city council a plan for a Mobile Commission for Police Oversight, a civilian-led board responsible for the oversight of the police including, but not limited to, investigations into complaints against police and police shootings, the hiring and firing of officers, and the election of independent prosecutors in grand juries. The group also elected a Steering Committee, tasked with finding and linking up with other groups organizing around this issue to establish times and locations for future demonstrations and relaying information to those interested in participating.
In the coming weeks we will wear red to city council meetings and pressure them into addressing our concerns. We will also be working with the local NAACP chapter to coordinate a march next weekend, and we will continue to raise the need for police accountability.
Please watch this short news clip on the meeting.
MOBILE, AL
Including a student group at University of Southern Alabama
(251) 300-4727
Email: [email protected]
Like this branch on Facebook
---
New York City, NY
By Meghan Shea and Francesca Gomes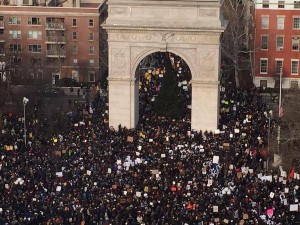 Socialist Alternative members from New York and the Northeast participated in and helped to build the Millions March NYC on December 13. After a brief rally in Washington Square Park, an estimated 30,000 people marched a four-mile route through midtown and downtown Manhattan.
Our banner, which read "Wall Street Has Two Parties, We Need One of Our Own," acted as a reminder that although Democrat Bill de Blasio was elected on the promise of equality for New Yorkers, it was on his watch that members of the NYPD killed a Black man with impunity. Our contingent carried a plethora of prepared signs; the diverse array of slogans included quotes from Malcolm X and Fred Hampton, "No Justice, No Peace", and "Justice for Eric Garner". Many people commended our banner's message, complimented our signs, and asked to carry them during the march.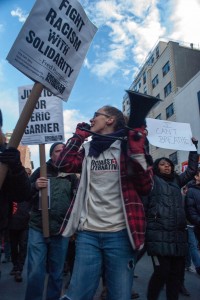 S.A. members led chants throughout the massive crowd and picked up ones that had been started by others. The most popular by far was "How do you spell racist? N-Y-P-D!" Heads turned as Socialist Alternative members clarified the connection between racist police violence and economic inequality by starting chants such as, "What's outrageous? Poverty wages!" This resonated with the crowd, which was hungry for bold demands and a way forward to build a mass movement.
After the march, we set up a table and discussed with some of the protestors about the need for systemic change. One member had a conversation with a West Indian man who had come from Dorchester, just outside of Boston. He said, "The problem is that it's more than just these cops. This whole system has to be overturned!" Many visitors to our table were already aware of us as a result of the victory in Seattle, and several had friends who recently joined our branches in other cities.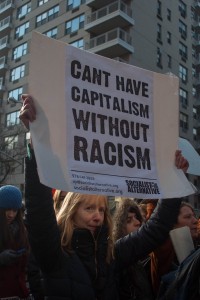 In addition, several groups of people within the march took more direct action. One group continued the march beyond One Police Plaza (NYPD headquarters) and managed to close the Brooklyn Bridge with their presence, keeping the bridge closed in both directions for more than an hour.
The unexpectedly large attendance at the march, as well as the palpable frustration and increase in civil disobedience tactics, revealed that the anger with the racism and inequality has reaching a boiling point. We have seen civil disobedience on the rise all over the U.S. surrounding this issue. Working people are starting to bring life back to the chant, "When civil rights are under attack / What do we do? Stand up, fight back!"
BROOKLYN, NY
P.O. Box 150457
Brooklyn, NY 11215
(347) 749-1236
[email protected]
Like this branch on Facebook
QUEENS, NY
[email protected]
Like this branch on Facebook
---
Oakland/Bay Area, CA
By Michael Pruess
On Saturday, December 13 at 2 p.m., protesters rallied beneath the "Black Lives Matter" banner at the Frank Ogawa Plaza in downtown Oakland. After half an hour of gathering energy and mass, the crowd marched to the Alameda County Courthouse, filling several blocks of the 14th St. thoroughfare as it passed.
A variety of chants and slogans were employed, the most popular of which were "Black lives matter!" and "Eric Garner, Michael Brown: Shut it down! Shut it down!" Onlookers cheered and held signs announcing solidarity; car traffic was diverted by a tiny police presence.
The march was entirely peaceful and lasted just under an hour, culminating in another huge rally on the steps of the courthouse. Approximately five thousand protesters listened as the young black leadership that had organized the event declaimed against racism and police brutality—or "state terror," as it was referred to by several passionate speakers, many of whom had lost loved ones to cop killings.
The parting message from the organizers was to get organized: that all affected parties and allies must organize to remain in the fight. "We have nothing to lose but our chains," came the final chant before the crowd dispersed. "I believe that we will win."
Socialist Alternative marched in the crowd and discussed with participants about how "the whole system is guilty!" The vast majority of the protesters with whom we spoke agreed out of hand, as though it were obvious.
OAKLAND / SAN FRANCISCO BAY AREA, CA
Including a student group at UC-Berkeley
(510) 220-3047
[email protected]
Like this branch on Facebook
---
Portland, OR
By Gerry Mohr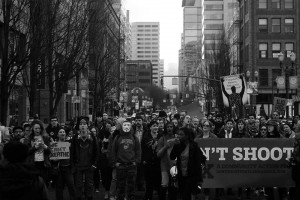 Saturday, December 13th in Portland, Oregon, Socialist Alternative joined with Don't Shoot PDX for a small, but creatively organized march. People met up on a corner of a downtown plaza (Pioneer Square, "Portland's Living Room") that was packed with loud Christmas revelry. It seemed as if we were an insignificant huddle but the marching began and picked up steam with loud chanting and soon we seemed to number around a hundred, confidently taking the streets en route to a nearby shopping mall. We steamed through a mall, rallied in an art gallery, observed 4.5 minutes of silence (representing the 4.5 hours Mike Brown's body lay in the street), then listened to organizer Teressa speak briefly and forcefully about the links between the struggles for police justice, for living wages, and for class solidarity.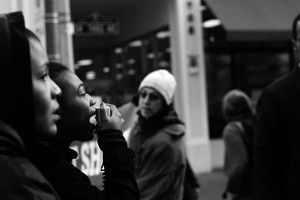 We departed the mall and hit the streets again, perhaps down to 50-60 by now. These marches swell – it is noticeable that onlookers do join in for a time. A tactic worth mentioning is that of marching swiftly into oncoming traffic. With groups of a hundred or even a few hundred it still more or less has a flash-mob kind of impact. Drivers seem too surprised to be upset, largely.
The marchers followed a loud and winding route throughout downtown. Regrettably, there was an incident at the end of the march, on a major four-lane thoroughfare in front of Powell's Books (Portland's 'other' living room). As the marchers took up the two westbound lanes, a car coming the opposite direction ran over a marcher's foot. He was down on the asphalt for some time and the march halted, police showed up to take control of the scene (and, unfortunately, the narrative). This event has been covered widely and predictably in local media, all of which strongly echo the police's story that the protest caused the injury. Most witnesses seemed to feel it was intentional. But the driver of the car wasn't charged, even though he left the scene, and the fellow who got clipped got a $100 citation to go with his mashed foot. On balance, probably fair to call this a bad end to a good demonstration.
PORTLAND, OR
(310) 488-7503
[email protected]
Like this branch on Facebook
---
San Diego, CA
By Aman Birk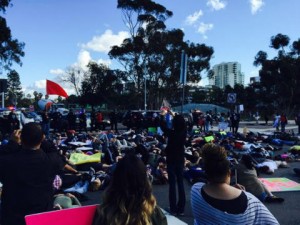 On Saturday morning, December 13, about 200 people (including about a dozen Socialist Alternative members), mostly youth of color, gathered in Balboa Park for a March Against Police Brutality. The event consisted of a battery of speakers, a "die-in," and a march.
Despite being the newest of the activist organizations present among the coalition of groups present, Socialist Alternative was asked to provide security for the march. Additionally, one of our members, Stephane, was asked to speak. Stephane spoke about his experiences with racism in this country and presented a class-based analysis of the struggle against institutional racism. This resonated with the crowd, and throughout the march people continually approached Stephane to thank him for speaking and to learn more about Socialist Alternative and the message he spoke to.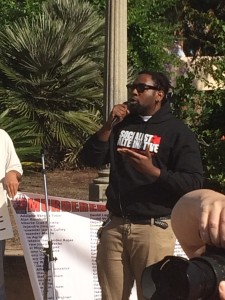 After the speakers and the die-in, a peaceful but disruptive march occurred. The crowd waffled when faced with police attempting to corral protesters into their preferred route, but Socialist Alternative members, along with other organizers led the way in rejecting police guidance and marching where they would have the most visibility. No attempt was made to take the freeways, as the CHP riot cops and militarized vehicles were out in full force at each freeway ramp.
Moving forward, we invited many interested parties to our public meeting on Dec. 19th, and we distributed literature regarding SA's suggested plan of action.
SAN DIEGO, CA
Including a student group at UC-San Diego
New branch! Email us at [email protected] to get involved!