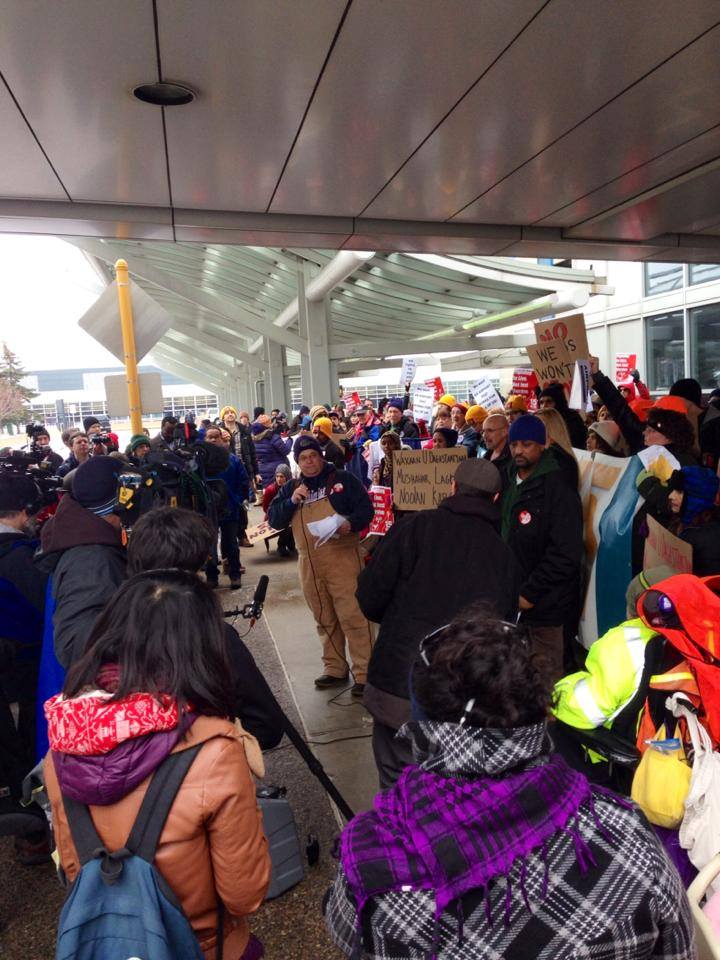 With three historic victories for $15 an hour minimum wage in SeaTac, Seattle, and San Francisco over the last year, Minneapolis may be poised to be the next big win for the movement. Major campaigns with wide labor backing are underway both at the Minneapolis-St. Paul Airport (MSP) and in the City of Minneapolis. 15 Now and Socialist Alternative are at the core of both efforts.
Airport workers organizing with 15 Now are building pressure on the Metropolitan Airports Commission (MAC) and Governor Mark Dayton to enact $15. Nearly 2,000 workers at MSP have signed a petition demanding $15 an hour and to prioritize  workers' interests over the profits of low-wage employers like Delta. "All workers should be able to support themselves and their families," wrote Shar Knutsen, President of the Minnesota AFL- CIO, in an open letter to Governor Dayton and the airport commissioners. "It is our sincere hope that the Metropolitan Airports Commission chooses to be a leader on this economic justice issue." The AFL-CIO is the biggest of a host of labor bodies that have endorsed and financially supported 15 Now's campaign for $15 an hour at MSP.
Socialist Alternative initiated the campaign for $15 an hour in Minneapolis starting with our city council election campaign last year, which mobilized hundreds of volunteers and came just 229 votes short of winning. When 15 Now Minneapolis was launched in March, over 100 workers and community supporters attended its first meeting.
After the first fast-food strikes in Minneapolis on September 4, several city councilors publicly came out behind the $15 demand. As airport workers are escalating their campaign,15 Now is helping to bring together a coalition of community and labor groups to fight for $15 an hour in the whole city of Minneapolis. It appears likely that the coalition for $15 will win the backing of virtually all labor unions in Minneapolis.
Uniting organized labor behind $15 was key to the victory of $15 an hour in Seattle and San Francisco, and will be crucial to defeating the fierce attacks big business will wage against our efforts at MSP and citywide. At the same time, as in Seattle it will remain vital for 15 Now to develop an independent, movement-building approach to win a solid $15 against the inevitable attempts by the Democratic Party and big business to divide our coalition and water down workers' demands.