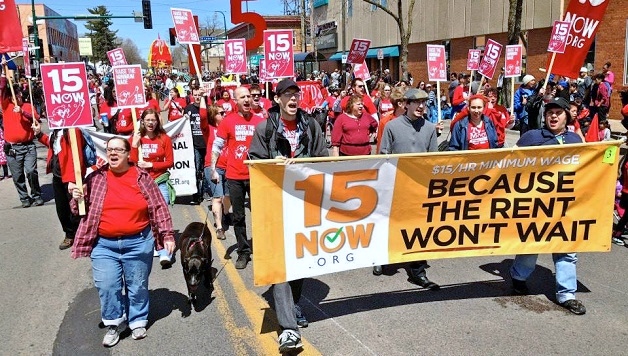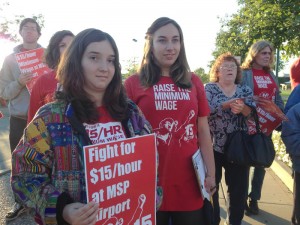 In July, workers at the Minneapolis-Saint Paul Airport (MSP) formed a 15 Now action group, winning support among airport workers and a growing list of labor endorsements. Alongside demonstrations, workers have launched an online petition (see below).
MSP airport is ground zero for income inequality between the rich and the working poor. On the one hand, you have companies like Delta, which made $2.3 billion in profit last year and is headed toward $4 billion for 2014. Nearly one-third of that profit was earned right here at MSP, according to a Delta vice president. That's $700 million. Delta CEO Richard Anderson made $6,000 per hour last year.
On the other hand, many of my coworkers at Delta have to work two and three jobs to make ends meet. Workers at Air Serv, who clean Delta aircraft, make $8 and $9 per hour. In fact, thousands of workers at MSP who fuel, clean, and load aircraft for Delta, United, American, and other airlines make poverty wages. Faring no better are those who staff airport stores, restaurants, and other services.
We know it doesn't have to be this way. When workers got organized in other airports like San Francisco, Los Angeles, and Seattle, they were able to win a $15 an hour minimum wage.
That's why some of my coworkers and I have gathered well over 1,000 signatures on a petition asking the Metropolitan Airport Commission (MAC) to raise the minimum wage at MSP Airport to $15 an hour. Over 50 of us turned those petitions in to the MAC, a body appointed mainly by Minnesota Governor Mark Dayton.
Now we need your support and solidarity. Please sign our petition asking Governor Dayton to take a stand against poverty wages. If Governor Dayton leads, the Airport Commissioners he appoints will follow.
A victory at MSP can pave the way for winning $15 in Minneapolis and St. Paul. It can begin to reverse the deep economic inequality plaguing our state. It can address the fact that Minnesota taxpayers currently subsidize the profits of highly successful companies, when low-wage workers are forced to use public assistance.
United and organized, we can win.
Sincerely,
Kip Hedges
Delta Baggage Handler
Go to 15now.org to sign the petition asking Governor Dayton of Minnesota to take a stand against poverty wages!
Watch the video below from Workday Seattle for interviews with Kip and other 15 Now organizers at MSP Airport:
[youtube id="9K9q4dIkULw" width="620″ height="360″]